This article first appeared in The Edge Financial Daily, on August 30, 2019.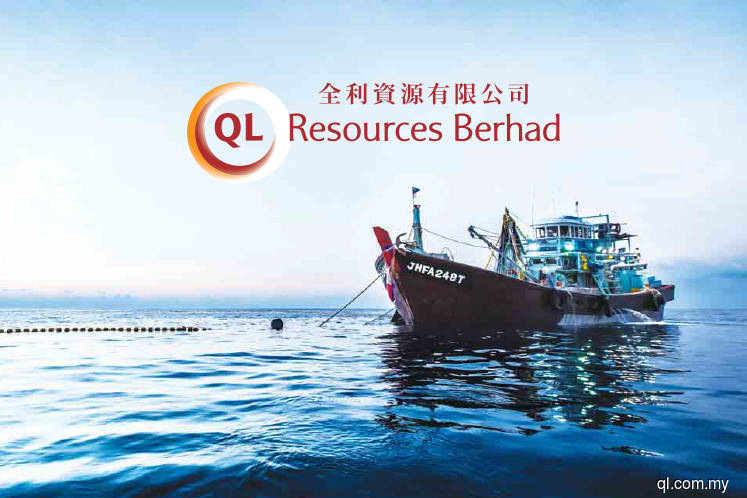 SHAH ALAM: Agro-food company QL Resources Bhd, whose net profit for the first financial quarter ended June 30, 2019 (1QFY20) climbed 15.3% year-on-year (y-o-y), is optimistic about charting another year of record high earnings, beating the peak it set in FY19.
Growth is expected to be driven by its marine products manufacturing (MPM) division, in which the group is upbeat about its outlook.
"So far, the first quarter in the new financial year already showed that we have done better than the corresponding period last year. We are optimistic about doing better than FY19, meaning (we will chart) another record performance for this year," said QL founder and executive chairman Chia Song Kun.
For FY19 ended March 31, 2019, the group posted a double-digit rise in both its top and bottom lines, with net profit growing 11.2% y-o-y to RM216.74 million from RM194.99 million, while revenue advanced 10.7% y-o-y to RM3.61 billion from RM3.26 billion.
The group then kicked off FY20 on a strong note, with 1QFY20 net profit increasing to RM50.55 million from RM43.86 million a year ago, as its MPM division recorded sales and profit before tax growth of 30% and 52% respectively, on stronger contributions from fishmeal and surimi-based products. Revenue rose 21.7% to RM993.21 million from RM816.18 million.
The group, however, expects the performance of its palm oil activities (POA) division to weaken this year, mainly because of soft crude palm oil (CPO) prices, unfavourable weather conditions, and a lower palm oil extraction rate.
Admittedly, "rather bearish" on the outlook for its POA division, Chia said the group is expecting CPO prices to hover between RM2,000 and RM2,200 per tonne this year, compared with the average RM2,100 in FY19, and RM2,600 in FY18.
Already, its POA division saw profit before tax in 1QFY20 sinking 63% y-o-y to RM1.04 million from RM2.83 million a year ago, as sales fell 5% to RM68.59 million from RM72.33 million.
Firm plans RM400m capex; FamilyMart has broken even
As for the integrated livestock farming (ILF) division, Chia said the group's diversified strategy into the regional market has helped to weather challenges that it is facing domestically.
"For the past one year, our regional business (the poultry segment) has done reasonably well, (as compared to the) domestic market, where we faced an oversupply of eggs that was quite serious in the first half of last year.
"Then, there was a disease outbreak throughout the country which resulted in an egg shortage and a strong rebound in prices. But after the disease subsided, the egg oversupply situation has come back," Chia said in explaining the erratic pricing for eggs that the group has had to contend with.
As such, the group is neutral on the ILF business in the domestic market but upbeat on its regional performance. Thus, it plans to set aside some RM200 million in the next three years to set up two layer farms — in Indonesia and Vietnam — with the aim of doubling egg production capacity there.
Currently, the group produces 5.7 million eggs per day across its operations in Malaysia, Indonesia and Vietnam. Of that, over half or three million come from Peninsular Malaysia, one million from East Malaysia, and 800,000 each from Indonesia and Vietnam.
Overall, the group will allocate RM400 million for capital expenditure (capex) in FY20, mainly to fund the setting up of more chicken farms, boost marine products manufacturing, and open more FamilyMart stores.
Chia said the group plans to about double the number of FamilyMart stores in Malaysia to 170 by end-FY20, compared with the 90 it had as at end-FY19. The business, which has already broken even, said Chia, will have 125 stores by Aug 31. The expansion, he added, will centre on the Klang Valley, Melaka, Negeri Sembilan and Johor.
QL Resource shares closed one sen higher at RM6.91 yesterday, giving it a market capitalisation of RM11.21 billion. In the past one year, the stock has climbed 16%.