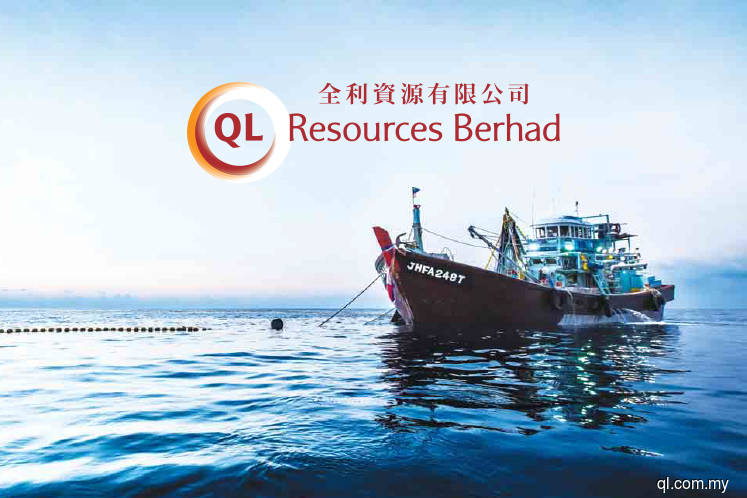 KUALA LUMPUR (May 29): QL Resources Bhd is not one of the rubber glove makers that are sought after in the market currently. However, it is trading at a valuation similar to the glove manufacturers and analysts see more upside in its share price amid expectation that it will be made one of the 30 component stocks on the FBM KLCI when the FTSE Russell announces its review next week.
CGS-CIMB Research, in a note last week, said QL and Telekom Malaysia Bhd (TM) are expected to be the new entrants in the latest list of the KLCI's constituents to be announced on June 4. The two stocks are expected to replace AMMB Holdings Bhd and Malaysia Airports Holdings Bhd (MAHB) in the benchmark index. 
QL has jumped by 34% from its recent low of RM6.95 on March 19, outperforming the 19.5% gain recorded by the KLCI over the same period. 
The stock is trading at RM9.47 today, up 15 sen or 1.6%. 
It is worth noting that QL is trading at a price-earnings (P/E) ratio of 63 times — the highest in the last 10 years and more than double its 10-year historical average P/E of 31 times.  
When contacted, Inter-Pacific Securities Sdn Bhd head of research Victor Wan deems QL's current valuation as high. Still, he believes that there could be upside for QL's share price considering the likelihood of it to be included in the list of KLCI component stocks.  
"Investors are just looking for something to buy, as there are only very few low hanging fruits in the market at this point, as many stocks have gone up.  
"In addition, there are not too many positive developments in the market, although prices [of many stocks] have gone up. So companies (like QL) which appear to be more positive, will attract investors," Wan added.  
From the earnings standpoint, Wan quoted the Bloomberg consensus reading, which indicated QL's earnings per share (EPS) will grow by up to 13% in the next two years. On that basis, he said the stock's current valuation is expensive, following sharp rallies which outpaced its earnings growth. 
QL's EPS for the year ended March 31, 2019 (FY19) grew by 11.15% to 13.36 sen, from 12.02 sen in FY18.  
Rakuten Trade Sdn Bhd vice-president of research Vincent Lau agreed that QL may have upside potential going forward, on the back of buying interest from fund managers, as they rebalance their portfolio in the event it is added as a constituent of the KLCI.  
On the group's fundamentals, Lau said it remained strong, thanks to its well-diversified business.  
QL is among key beneficiaries of the Covid-19 outbreak, as its businesses such as the Family Mart convenience stores are allowed to operate during the nationwide lockdown.  
QL's main businesses are poultry farming and feedstuff trading, manufacturing of surimi, and fishmeal processing for both the domestic and export markets. The group is also involved in palm oil milling, plantations and convenience stores operations.  
For the nine-month period ended Dec 31, 2019, QL reported a 13.2% rise in net profit to RM196.35 million, from RM173.52 million a year earlier, thanks to higher contribution from marine product manufacturing and integrated livestock farming.   
Revenue for the period rose 16.9% to RM3.17 billion from RM2.72 billion, on higher sales of marine product manufacturing and integrated livestock farming. 
Notwithstanding the outbreak of Covid-19, QL has said it will still strive to achieve double-digit growth for FY20 despite its fourth quarter results being expected to be hit by Covid-19.
QL's share price of RM9.32 on Thursday is higher than the target price assigned by most analysts tracking the counter.  
In a note dated Feb 28, Hong Leong Investment Bank Research, which has maintained a "hold" call and an unchanged target price of RM8.2, said while it likes QL for its diversified revenue streams, seasoned management team and decent growth prospects, these positives have already been reflected in its premium valuations. 
Similarly, MIDF Research in a note on the same day, said its valuation of more than 50 times was lofty back then, and it has priced in all the diversification benefits and hence, the potential upside is limited in the near term. 
MIDF has maintained its "neutral" call on QL with an unchanged target price of RM7.46.