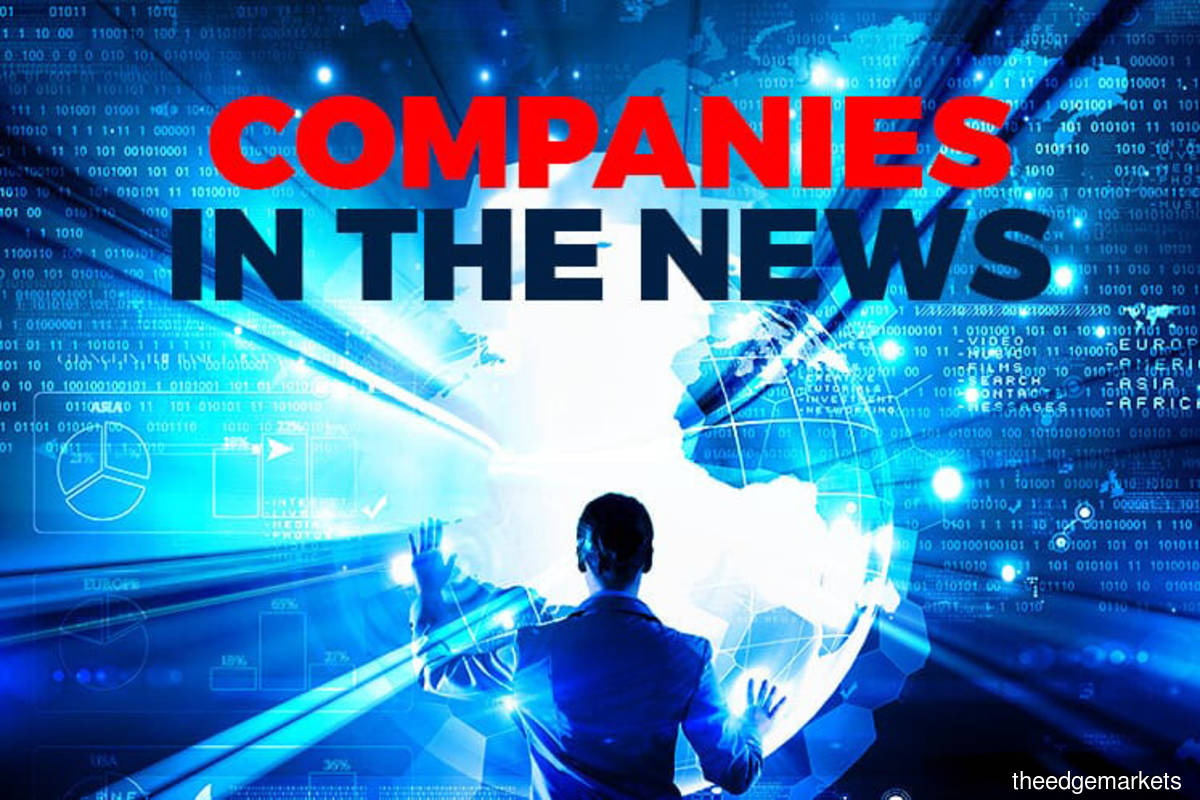 KUALA LUMPUR (Jan 12): Based on corporate announcements and news flow today, companies that may be in focus on Wednesday (Jan 13) include QL Resources Bhd, Boilermech Holdings Bhd, FGV Holdings Bhd, Pharmaniaga Bhd, I-Stone Group Bhd, Spring Art Holdings Bhd, Ho Wah Genting Bhd, Handal Energy Bhd, ATTA Global Group Bhd, MTD ACPI Engineering Bhd, Mulpha International Bhd, Malaysia Airports Holdings Bhd, AirAsia Group Bhd, and Gas Malaysia Bhd.
QL Resources Bhd's takeover offer for shares it does not own in Boilermech Holdings Bhd has been extended to Jan 29. The initial deadline for the conditional mandatory general takeover offer at 95 sen per share was Jan 14. QL currently controls a 48.41% stake or 249.79 million shares in Boilermech.
The Federal Land Development Authority (Felda) has issued an offer document in relation to its unconditional mandatory takeover offer for all remaining ordinary shares in FGV Holdings Bhd which it does not own, except treasury shares. Felda said the cash offer of RM1.30 per share would be open for acceptances until Feb 2 unless extended or revised.
Pharmaniaga Bhd is partnering with China's Sinovac Life Sciences Co Ltd for the supply of 14 million doses of Covid-19 vaccine in Malaysia. Pharmaniaga expects the vaccine to be distributed to the public by the end of March, according to managing director Datuk Zulkarnain Md Eusope. This will cover 22% of the country's total population. An agreement was entered into between Pharmaniaga and Sinovac today. Under the deal, Pharmaniaga will carry out the fill and finish process of the vaccine developed by Sinovac.
I-Stone Group Bhd has temporarily halted production activities at two of its subsidiaries in Johor Bahru after 11 employees tested positive for Covid-19. The group said four local engineers from i-Stone Systems Sdn Bhd contracted the virus from its customer's workplace, while seven foreign employees — four from i-Stone Engineering Sdn Bhd and three from PA Metal Technics Sdn Bhd — contracted the virus in a dormitory managed by a third-party service provider.
Meanwhile, Spring Art Holdings Bhd has suspended the operations of two factories as well as its administrative office after some of its employees tested positive for Covid-19. However, it did not disclose how many have been infected. It said it is working closely with the Ministry of Health to implement mitigating steps to contain the spread of Covid-19 at the premises.
Ho Wah Genting Bhd is planning to raise up to RM34.58 million via a private placement. The group said it would be placing up to 60.67 million new shares, representing 10% of its share capital of 606.68 million shares, among third-party investors. Ho Wah Genting plans to use up to RM12 million of the placement proceeds to purchase healthcare products and for research and development activities for its healthcare-related business. Another RM10 million would be used to fully repay a loan from Hong Kong-based Prime King Investment Ltd, which had given Ho Wah Genting a short-term advance for working capital purposes. The group added that up to RM11.77 million of the proceeds would be used for general working capital requirements.
Meanwhile, Handal Energy Bhd is looking to raise up to RM11.13 million via a private placement to repay its borrowings and fund its working capital. It is planning to issue up to 49.48 million new shares or 20% of its share capital to third-party investors to be identified. It noted that the indicative issue price of placement shares is assumed to be 22.5 sen apiece, which is a 2.28 sen or 9.2% discount to its five-day volume-weighted average market price of 24.78 sen. Up to RM4 million of the proceeds raised will be used to repay the group's borrowings, which will trim its borrowings to RM25.87 million from RM29.87 million, and reduce its gearing to 0.29 times, from 0.38 times.
ATTA Global Group Bhd's executive director Tan Kim Hee has been detained by the police. The group said Tan was held by Johor police to assist an investigation not related to the group or any of its subsidiaries and associate companies.
MTD ACPI Engineering Bhd has won a RM33.44 million construction contract from the Public Works Department in Pahang. The group said its wholly-owned subsidiary MTD Construction Sdn Bhd will undertake the Police Training Centre project in Bentong. The contract is due to be completed on July 11, 2022.
Mulpha International Bhd's wholly-owned unit Mulpha Australia (Holdings) Pty Ltd has accepted a syndicated credit facility of A$342 million (RM1.07 billion) from Oversea-Chinese Banking Corp Ltd and United Overseas Bank Ltd in Australia to finance the refurbishment works at InterContinental Sydney Hotel and to refinance its existing borrowings.
Malaysia Airports Holdings Bhd's (MAHB) passenger traffic for December rose 24.18% to 2.27 million, from 1.83 million passengers in November. The increase followed two consecutive months of decline in passenger traffic after the airport operator registered 3.5 million passengers in September. MAHB said Malaysia's December traffic performance was impacted by the lifting of the interstate travel ban on Dec 7 — with domestic passenger movements totalling 1.07 million. Daily passenger movements rose 50% on Dec 10 and continued to jump by another 50%, reaching a peak of 54,000 passengers on Dec 27, said MAHB.
AirAsia Group Bhd said its domestic flights in Malaysia remain operational despite the planned implementation of the Movement Control Order across several states and federal territories from tomorrow until Jan 26 and that guests who do not wish to travel during this period can cancel their flights voluntarily and opt for unlimited flight changes without any additional cost.
Gas Malaysia Bhd has set the average natural gas selling price for the distribution segment of its unit Gas Malaysia Energy and Services Sdn Bhd at RM22.14 per million British thermal units (mmBtu) for the first quarter of 2021, which is RM11.51/mmBtu or 34.21% lower than the 2020 average natural gas selling price.