This article first appeared in The Edge Financial Daily, on August 29, 2018.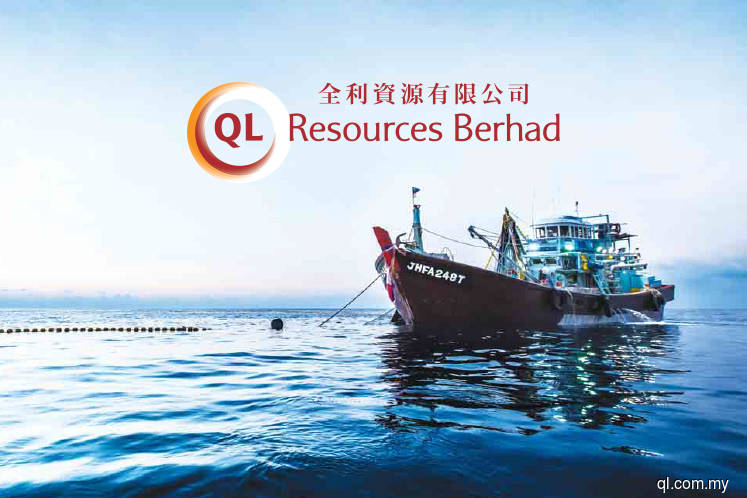 QL Resources Bhd
(Aug 28, RM6.15)
Maintain neutral with a higher target price (TP) of RM4.68: QL Resources Bhd reported a better performance in the first quarter of financial year 2019 (1QFY19) with revenue and net profit growing by 4.8% and 4.4% year-on-year (y-o-y). The performance came in within our and the market's expectations, at 19.3% and 18.3% of full-year forecasts respectively.  The 1Q usually accounts for 21% of the full-year earnings based on past five-year quarterly data. The better performance was mainly driven by stronger earnings from the integrated livestock farming (ILF) segment, which helped to buffer the poor performance in the palm oil activities (POA) segment.
While marine product manufacturing (MPM) reported a y-o-y flat growth in 1QFY19, we expected a recovery in fish catch in FY19F (forecast) which should improve its fishery margins. The three-month tax holiday should benefit Family Mart which currently has 59 stores in the Klang Valley. In the medium to long term, the growth drivers for QL include its ongoing MPM capacity expansion, better contribution from regional poultry operations and Family Mart business. We made some minor housekeeping changes to our model and include FY23F in our discounted cash flow model. Our TP is raised marginally to RM4.68, from RM4.60 previously.
While the stock currently trades at +3 standard deviation of its five-year historical average, we maintain our "neutral" call as the group's fundamental remains strong and resilient. MPM's 1QFY19 revenue and net profit were flat (+1.0% and +0.5% respectively) mainly due to slower recovery of post El-Nino low fish cycle in Malaysian waters. ILF's 1QFY19 revenue grew 17.7% y-o-y in 1QFY19 driven by higher sales contribution from feed raw material trade. The segment also saw higher contribution from regional poultry operations as well as better margins from feed raw material trade due to lesser competition, resulting in a 31.1% profit before tax (PBT) growth.
POA reported weaker performance due to a number of factors. 1QFY19 revenue slipped 37.6% y-o-y, mainly attributable to: i) the decrease in own fresh fruit bunch (FFB) production caused by poorer fruit setting in the Indonesia plantation unit due to excessive rainfall as well as post El-Nino stress on older trees in Tawau; and ii) the decrease in FFB processed in the Indonesia operation due to competition from new crude palm oil (CPO) mills in the surrounding area, resulting in lower availability of third-party crops. In tandem with these and coupled with the lower oil extraction rate  and a lower CPO price (1QFY19: RM2,364 versus 1QFY18: RM2,746), PBT declined 50.5% y-o-y in the quarter. — PublicInvest Research, Aug 28