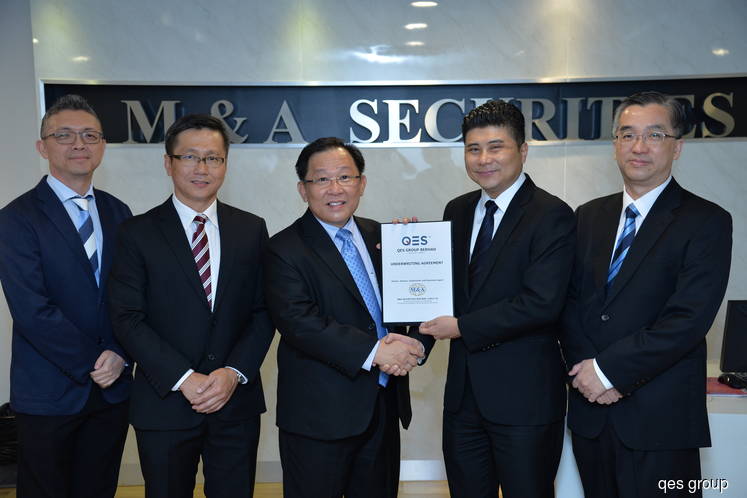 KUALA LUMPUR (Jan 3): QES Group Bhd, which specialises in the distribution, manufacturing, and provision of engineering services inspection, test, measuring, analytical and automated handling equipment, is seeking to list on the ACE Market of Bursa Malaysia Securities Bhd by the first quarter of 2018, with an issuance of 151.66 million new shares in QES representing 20% of the enlarged share capital.
The group also provides after-sales services such as training, repair, and maintenance to its customers.
In a statement today, QES said it had signed an underwriting agreement with M&A Securities Sdn Bhd in conjunction with its initial public offering (IPO) exercise.
Of the 151.66 million new shares, 37.92 million new shares will be made available to the public via balloting, 9.27 million new shares for its eligible directors and employees while the remaining 104.48 million new shares are earmarked for private placement to selected investors.
As part of its listing exercise, the existing shareholders of the company will also make an offer for sale of 75.83 million shares to selected Bumiputera investors approved by Ministry of International Trade and Industry (MITI) via private placement.
Additionally, M&A Securities will underwrite a total of 47.18 million new shares made available to the public and its eligible directors and employees.
The proceeds from the IPO will be used mainly for capital expenditure to buy demonstration equipment for its distribution division, tools and accessories and new information technology equipment for operational use; repayment of bank borrowings; development of three key products under its manufacturing division; general working capital requirements; and defrayment of listing expenses for the IPO.
QES managing director/president Chew Ne Weng said the listing exercise would enable QES to strengthen its position in the inspection, test, and measurement equipment industry as it charts its future growth.
"By being a listed entity, we hope to further increase confidence among our investors, stakeholders, and customers while we continue to work towards enhancing the long-term value of our company by providing quality products and services across our distribution and manufacturing divisions," he said.
M&A Securities is the adviser, sponsor, underwriter and placement agent for the IPO exercise.