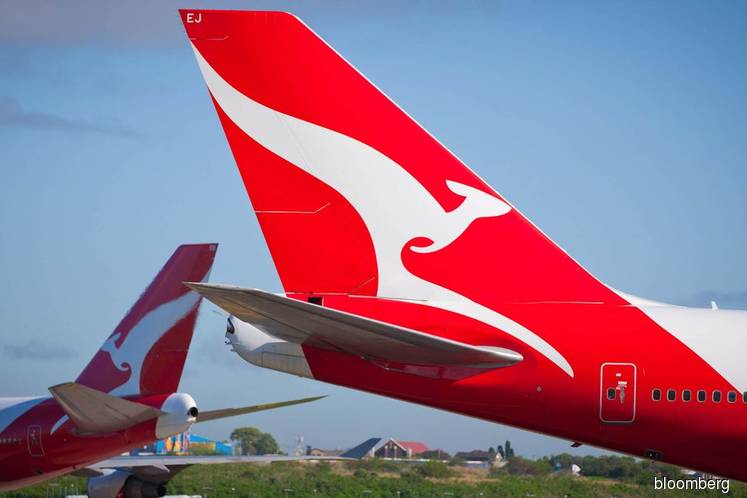 SYDNEY (March 10): Qantas Airways Ltd cut almost a quarter of its international flights for six months, grounded most of its giant Airbus A380 jets and slashed management pay as the coronavirus outbreak hammers demand for travel.
The biggest reductions are in Asia, where the Australian airline's capacity is now down 31% from a year earlier, Qantas said Tuesday. The carrier also cut services to the US and the UK, or put smaller planes onto existing routes. Eight of Qantas' 12 A380s will be grounded until mid-September.
The overhaul, one of the most dramatic responses to the outbreak by any airline worldwide, was accompanied by wide-ranging cost cuts. Qantas' group executive managers and board members will take a 30% pay cut for the rest of the financial year ending June. Chief executive officer Alan Joyce won't be paid at all.
"In the past fortnight we've seen a sharp drop in bookings on our international network," Joyce said in the statement. "We expect lower demand to continue for the next several months."
Qantas shares, which tumbled as much as 7.2% in early trading, rebounded as successive governments announced stimulus measures in an effort to cushion the economic impact of the virus. The stock was trading up 5.2% at A$4.37 at 2:29 p.m. Sydney time. Analysts at Jefferies described Qantas's measures to ride out the outbreak as "significant but appropriate."
The airline has lost 39% this year.
The reductions announced Tuesday are Qantas' third -- and deepest -- cuts in less than a month. The sudden escalation shows how swiftly demand has cratered as the virus takes hold in North America and Europe.
The outbreak will cost global airlines as much as US$113 billion in lost passenger revenue this year, the International Air Transport Association (IATA) said last week. Only a couple of weeks earlier, IATA had expected a US$30 billion hit.
Speaking to reporters on a call, Joyce said Qantas could make yet more cuts to services. "We can go a lot deeper," he said.
He said Qantas has also asked Airbus SE for more time to confirm an order for as many as 12 A350-1000 jets for ultra-long-haul services from Sydney to London and New York.
The reductions bring Qantas's total international capacity cuts, including at its low-cost carrier Jetstar, to 23% from a year earlier.
The Sydney-based company is asking all employees to take paid or unpaid leave as fewer planes take to the air. Qantas also scrapped a stock buyback to save A$150 million in cash.
"We know we can ride this out," Joyce said on the call. "Not all airlines in the world will."