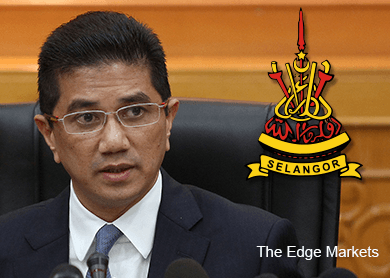 KUALA LUMPUR (Mar 10): Putrajaya wants Selangor Menteri Besar Mohamed Azmin Ali to explain why he cancelled the agreement made last September to restructure the water services in the state.
Energy, Green Technology and Water Minister Datuk Seri Dr Maximus Ongkili in an Utusan Malaysia report today said the ministry was waiting for an official letter from the Selangor government before taking the next course of action.
"We will wait for the official letter from the Selangor government and its explanation for refusing to extend the water agreement," he was reported as saying in the Umno-owned Malay daily.
It was reported yesterday that Selangor had revoked the controversial water agreement with Putrajaya inked by Azmin's predecessor Tan Sri Abdul Khalid Ibrahim in September last year.
Azmin told reporters in Parliament that the Federal Government had failed to comply with conditions set by the state government.
"The agreement (water deal) lapsed today (Monday), we (the Selangor state government) are not going to extend it.
"They (Federal Government) breached the agreement and did not honour it," he was quoted as saying.
The Selangor government had extended twice the deadline for compliance – January 9 and February 9 – but Putrajaya was said to have asked for another extension.
Meanwhile, Water and Energy Research Malaysia president S. Piarapakaran in the same report by Utusan Malaysia said the state government should have discussed the matter with Putrajaya before deciding to cancel the project.
He said Selangor residents too have the right to know the reason why the state government had refused the extension.
"With the end of the deal, users in the Klang Valley will feel the impact because at the moment, the treated water reserves are still low," he said.
"Don't just argue and make harsh decisions without consultation because this issue involves the interest of the people." he added.
Last year, Azmin urged the federal government to disclosed the details of the water deal in order to explain to the public how the deal would impact them.
But, Ongkili was reported as saying that the ministry would not disclose the contents of the water deal, after legal advice from the Attorney-General's Chambers.