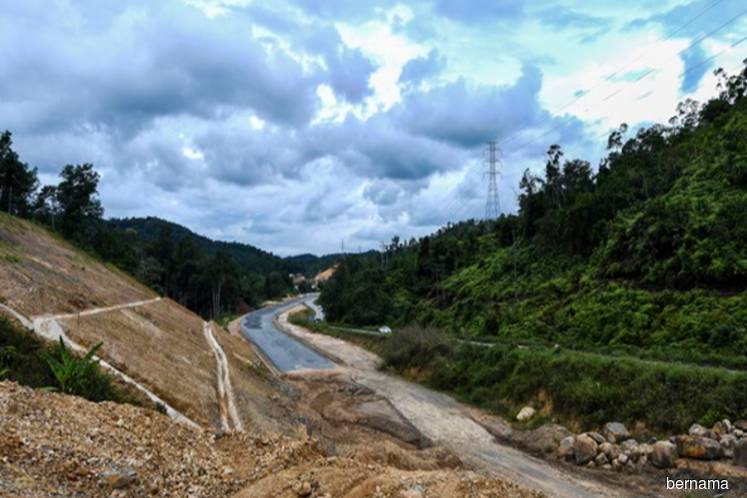 KUALA LUMPUR (April 9): The government holds the view that the Sabah portion of Pan Borneo Highway should be under the purview of the federal government, namely the ministry of works, says Tun Dr Mahathir Mohamad.
This confirms a report published by The Edge Malaysia weekly last month that Putrajaya was seeking control of Pan Borneo Highway Sabah.
The Cabinet, however, "has not discussed" the way forward for the Sarawak portion of the highway, the prime minister told reporters during a press conference outside Dewan Rakyat today.
"This [project] involves a lot of money. We are careful about how money is spent," said Dr Mahathir.
"We thought the Sabah portion should be overseen, not by this agency, but by the federal JKR (Public Works Department).
"That is as far as we have got," said Dr Mahathir, who was responding to a question on whether the Cabinet has come out with a decision on the implementation model of the project.
It is likely that the agency mentioned by Dr Mahathir is the project delivery partner (PDP) for the 700km-long Sabah portion -- Borneo Highway PDP Sdn Bhd (BHP) -- which was first appointed to implement Phase 1 of Pan Borneo Highway Sabah back in April 2016.
The Edge Financial Daily had on March 21 reported that the works ministry will take over the RM29 billion Pan Borneo Highway project in light of cost overruns under the current implementation structure, quoting sources.
According to the report, Putrajaya will replace the PDP model in favour of turnkey contractors to complete the remaining construction works for the 2,324km project.
Dr Mahathir's comments hinted at yet another delay with regards to the changes in Pan Borneo Highway's implementation model from the current PDP model.
It was previously reported that the government would decide on the implementation model by end-March, and later by April 5. Dr Mahathir, however, did not provide a timeline for the decision on the Sarawak portion.
As at March 27, the Sarawak portion was 38% completed, with original deadline set for June 30, 2021, while the Sabah portion was 12% completed with full completion set for Dec 31, 2021.