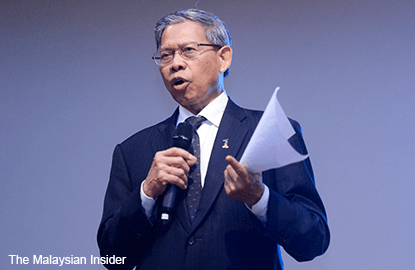 KUALA LUMPUR (Jan 26): The federal government will be setting up a special committee to monitor the implementation of the Trans-Pacific Partnership (TPP) agreement, according to International Trade and Industry Minister Datuk Seri Mustapa Mohamed.
"A non-profit organisation (NGO) has made the suggestion. We have agreed and have no problem to set up the committee," Mustapa Mohamed told the media at parliament lobby today.
"The most important thing is that everyone, especially the small medium enterprises (SMEs), can enjoy the benefit of the trade pact," he added.
On the rising fear that SMEs might be knocked out upon the implementation of the TPP agreement, Mustapa said the government will continue to engage SMEs to allay their fears.
In November last year, SME association president Michael Kang Hua Keong was quoted by the media as saying that at least 30% of SMEs will disappear when the TPP agreement comes into full force in two years.
Kang opined that the free trade agreement would allow access to bigger markets; however, 30% of 650,000 SMEs in Malaysia are not ready to compete internationally.
On this, Mustapa soothes SMEs nerves, saying that the trade pact will open up even more opportunities for SMEs.
Under the trade pact, Mustapa said member countries are required to organise specific programmes to boost SMEs' capacity.
"Further, the TPP agreement will increase SMEs' export to new markets, such as Mexico, Peru, Canada and the US.
"The TPP agreement will also help to reduce their operation costs as the imports of raw material will be cheaper due to reduction in import tax," Mustapa told the parliament earlier.
In terms of government procurements, Mustapa said Bumiputera companies and SMEs will continue to be the main priorities.
"Under the TPP agreement, SMEs will have the chance to enter into other countries and participate in the procurement of foods, cooking oil related products, apparels, rubber gloves and automotive components," he added.