Click / Tap image to enlarge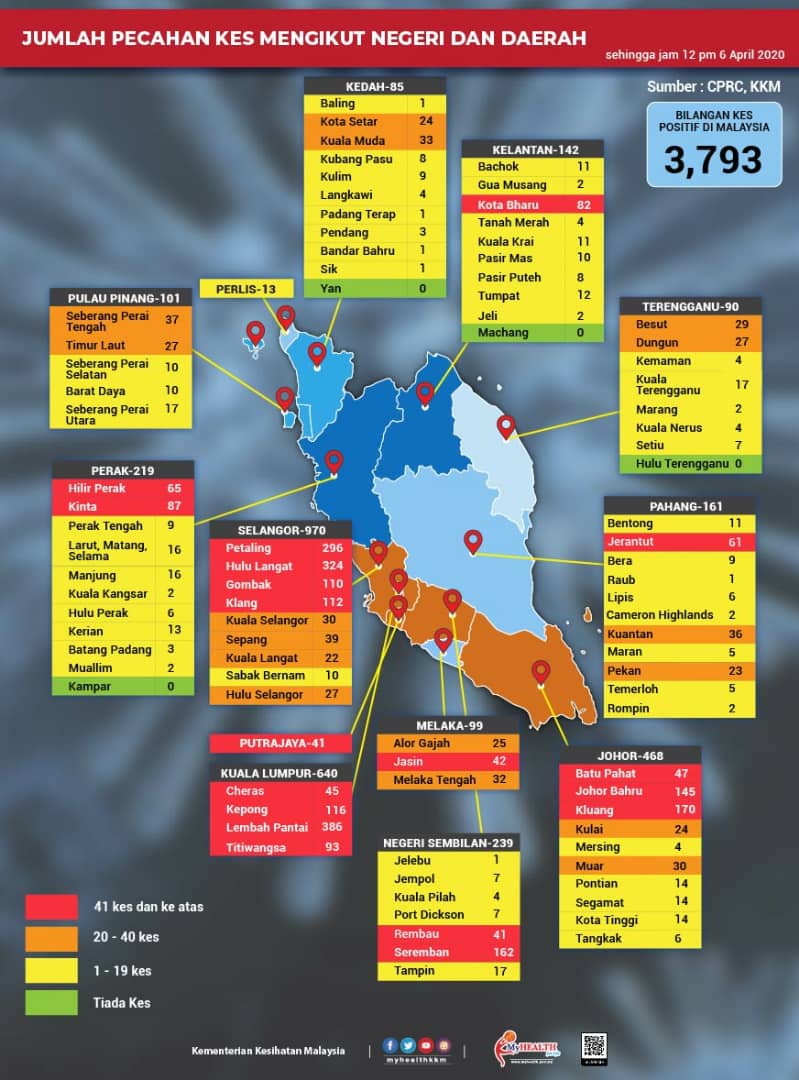 Click / Tap image to enlarge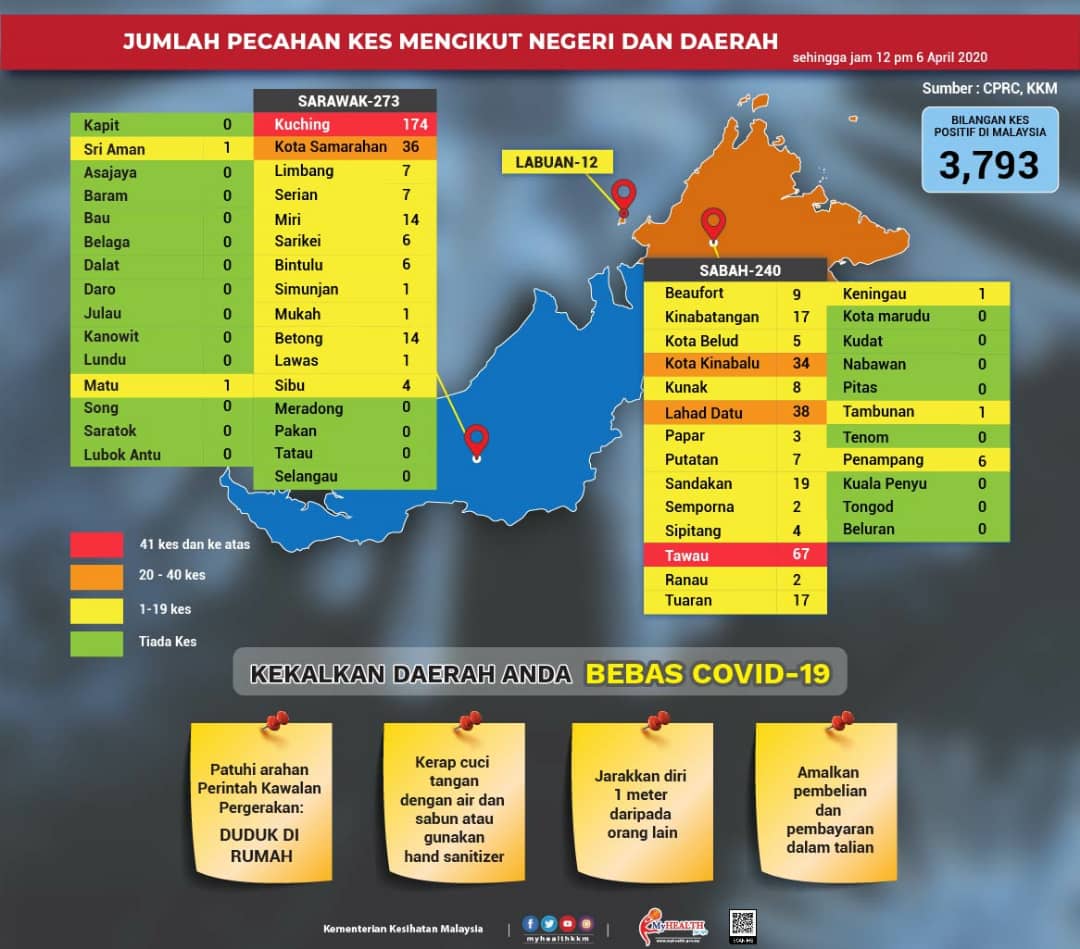 KUALA LUMPUR (April 7): The number of Covid-19 cases in Putrajaya, Rembau in Negeri Sembilan and Jasin in Melaka have breached 40 as of noon yesterday, turning them into red zones, according to the Ministry of Health (MoH).
The three health districts cumulatively have 124 cases — with Jasin reporting 42 cases and Rembau and Putrajaya having 41 cases each — accounting for 3.27% of cases based on yesterday's total of 3,793.
According to the ministry, red zones are health districts that have at least 41 cases, orange zones have 20 to 40 cases, while yellow zones have 1 to 19 cases. Green zones have no reported novel coronavirus infections.
Since March 31 (2,766 cases) until yesterday, Malaysia's Covid-19 cases have gone up by 1,027 or 27.08%.
Meanwhile, total infections in Kuala Lumpur and Selangor have risen by 476 or 42% to 1,610 from 1,134 on March 31.
Lembah Pantai continues to lead with the highest number of Covid-19 cases at 386, up 148 from 238 as at March 31.
Meanwhile, Hulu Langat is the second highest area in Peninsular Malaysia with 324 cases (up by 59 new infections) followed by Petaling with 296 cases (up 62 new infections), Kepong (up 32 to 116), Klang (up 38 to 112), Gombak (up 48 cases to 110), Titiwangsa (up 18 cases to 93) and Cheras (up 12 cases to 45).
Yesterday, the MoH said that all KL health districts were red zones after Cheras reported 44 cases in total on April 5.
Other red zones include Seremban, which recorded 162 cases (up by 43 infections), Kluang in Johor (up by 63 new cases to 170), Johor Bahru (up by 33 cases to 145), Kinta in Perak (up by 10 cases to 87), Kota Bharu in Kelantan (up by two cases to 82 cases), Hilir Perak (up by eight cases to 65) and Jerantut in Pahang (up by 34 cases to 61).
Meanwhile, Kuching in Sarawak continues to have the most cases in East Malaysia, with 174 cases — an increase of 77 infections from March 31, followed by Tawau in Sabah with 67 cases, up by four new infections.
Yesterday, Malaysia recorded the single-day rise in recovery cases with 236 cases exceeding the daily new infections at 131.
The death toll stands at 62 after one fatality was reported.
Read also: 
Covid-19: Daily cases jump to 170, pushing total to 3,963
Fourth EMCO in Selangor Mansion, Malayan Mansion along Jalan Masjid India — minister
Stay at home. We will deliver the news to you at theedgemarkets.com.