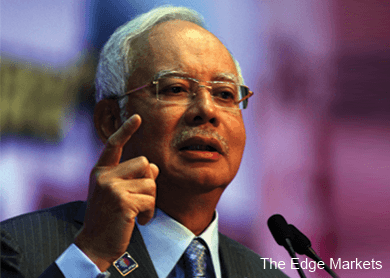 (June 9): Putrajaya will have to make off-balance sheet payments of RM4.76 billion and RM11.62 billion annually from this year until 2020 for nine government-owned entities, according to a Finance Ministry reply.
It said that up to May 31 this year there were nine Finance Ministry Incorporated companies, including Pembinaan PFI Sdn Bhd and Pembinaan BLT Sdn Bhd, which have expenditures that were classified as off-balance sheet to be borne by the government.
"The total annual payments from 2015 to 2020 are between RM4.76 billion and RM11.62 billion," Finance Minister Datuk Seri Najib Razak said in a written reply yesterday.
Kulim Bandar Baharu MP Datuk Abd Aziz Shaikh Fadzir, who is also a member of the Parliamentary Accounts Committee (PAC), had asked Putrajaya to list out the number of government-owned companies whose expenditures have been classified as off-balance sheet.
These were companies whose debts are not part of the official government debt. The government will only step in to pay the debts as a last resort if the companies are unable to meet them.
Pembinaan PFI, a Finance Ministry Incorporated "special purpose vehicle", which was set up on September 28, 2006, has come under criticism for raking up debts of up to RM26.6 billion in just seven years since its inception.
Critics have likened Pembinaan PFI to the debt-ridden state investment vehicle 1Malaysia Development Berhad (1MDB) with RM42 billion debts in six years of operations.
1MDB is now being investigated by the Public Accounts Committee and the National Audit Department following a series of exposes by whistle-blower site Sarawak Report and criticism from BN leaders, including former prime minister Tun Dr Mahathir Mohamad, as well as opposition MPs.
A report by The Edge revealed that Pembinaan PFI was set up to disburse RM20 billion under the 9th Malaysian Plan (2006-2010), with a preference to be given to small-scale Bumiputera contractors for PFI contracts.
The third series of the auditor's report last year also highlighted a second round of funding of RM10 billion to PFI, of which RM7.57 billion had been set aside for 16 ministries or agencies to carry out 313 projects.
One of its fiercest critics, Serdang MP Dr Ong Kian Ming said there had been little transparency on how the RM20 billion had been spent, accusing the government of trying to hide the spending from the budget.
According to the auditor-general's report in 2013 (series 3), Pembinaan PFI had the third highest liabilities among all government-owned entities at the end of 2012.
Its total liabilities were RM27.9 billion, behind two well-known companies with huge assets, revenues and profits, namely Petronas (RM152 billion) and Khazanah Nasional (RM69 billion). – The Malaysian Insider