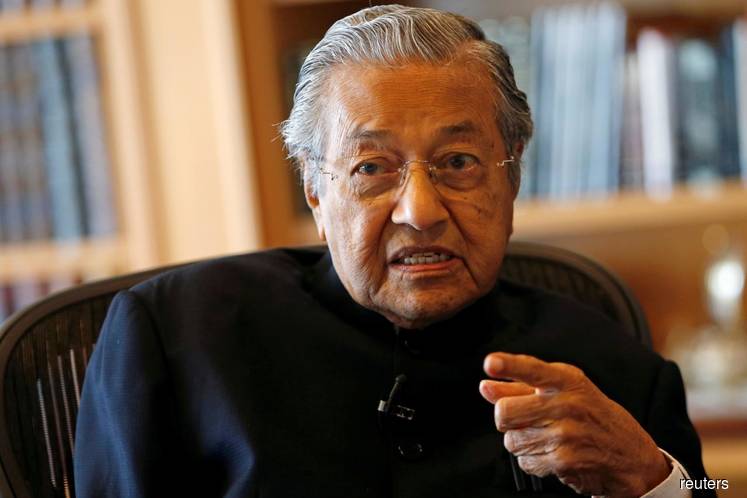 KUALA LUMPUR (March 12): Prime Minister Tun Dr Mahathir Mohamad said any pay rise in civil service should be done in tandem with productivity, instead of promoting loyalty to the government.
In Dewan Rakyat today, Datuk Seri Ismail Mohamed Said (BN-Kuala Krau) asked Dr Mahathir (PH-Langkawi) whether the government intends to revise civil servants' salary as approved in the Budget 2018 when Datuk Seri Najib Razak was then Prime Minister and Finance Minister.
Dr Mahathir said the tendency of the previous government to give pay rise in order to procure loyalty from civil servants had resulted in higher operating expenditure.
"We also found that these pay rise given to civil servants is one of the factors that drives up cost of living. When the government increases their salary, the private sector will follow suit, hence the cost of goods increases as well," he said.
"The emphasis for pay rise should be increasing the productivity and not just bow to the pressure or based on policies to buy loyalty. Therefore, the government is putting in effort to increase the public sector's productivity through improving work processes, automation and application of latest technology," he added.
Ismail also asked about the rationale of reducing the number of civil servants.
Dr Mahathir said the oversized civil service has been a concern as it constrains the government's budget in development expenditure.
"The government is of the view that the size of civil service can be reduced without affecting service quality and the civil servants' income," he said.
Dr Mahathir said reducing the number of civil servants does not mean fewer job opportunities, as it can be done via privatisation.
Citing Telekom Malaysia Bhd (TM) as an example, Dr Mahathir said the government successfully reduced civil servant number by privatising the telecommunication business, which also reduced financial burden on the government, while increasing productivity.
Being in the private sector, Dr Mahathir said companies like TM are capable of offering better remuneration packages to employees that have higher productivity.
"We believed that this strategy (privatisation) is still relevant to tackle the issue of oversized civil service, which resulted burdensome financial implication. The government will ensure there are job opportunities available in other economic sectors before reducing public sector workforce," he said.
With the combination of reducing the number of civil servants and increasing their productivity, Dr Mahathir believed that it will generate more income for the country.