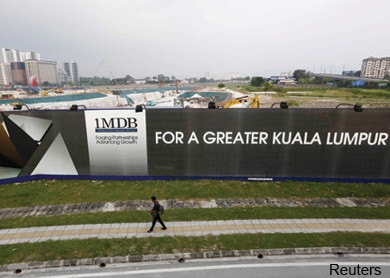 (March 12): Putrajaya today confirmed injecting RM950 million into 1Malaysia Development Bhd (1MDB) as standby credit for the government-owned strategic investor that has to service its RM42 billion debt.
Second Finance Minister Datuk Seri Ahmad Husni Hanadzlah disclosed this, a day after the Singapore Business Times reported that Putrajaya had given the money to 1MDB.
Husni in Parliament today disputed the business paper's report that Putrajaya had "loaned" 1MDB RM970 million, calling it "standby credit" instead and revised the figure downward.
He added that the debt-ridden company's cash-flow problems would be solved with an IPO (initial public offering), which had been postponed twice now.
Husni was answering a supplementary question by Pandan MP Rafizi Ramli, a strong critic of the state investment vehicle, who asked the minister to clarify Singapore's Business Times report yesterday on the matter.
The daily reported that Putrajaya had issued 1MDB a RM970 million loan, after a Cabinet meeting last month to discuss injecting funds into the debt-laden investor.
"How and why is the Cabinet still approving new funds injection as much as this, even after it had borrowed RM2 billion from (Tan Sri) Ananda Krishnan to pay off its debts a few months ago," Rafizi had asked, referring to the Malaysian tycoon.
"Doesn't this go against the statement by Deputy Prime Minister (Tan Sri Muhyiddin Yassin) that there should not be anything done for 1MDB until the Auditor-General completes his investigation?"
Husni had cited the House Standing Orders, saying he was not obliged to answer the question as the report was based on information by a source.
"However, I accept this. Although we cannot, I will answer the question.
"First of all, it was not RM970 million (as reported). The amount we gave was a standby credit, as and where is needed... RM950 million," he added.
Standby credit is an arrangement with the lender where a fixed amount of credit is made available to the borrower as and when it is required, for a given period.
Business Times said in its report yesterday that the Finance Ministry had provided the nearly RM1 billion loan to help 1MDB, which has debts of more than RM42 billion, an annual debt servicing of RM2.31 billion, and negative cash flow of RM2.25 billion in its financial year ended March.
Citing an unnamed source, the paper said the RM970 million was issued to 1MDB after the Cabinet met two weeks ago on the proposed cash injection.
Rafizi then noted that the minister had not answered his question on the audit by the Auditor-General (A-G), which prompted Husni to shoot back, saying that the investigation was an ongoing process and 1MDB had to continue its operations despite it.
"Just say an individual is being investigated by police. He will continue working, won't he? So 1MDB is an ongoing concern."
Husni also repeated several times in his speech that 1MDB's cash-flow woes would be resolved once the IPO takes off, expected in the second quarter of this year for its power plant assets.
Reuters had reported in December that the IPO is aimed at helping the state investor reduce a debt burden that exceeds US$11 billion.
Plans for the sale have been delayed several times, bankers say, due to a longer-than-expected due diligence process and debt refinancing negotiations.
"1MDB's only stumbling block is its financial position. Once the IPO is settled, it would resolve a huge part of the problem," Husni, who is also the Tambun MP, said.
"We will also look at other options and other initiatives to lighten the capital injection... the other properties and assets.
"For example, if we look at Tun Razak Exchange (TRX), its gross development value is RM40 billion so if we see, once it is completed, the income return is so huge. Similarly, we have the Bandar Malaysia project."
1MDB is the master developer for TRX, an international financial district, and the 200.3ha Bandar Malaysia urban redevelopment township, located 3km from TRX.
Another 1MDB critic, Petaling Jaya Utara MP Tony Pua, however, had said he disagreed with the minister's claim that the IPO would solve all of 1MDB's problems.
"1MDB has a debt of RM42 billion and we expect that it has probably increased to RM50 billion by now. A media report has said that the sale of the IPO will only return RM13 billion.
"Just say that the report is right and that 80% of the IPO is sold off and the proceeds of the sale will be used to pay off debts. That will not even cover RM10 billion. That would leave a debt of more than RM30 billion.
"At the same time, after 80% of the IPO is sold off, its profits will also decrease by 80%. Where will 1MDB find more profits to pay off its debts? This means that its cash-flow problems will not be solved," Pua said.
In his reply to Pua, Husni said that 1MDB had different types of businesses, noting that they would also be selling off some of its properties to give 1MDB the "ability to pay" its debts.
"We are looking at various options. 1MDB will also hold equity in the power plants which will generate some dividends so all these support will help in repaying the debts," he added. – The Malaysian Insider