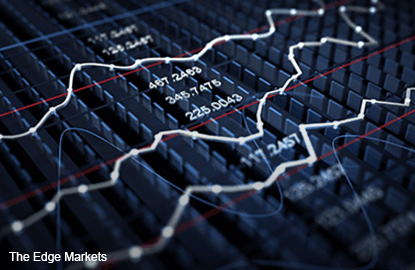 KUALA LUMPUR (June 13): The Hang Seng Index put warrants were the top gainers in early trades on the Bursa Malaysia today as regional markets slipped on the back of a sharp decline at Wall Street last Friday (June 10) following fears of the United Kingdom (UK) exiting the European Union (EU).
Structured put warrants allow investors to hedge against downward movements in the market and profit from it.
At 10.57am, the HSI-HW warrant was the third top active counter on the local bourse this morning, rising 5 sen or 47.62% to 15.5 sen, with 17.76 million units traded.
The seven top gainers on Bursa Malaysia this morning were also Hang Seng Index put warrants.
The HSI-H51 warrant, the top gainer on the local bourse, jumped 17.5 sen or 19.13% to RM1.09, with a traded volume of 5,000 units.
The HSI-H45 climbed 15 sen or 13.04% to RM1.30 with 2,000 units done, while the HSI-H47 rose 15 sen or 42.86% to 50 sen with 40,000 units traded.
The HSI-H33 gained 14 sen or 30.43% to 60 sen with 90,000 units traded, while the HSI-HX increased by 14 sen or 36.84% to 52 sen with 10,000 units done.
At 11.06am, the Hang Seng Index had dropped 2.45% or 515.93 points to 20,526.71 points.
Stocks across the Asian region fell after the Dow Jones slumped more than 100 points as oil prices fell on supply concerns and investors weighed the possibility of a Brexit, AFP reported.
A poll by the UK news outlet The Independent over the weekend showed that 55% believe the UK should leave the EU.
"I would expect volatilities to rise further and the markets will become even bleaker as we head towards the referendum," Standard Chartered Bank executive director of finance Koichi Yoshikawa was quoted as saying in a Reuters report.
The UK is expected to vote on whether to leave the EU on June 23.
Meanwhile, Reuters also reported that crude oil prices slipped below US$50 (about RM204) per barrel due to rising economic concerns in Asia and a related strengthening in the US dollar on the prospect of a Federal Reserve interest rate hike.
The strengthening of the US dollar makes fuel imports for countries using other currencies more expensive. Higher US interest rates drive investors to shift their money back to US dollar-denominated assets, which does not bode well for emerging Asian markets like Malaysia.
The July futures contract for WTI crude oil is currently trading 1.1% lower at US$48.53 per barrel while the August futures contract Brent crude oil is down 0.83% at US$50.12 per barrel.