This article first appeared in The Edge Financial Daily, on October 29, 2018.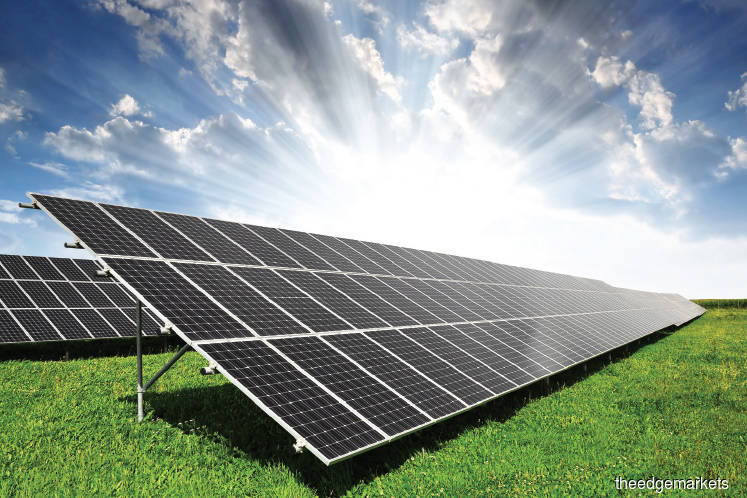 KUALA LUMPUR: In an effort to drive the green agenda, the government has come out with a slew of solar photovoltaic (PV) initiatives to encourage the renewable energy (RE) uptake.
Last month, the ministry of energy, science, technology, environment and climate change announced its plan to have 20% of the country's electricity generated from renewable sources by 2030, from 2% currently.
Equity analysts contacted by The Edge Financial Daily believe this would serve as an opportunity for independent power producers (IPPs) to jump on the solar energy bandwagon.
Inter-Pacific Securities research head Pong Teng Siew said more IPPs will be turning to the solar energy space as solar energy panel prices have fallen significantly. They are "low enough" for Malaysia to consider using solar power now, he said.
"The trend is for solar energy panel prices to keep dropping and they seem to have dropped substantially over a long extended period of time. If we have this long span till 2030 to instal this capacity and if prices drop further, then yes … it can get more economically feasible to get into the game," Pong said.
The substantial fall in solar energy panel prices, he said, came about after several countries, including the US, imposed a tariff on imported solar panels.
Energy, Science, Technology, Environment and Climate Change Minister Yeo Bee Yin said last week that solar technology had matured and costs had become more competitive. She noted that solar PV panel prices had fallen by 80% since 2009.
According to Pong, with oil prices continuing to rise, Malaysia could expect the generation capacity coming from green energy sources to increase over time.
"By the time we get nearer to 2030, my feeling is that it (shift to solar) will get more viable, as it's not much of a choice as energy cost goes up," he said.
Hong Leong Investment Bank Bhd analyst Daniel Wong highlighted that all the industry IPPs will have to undergo some transition towards RE.
While the RE contribution is targeted at 20%, Wong believes the demand for RE is expected to continue to rise. Hence, he foresees new capacity coming in as the new government might give more priority to RE, but probably only up to a certain extent.
"You probably notice that even Tenaga Nasional Bhd (TNB) and Malakoff Corp Bhd are already venturing into biorenewable energy. It's definitely still a long way, and it's a transition period from now until 2030," Wong added.
An analyst, who asked not to be named, said much still depends on the government's willingness to offer more large-scale solar plants for bidding. Whether the IPPs will jump into the solar energy space will depend on the return that the government is willing to give, he said.
"The IPPs would be interested to enter this space, but the return on the project has to be reasonable for companies to pick up the project. So, it depends on how much the government is willing to give," said the analyst.
"Solar is more expensive ... if you go more on green energy it will cost more, there is no doubt about it. So, it's about trying to catch a balance between being more environmental-friendly and wanting to have a cheaper source of energy," the analyst added.
Other analysts said that the main factor in deciding whether to shift to RE is the question of whether Malaysia has sufficient large pieces of land to instal large-scale solar plants.
"Location is also key because you want to have maximum exposure to the sun," said MIDF Research head Mohd Redza Abdul Rahman.
This, said Mohd Redza, is because if the transmission line is near then the cost is lower, making it financially attractive. Companies considering moving to the solar space will also look at the scale of the project.
Nevertheless, Mohd Redza highlighted that Malaysia has lots of potential simply by looking at spaces available on rooftops, be it in housing or industrial areas.
"With solar panels improving their efficiency and getting cheaper, it would be cost-effective for the layman to instal them, and for even companies to go into solar farming business or generating enough power for their own use," he added.
"Solar certainly needs a lot of space," said Pong. "You can't be putting on valuable agriculture land. So, you can only supplement and not displace energy production using more traditional sources," he said, stressing that the main problem for Malaysia is finding large plots of land for solar energy panels.
"All we can do is supplement. I think 20% might be a stretch ... because eventually all we can do is supplement traditional power generation sources with solar panel as we don't have large plots of land to devote to solar panel being laid out," said Pong.
It is understood that Malaysia has a higher cost gap in shifting from energy generated from conventional fuel to RE or solar energy generation compared with other countries, as Malaysia produces its own gas.
A local analyst said the question still boils down to whether Malaysians are ready to pay a higher fee for a more environmental-friendly energy.
"Because in foreign countries, people are willing to pay for it. But we wouldn't have a choice as it depends on the government directives," the analyst said.
Last week, Yeo said anyone interested in switching to solar energy could opt for "solar leasing", a new concept under a widened supply agreement for RE programme, in which users can enjoy zero upfront cost to instal PV panels, and payment for the monthly leasing fee or solar energy usage could be made to the solar company involved via TNB bills.
Wong said RE cost is declining every year while gas price is expected to go up every year.
"So, probably in another three years or five years down the road, this (cost gap between RE and gas) should reach an equilibrium, in the sense that they will be able to match each other in pricing," said Wong.
"The cost gap shouldn't be a problem. As of today, it might be [seen as an opportunity cost], but what about the next few years? We have to look towards the future of power generation," Wong added.