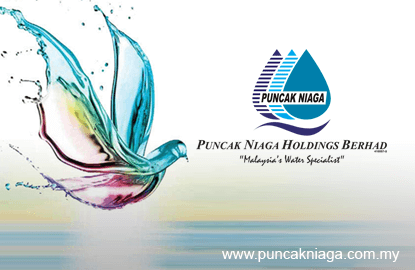 This article first appeared in The Edge Financial Daily, on March 17, 2016.
KUALA LUMPUR: Puncak Niaga Holdings Bhd's share price staged a strong rebound in the past two days and sparked speculation about the company's next move now that it has disposed of its water assets, and its new oil and gas (O&G) venture has fallen through.
It is known that Puncak Niaga needs to have a core business to fill the vacuum after the divestment of its water assets to the Selangor state government for RM1.55 billion cash last year.
Speculation has it that an asset injection by controlling shareholder Tan Sri Rozali Ismail is likely.
Yesterday, Puncak Niaga, which had been on a downhill since mid-November, saw its share price jump as high as 15.25%, or 18 sen, to a day's high of RM1.36. It closed at RM1.31 yesterday. The leap in its warrant, Puncak Niaga-WB, was even bigger, as it soared 19 sen or 42% to close at 64 sen yesterday.
Puncak Niaga handed over its subsidiaries, Puncak Niaga (M) Sdn Bhd and Syarikat Bekalan Air Selangor Sdn Bhd, to the state government's Pengurusan Air Selangor Sdn Bhd in October last year.
The group then announced that it would be earmarking RM1 billion of proceeds from the sale of its water assets to fund further expansion into the O&G sector or venture into oil palm plantation.
However, with depressed crude oil prices, the O&G venture seemed to have hit a snag. Puncak Niaga said in the results announcement that it had implemented a rightsizing exercise for its O&G division to trim staff and operational costs to minimal levels as the company "reviews its position in the sector".
For the full year, Puncak Niaga's net profit slid 73.6% to RM65.58 million or 15.58 sen per share in financial year 2015 (FY15), from RM248.38 million or 60.51 sen per share in FY14, while revenue dropped 69% to RM188.69 million from RM606.64 million in FY14.
The group saw its loss before tax widen sharply to RM152.4 million in FY15, compared with RM8.9 million in FY14, due to lower revenue in the O&G segment, impairment losses on goodwill and assets, and higher operating costs in the construction segment.
The group's cash and bank balances stood at RM378.55 million as at Dec 31, 2015, while loans and borrowings stood at RM71.2 million. It declared a special dividend of RM1 per share late last year after the divestment.