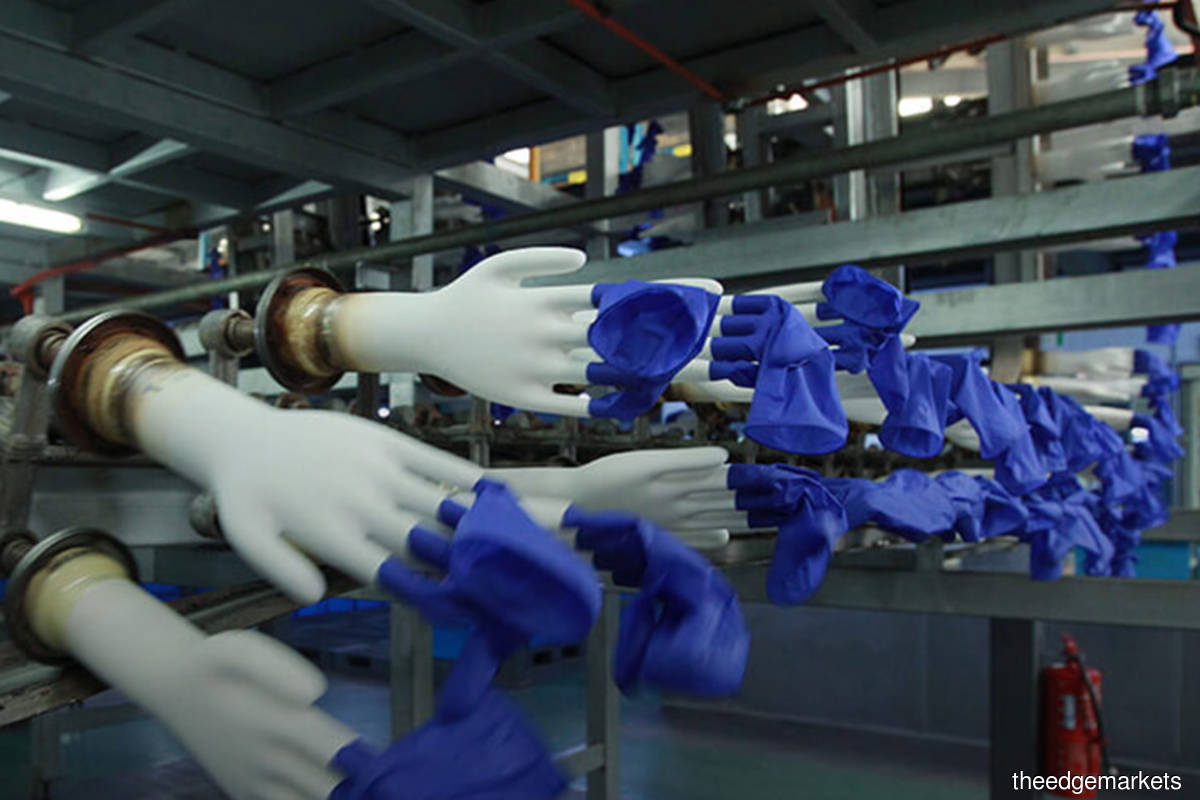 KUALA LUMPUR (June 21): PublicInvest Research has downgraded the rubber glove sector to "neutral" as it expects average selling prices (ASPs) for the sector to decline gradually in the second half of the year (2H21), following the improving Covid-19 situation in both the largest glove consuming markets, the US and the European Union (EU).
Its analyst Chua Siu Li in a note today cut her earnings forecasts for the sector by 10% to 35% on the back of lower ASP assumptions.
According to her, the improving Covid-19 situations in the US and EU resulted in much lesser urgency for distributors to immediately replenish inventories back to usual levels of two to three months.
"The buyers are adopting a more careful stance currently to avoid locking in purchases at high prices.
"We expect ASPs of gloves to start trending lower in the second half, supported by the improved Covid-19 situation as well as lower raw material prices as tight supply of nitrile butadiene latex continues to ease and [with a] better yield for latex concentrate after the end of the wintering season in May," she said.
She also noted that glove makers' commitment to stepping up on their social compliance practices will also translate into higher costs going forward, and she reckoned that it would take time for glove makers to fully pass on the cost increase to buyers, so it should result in margin compression in the near term.
Chua downgraded her rating of Kossan Rubber Industries Bhd to "neutral", with a lower target price (TP) of RM3.65.
"We cut our FY21 to FY23 earnings forecasts for Kossan by 37% to 51% to account for the expected decline in ASPs," she said.
She also maintained her "neutral" call on Top Glove Corp Bhd but lowered her TP to RM4.40.
Her preferred exposure to the sector is Hartalega Holdings Bhd due to its superior pre-Covid-19 margins. She continued to rate it as "outperform" but lowered her TP to RM9.75.
"We lower our earnings projections for FY22 to FY24 for Hartalega by 10% to 36% to reflect the expected ASP decline," she said, adding that the expected decline in ASPs had been priced in by the market at current valuations.
At the time of writing today, all three stocks mentioned above were in the red. Top Glove was lower by two sen of 0.21% at RM4.69, Kossan slipped four sen or 1.11% to RM3.56 and Hartalega had fallen by 12 sen or 1.42% to RM8.32.