This article first appeared in The Edge Financial Daily, on May 24, 2018.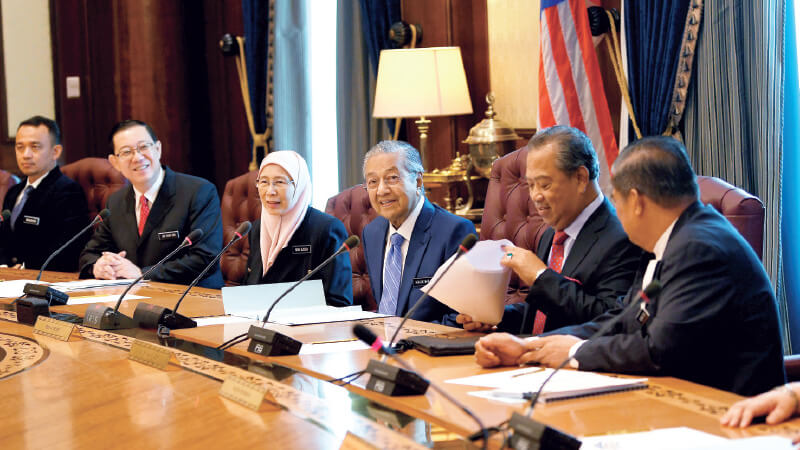 Dr Mahathir (fourth from left) presiding over the cabinet's first meeting in Putrajaya yesterday. Others present include (from left) Education Minister Dr Maszlee Malik, Finance Minister Lim Guan Eng, Deputy Prime Minister Datuk Seri Dr Wan Azizah Wan, Home Affairs Minister Tan Sri Muhyiddin Yassin dan Defence Minister Mohamad Sabu Ismail. Photo by Bernama
KUALA LUMPUR: The new Pakatan Harapan federal government, which inherited a ballooning national debt of over RM1 trillion from the previous administration, has started initiatives to reduce national spending — beginning with the public sector.
Among the steps the government is taking to tighten its belt are the termination of political appointees' contracts, a pay cut for ministers and the dissolution of several federal agencies, said Prime Minister Tun Dr Mahathir Mohamad after the cabinet's first meeting yesterday.
"There was no agenda. We discussed administation matters, especially those which relate to our [nation's] financial problems," he told reporters at the start of the press conference.
Dr Mahathir said all ministers will take a 10% cut off their basic salary — a move he hopes senior civil servants will follow.
"As you know, senior civil servants are better paid than the ministers," said Dr Mahathir. "It is up to them — if they feel they want to contribute towards lessening the costs of running this country, they can do so. But we are not forcing them," he said.
According to the Members of Parliament Remuneration Act, the prime minister earns RM22,826.75 monthly, while his deputy gets RM18,168.15. A minister gets RM14,907.20 per month, while the deputy earns RM10,847.65.
Dr Mahathir has also approved the downsizing of the civil workforce, mainly involving the termination of some 17,000 contract workers whom he alleged "obtained positions within the government without being included in the list of public servants".
"Some of the time they become permanent officers," he said. "These include officers who were appointed as 'political awards'. There are cases where the government spent money just to provide opportunities to its supporters," he added.
At the same time, Dr Mahathir assured that the government will "pay more attention" to reducing the effect of this downsizing exercise on those with low-paying positions.
"What we will do is that we will terminate their contracts, but we will re-engage those who are essential and those of lower [income], because [the latter] are not really political," he said.
Dr Mahathir also affirmed that the Pakatan Harapan-led government will not take on the hefty pay rise proposed for the civil servants this July, as promised by the previous Barisan Nasional (BN)-led administration ahead of the 14th general elections (GE14) earlier this month.
"We are looking at that. That was a promise made by the [BN] opposition now. They did not win the election.
"And we are not bound by their promises … nevertheless we will look at it in a very positive way. Where they deserve to be given extra allowance, we will do so," Dr Mahathir said.
No more SPAD, Special Affairs Dept, National Council of Professors
The government has also dissolved three agencies that report to the Prime Minister's Office with immediate effect .
In the list are BN's controversial propaganda unit, the Special Affairs Department, as well as the National Council of Professors. The council is being done away with because it is increasingly affected by political factors, said the prime minister.
"Most institutions which are not part of the government but supposed to advise the government … all these will be disbanded," said Dr Mahathir. "We don't need their intelligence. I think we are quite intelligent enough."
Also dissolved is the Land Public Transport Commission, which will have its functions taken over by the transport ministry, said Dr Mahathir.
The government will also abolish the existing Federal Village Development and Security Committee, a network spanning villages nationwide originally set up to assist with development but later manipulated for political purposes.
He also reiterated that the government is still reviewing Malaysia's many ongoing and approved mega projects.
"We are studying which project to scrap, which to continue, which to defer … [we will announce at a] later date," he said.
In a related matter, the government will do away with the weekly determination of the retail prices of petrol and diesel that was introduced in April last year.
Fuel prices will also remain unchanged for now, he added.
"Global oil prices have risen above US$70 (RM278.6) per barrel, but fuel pump prices remain the same [for now]," he said.
"But we will have to study whether to reduce or increase fuel prices [going forward]," Dr Mahathir said. "Our policy is not to have [the current] weekly [price] changes [that is] according to the world market price."
Under the BN government, a weekly fuel price mechanism was implemented based on the average Means of Platts Singapore price, as well as the average ringgit strength against the US dollar in the previous week.
Prior to that, the prices of petrol and diesel were placed on a managed monthly float system since Dec 1, 2014, following the removal of fuel subsidies. But ahead of GE14, fuel prices remained unchanged since April, when Brent crude oil was trading at around the price of US$67 per barrel. At press time, Brent oil was trading at US$78.99 per barrel.