This article first appeared in Personal Wealth, The Edge Malaysia Weekly, on April 20, 2020 - April 26, 2020.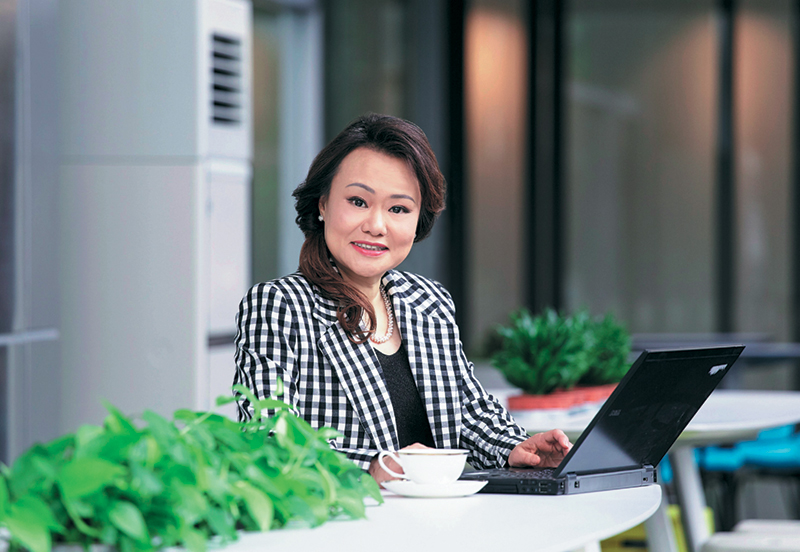 Investors should adopt the ringgit cost averaging approach for their unit trust investments and ensure that their portfolios are diversified across domestic, regional and global equity funds, as well as fixed-income funds. Adopting a long-term investment horizon will allow sufficient time for the investments to grow. > Yeoh
Click / Tap image to enlarge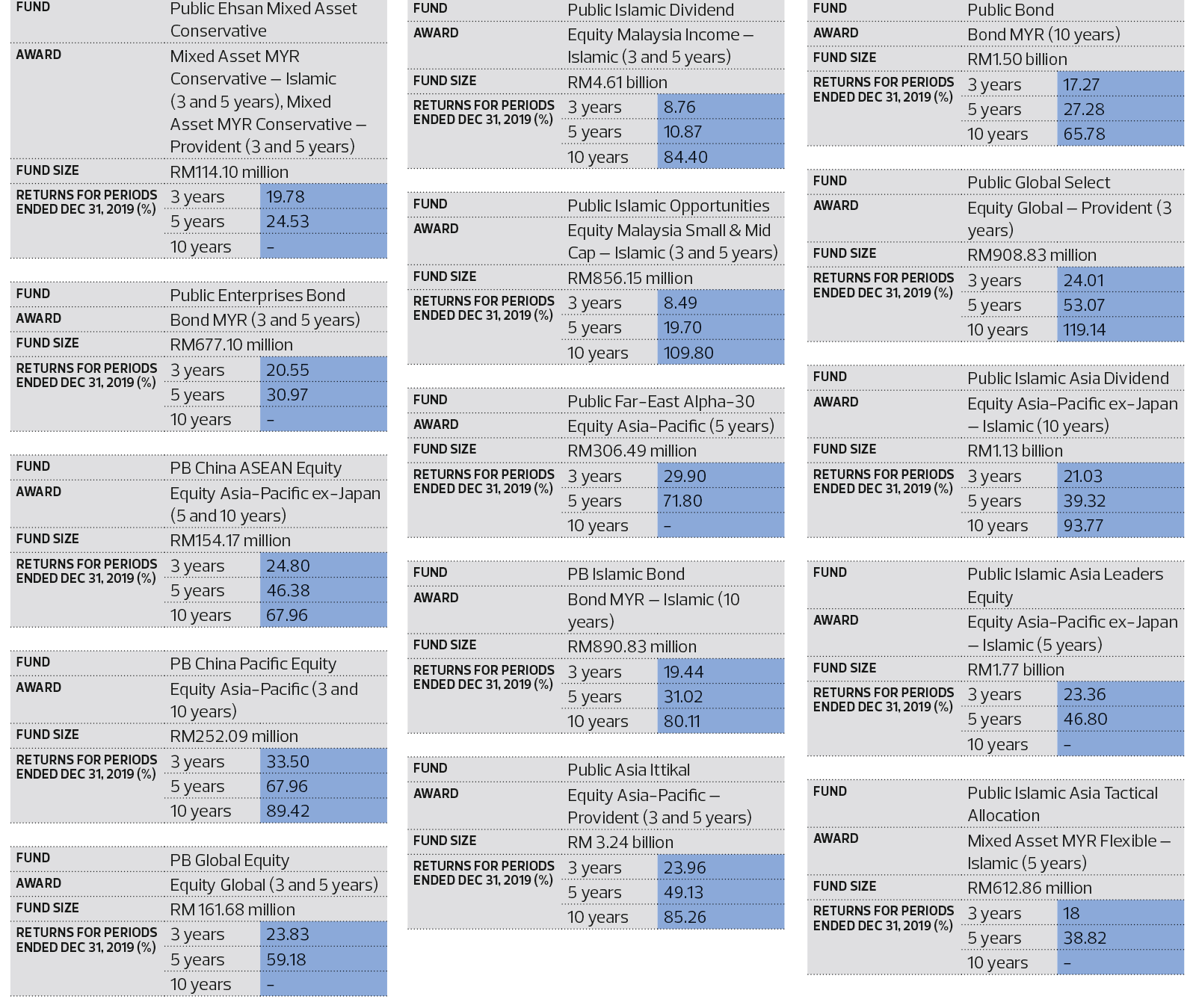 Public Mutual Bhd emerged the biggest winner at the Refinitiv Lipper Fund Awards 2020. By winning two group awards and 32 fund awards, it broke its own record of one group award and 28 fund awards at last year's event.
This result was achieved against a backdrop of elevated volatility in the financial markets last year. CEO Yeoh Kim Hong attributes the success to the fund house's philosophy of adopting a fundamental approach to investing by selecting bonds and stocks with resilient earnings, strong financial positions and proven management track records.
"This fundamental-based approach enabled us to clinch the Best Equity (Malaysia) and Best Mixed Assets (Malaysia) group awards. The performances of our funds in these two categories were underpinned by investments in technology, manufacturing, healthcare, real estate investment trusts (REITs) and consumer stocks," she says.
The Public Ehsan Mixed Asset Conservative Fund won four awards. "The fund's returns were largely driven by its investments in technology and manufacturing stocks, as well as bond holdings as bond yields were compressed," says Yeoh.
Six equity funds and one mixed asset fund won two awards each. The PB Global Equity Fund achieved returns of 23.8% and 59.2% over the three and five-year periods ended December 2019. It won the award for Best Equity Global — Malaysia in both categories.
The Public Islamic Dividend Fund (Equity Malaysia Income) and Public Islamic Opportunities Fund (Equity Malaysia Small & Mid Cap) won two awards each in the Malaysia Islamic category. "Their focus on consumer, healthcare, technology and industrial stocks helped them to ride through the challenging conditions in the domestic market, particularly in 2018, when the FBM Emas Shariah Index retraced by 13.5% while the FBM Small Cap Shariah Index registered a loss of 34.8%," says Yeoh. 
In the fixed-income category, the Public Enterprises Bond Fund won the award  for Best Bond MYR — Malaysia in the three and five-year categories, with returns of 20.55% and 31% respectively. "The fund adopted a longer duration portfolio to capitalise on falling bond yields and focused its investments on 
Malaysian Government bonds, as well as 
infrastructure and banking bonds or sukuk with sound credit fundamentals," she says.
Five Public Mutual funds won awards for three consecutive years. These included the PB China Pacific Equity Fund, whose performance was underpinned by Chinese internet and e-commerce stocks that were beneficiaries of China's digital transformation, and the Public Far-East Alpha-30 Fund. "The fund, which runs a concentrated portfolio of up to 30 stocks in regional markets, staged a stronger rebound during the market's recovery in the last four months of 2019," says Yeoh. 
The Public Bond Fund won awards for four consecutive years as a result of careful credit selection and ongoing duration management, she adds.
The uncertainties caused by the US-China trade dispute was the most challenging situation faced by fund managers last year, according to Yeoh. It impacted export-oriented sectors such as automotive, industrial and manufacturing.
"Our strategy was to reduce our funds' exposure to sectors or companies that were impacted by the US-China trade tariffs and focus on stocks that were not impacted by trade restrictions, as well as companies that would benefit from capacity relocation as a result of the tariffs imposed by the US," she says. 
Other events that impacted fund performance were softer manufacturing activity across selected major economies, the Brexit negotiations and US trade protectionist measures against the European Union. A positive factor was the shift towards accommodative monetary policies by central banks in the middle of last year. 
The domestic market was challenging for investors due to a lack of fresh catalysts and lacklustre corporate earnings growth, according to Yeoh.
In response to these factors, Public 
Mutual's fund managers generally trimmed the equity funds' exposure to sectors that experienced slower earnings growth, "while selectively capitalising on beneficiaries of the low interest rate environment, such as high-dividend-yielding stocks and REITs, and [those riding] the trend of increasing digitalisation and sustained consumer spending", she says.
On the fixed-income front, Public Mutual's bond funds were rebalanced to navigate the volatility in the domestic bond market in April and September last year, due to FTSE Russell's review of Malaysia's eligibility to remain on the World Government Bond Index. "Our focus on bonds and sukuk with sound credit fundamentals enabled our funds to avoid bonds that were impacted by credit downgrades during the year as economic activities slowed down," says Yeoh.
Meanwhile, the fund managers increased the local balanced funds' exposure to bonds to capitalise on falling yields.  The regional and global equity fund managers generally trimmed their exposure to the North Asian markets in the first half of last year amid ongoing global trade tensions and uncertainties over the direction of US interest rates. "As US-China trade negotiations progressed in the second half of 2019, the funds selectively capitalised on the lower valuations of leading players in the technology and consumer sectors," says Yeoh.
This year will continue to pose challenges for financial market participants, she observes. In the first three months of the year, global equity markets have already undergone substantial declines, especially since Covid-19 was declared a pandemic by the World Health Organisation. 
"In the light of these developments, our equity and balanced funds will ride through the elevated levels of market volatility by continuing to focus on quality stocks underpinned by resilient earnings and dividend yields, as well as stocks that are beneficiaries of secular growth trends," says Yeoh.
"Selected equity and balanced funds are also holding higher levels of cash to capitalise on buying opportunities as and when markets stabilise, and when there is more clarity on the global economic outlook."
As the low interest rate environment and accommodative monetary policy are anticipated to underpin the Malaysian bond market in 2020, "our bond funds will generally maintain a long duration bond portfolio, focus on quality issuers and rebalance on an ongoing basis to capitalise on opportunities arising from shifts in yield curves", she adds.
Going forward, Public Mutual will continue to adopt its fundamental approach in its stock selection strategy to ride through market cycles. "Investors should also adopt the ringgit cost averaging approach for their unit trust investments and ensure that their portfolios are diversified across domestic, regional and global equity funds, as well as fixed-income funds. Adopting a long-term investment horizon will allow sufficient time for the investments to grow", says Yeoh.