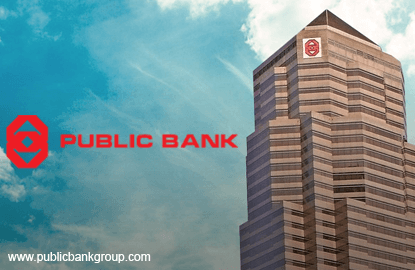 KUALA LUMPUR (Feb 3): Public Bank Bhd saw its net profit rise 19.2% year-on-year to RM1.49 billion or 38.65 sen per share in the fourth quarter ended Dec 31, 2015 (4QFY15) from RM1.25 billion or 32.47 sen per share a year ago.
The higher net profit was mainly due to the net write-back of loan impairment allowances, higher net interest income and higher other operating income, a filing with Bursa Malaysia showed.
Revenue increased 8.83% to RM4.93 billion in 4QFY15 from RM4.53 billion in the previous corresponding quarter.
The bank declared a second interim dividend of 32 sen, payable on March 1, 2016. Full year dividend for 2015 amounted to 56 sen.
The total dividend paid and payable for 2015 amounted to RM2.16 billion, representing a total payout of 42.7% of the group's net profit for 2015, Public Bank founder and chairman Tan Sri Teh Hong Piow said in a separate statement.
Full year (FY15) net profit climbed 11.95% to RM5.06 billion or RM1.31 per share from RM4.52 billion or RM1.24 per share in FY14 while revenue jumped 13.76% to RM19.18 billion from RM16.86 billion in FY14.
In accompanying notes to its financial results, Public Bank said the group's pre-tax profit in FY15 grew 11.6% to RM6.49 billion from RM5.81 billion in FY14.
Public Bank said the improved earnings hinged on higher net interest income of RM446.6 million (7.5%), higher non-interest income of RM428.4 million (22.4%) and lower loan impairment allowances of RM112.8 million (43.5%).
These were partially offset by higher other operating expenses of RM309.3 million (11.9%) mainly due to higher personnel costs which were in tandem with increased labour to support business expansion.
The growth in the group's profit was driven by continued healthy loans and customer deposits growth coupled with sustained strong asset quality, the filing stated.
Gross loans grew by 11.6% to RM273.4 billion in FY15 from RM245 billion in FY14, driven by growth in property financing, financing of passenger vehicles and lending to small and medium enterprises, with the group's retail loan portfolio accounting for 86% of its total loans.
Total deposits from customers increased by 8.9% to RM301.2 billion in FY15, which partly contributed to the higher net interest income for the current year.
The group's domestic customer deposit grew by 7.5%, significantly higher than the domestic banking industry's growth rate of 1.8%.
Meanwhile, impaired loan ratio further improved to 0.5% as at Dec 31, 2015, the filing stated.
Public Bank's net loan to deposit ratio was 90.3% as at end of 2015, while its non-interest income increased by 22.4% in 2015 as compared to 2014.
This was mainly contributed by higher income from its unit trust business, foreign exchange related transactions and fee income from banking operations.
Teh said the group achieved yet another milestone for FY15, surpassing the RM6 billion mark for the first time after charting a pre-tax profit of RM6.49 billion.
"This represents 11.6% growth from the pre-tax profit of RM5.81 billion achieved a year ago.
"Net profit attributable to shareholders grew by 12% to RM5.06 billion, translating to a net return on equity of 17.8% for 2015," he said.
Teh said although the Malaysian economy is faced with increasing challenges arising from low commodity prices, volatility in the financial market and the weak external environment, the group continued to demonstrate resilience by achieving a healthy loan growth of 11.6% and deposit growth of 8.9%.
"With the favourable financial performance, not only did the group continue to preserve its coveted track record of 49 years of unbroken profitability since the commencement of its operations, it also continued to stand out amongst its Malaysian banking peers by delivering the highest net return on equity of 17.8%, as well as the best in asset quality and cost efficiency," he added.