This article first appeared in The Edge Malaysia Weekly, on October 22, 2018 - October 28, 2018.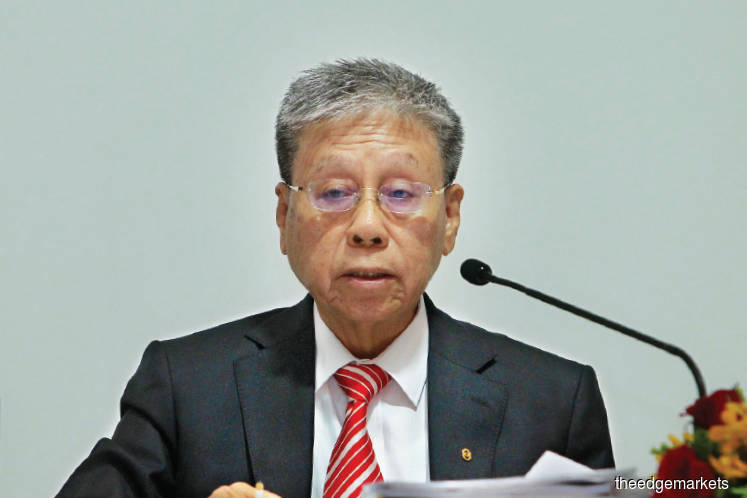 Tay says the bank has a three-year digital road map that outlines its digitalisation plans towards 2020. Photo by Mohd Shahrin Yahya/The Edge
PRUDENCE and cautiousness have been Public Bank's bedrock over its 52 years of operations. However, at a time when digitalisation is driving the future of banking, such a strategy may no longer be enough to take the lender forward.
There is a perception that Public Bank, the country's second largest banking group by annual profit, lags behind its peers when it comes to responding to digital disruption and preparing for a more digital future in banking.
However, managing director and CEO Tan Sri Tay Ah Lek reveals in an email interview with The Edge that, contrary to perception, the bank does have a plan. It has a three-year digital road map that outlines its digitalisation plans towards 2020.
"The road map takes into account current digital trends and outlook encompassing the bank's financial technology (fintech) strategy, customer demand, fintech solutions, the bank's targets and associated risks involved," he says in a rare response to media queries.
The Edge had sought Tay's views on market concerns about Public Bank being late in the digital game and to elaborate on what the bank has done so far in that space.
In terms of investments, he says the bank has invested about RM400 million in the last three years on IT-related capital expenditure, which includes improving its digital infrastructure. Of this, about RM90 million was spent specifically on fintech-related initiatives.
"The bank is planning to invest another RM600 million in the next three years to further enhance the back-end ICT infrastructure, digital capabilities and knowledge, whereby about RM180 million is allocated for fintech-related initiatives and projects. These include investments in putting in place the required hardware, software and applications," he says.
"The key goals and focus would be to enable business agility, offer competitive digital banking products and services, maintain resilient ICT infrastructure, advance data analytics, strengthen cyber resilience and improve governance and compliance," he adds.
For a long time, some in the investment community have been concerned that Public Bank may lose its competitiveness in the future, what with its peers moving at a faster place with their digital plans.
"Public Bank tends to be behind the curve when it comes to digital banking," DBS Group Research wrote in a report earlier in April. It described Public Bank as moving "silently and slowly, but surely" in its digitalisation efforts.
The concern is compounded by the fact that digitalisation of the banking sector has been gathering momentum at home and abroad. There are already at least 25 digital-only banks in the world, including Singapore banking group DBS' Digibank in India.
Adding to that, is analysts' view that the Public Bank branding is staid and that it needs to do more to make itself appealing to a digital-savvy younger generation.
"The perception we get is that Public Bank has been slow and cautious, especially when we look at what Maybank, CIMB Group and Hong Leong Bank, for example, have been doing on the digital front ... and these banks' efforts started several years ago. But to be fair, we don't really know what Public Bank's plans are as it has kept largely silent on its digital strategy and investments. We get the impression that it is treading very cautiously in this area," remarks an analyst at a bank-backed research house.
In the past, Public Bank's trademark prudence and restraint from jumping on the bandwagon have worked in its favour. Recall that its conservative stance on lending helped it emerge from the 1997/98 Asian financial crisis relatively unscathed while others dealt with a flood of bad loans. Will that prudence work in its favour this time?
Analysts note that the big banks here that began their digital journey several years ago have yet to reap any significant financial returns.
"It is a case of having to do it anyway to defend your position. If you do, it is neutral to slightly positive for you. But if you don't, it is a negative because you will lose customers," observes one.
For banks to get ahead, sizeable investments have to be made in digital innovation or solutions, IT infrastructure and in people. Banks typically do not reveal how much they spend, collectively, on these.
In Public Bank's 2017 annual report, released in March, founder and chairman Tan Sri Teh Hong Piow addressed the digital topic. He said the group is staying agile in response to the digital banking evolution and that it is "proactively building and enhancing its digital capability" to serve customers better. However, he did not elaborate.
What the bank says
Tay, in his email response, says Public Bank has always been closely monitoring the emergence of digital advancement and is well aware of the digital trend in the banking industry.
"The bank views technology as an important and effective enabler to the implementation of its business strategy and in serving its customers. However, it is always mindful of the various dimensions of risk involved, such as a short life cycle of applications arising from the rapid advancement of technology, cybersecurity threats and the readiness of customers to adopt digital-driven services," he says.
In that context, he says the bank has been proactively exploring and tapping "sustainable digital solutions" to enhance customers' experience.
Public Bank has assigned a "head of digital" to oversee and lead its digital transformation, he says, without naming the person. Apart from that, the bank has also established a "fintech and digital innovation" team to drive its digital initiatives.
"Fintech meetings are held regularly among the senior management, the fintech and digital innovation team and the heads of respective business units. This platform allows them to think and plan strategically on the bank's products and services digitalisation," he shares.
Public Bank has been active when it comes to implementing digital payment platforms, he says, having partnered Samsung, Alibaba and Tencent to launch Samsung Pay, AliPay and WeChat Pay respectively. It is understood to have started on these initiatives from last year.
According to Tay, the bank is also working closely with its bancassurance partner, AIA, on certain initiatives. To date, it has launched PB Direct, a straight-through online insurance application via iPad, and Ask Sara, a virtual assistant that contains more than 700 questions for easier onboarding of customers by sales staff.
As for fintech initiatives, the bank recently conducted a Fintech Open Day, where 10 fintech companies showcased their solutions for evaluation for potential further collaboration.
Two national initiatives that Public Bank is actively working on are the implementation of the bank's QR (quick response) Pay Services — where consumers can make payments using mobile phones via QR code — and the Real-Time Retail Payments platform, where consumers can make fund transfers through mobile phones using mobile phone numbers and/or their identification card numbers as the identifier.
"The Real-Time Retail Payments using mobile phones is expected to be rolled out to the market by the end of 2018, while the QR Pay Services will be implemented by mid-2019," Tay says.
He says the bank is currently in the process of further enhancing its digital channels, such as its mobile banking apps. "Many of the banks' initiatives are ongoing," he remarks.
In addition to the RM600 million that it will invest over the next three years, Public Bank will also invest in training and upskilling its staff so they are equipped to deal with the changes and be "future ready", he says.
Save by subscribing to us for your print and/or digital copy.
P/S: The Edge is also available on Apple's AppStore and Androids' Google Play.