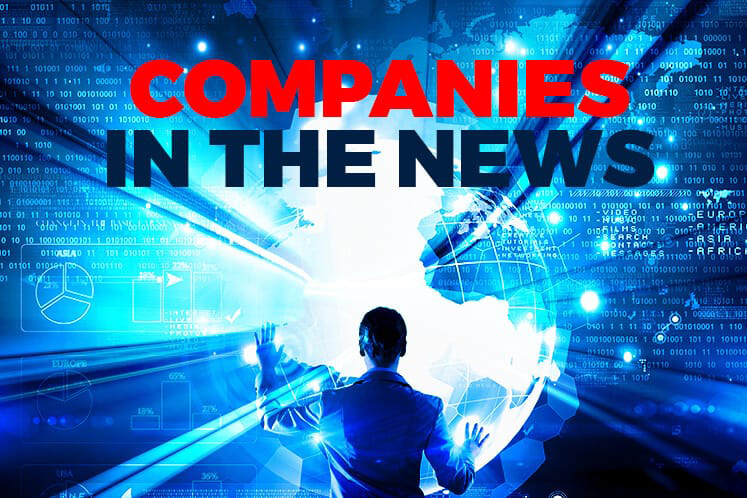 KUALA LUMPUR (Aug 14): Based on corporate announcements and newsflow today, stocks in focus tomorrow may include: Public Bank Bhd, S P Setia Bhd, MISC Bhd, Fajarbaru Builder Group Bhd, Malaysia Bulk Carriers Bhd (Maybulk), Malayan Flour Mills Bhd (MFM) and Mega First Corp Bhd.
Public Bank Bhd's net profit for the second quarter ended June 30, 2019 (2QFY19) declined 4.5% to RM1.33 billion from RM1.4 billion last year, with net interest income (NIM) declining 1.5% to RM1.85 billion from RM1.88 billion last year, following a 0.25% reduction in the overnight policy rate (OPR) in May to 3%.
The group declared a first interim dividend of 33 sen per share, payable on Sept 10, 2019.
For the first half of the year (1HFY19), net profit slipped 2.1% year-on-year (y-o-y) to RM2.74 billion from RM2.8 billion, as NIM fell 1.233% to RM3.73 billion from RM3.78 billion.
S P Setia Bhd's 2QFY19 net profit declined 68.67% y-o-y to RM138.73 million from RM442.74 million due to a one-off provisional fair value gain recorded during 2QFY18, despite revenue rising 44.3% to RM1.34 billion from RM925.97 million from the RM449.2 million sale of the former British High Commission land located on Jalan Ampang, Kuala Lumpur.
The fair value gain of RM343.8 million stemmed from the remeasurement of an existing equity stake in Setia Federal Hill Sdn Bhd when the group acquired the remaining stake in the company, thus becoming S P Setia's wholly-owned subsidiary.
In 1HFY19, the group's net profit slid 62% to RM191.55 million from RM504.23 million in the same period, though revenue rose 39.2% to RM2.2 billion from RM1.58 billion in 1HFY18.
The group declared an interim dividend for its Islamic Redeemable Convertible Preference Shares (RCPS), RCPS-i A and RCPS-i B at 6.49% and 5.93% per annum respectively.
MISC Bhd's 2QFY19 net profit rose 24.5% to RM399.8 million from RM321.2 million a year as revenue increased to RM2.16 billion from RM2.14 billion from a higher number of operating vessels. The group declared an interim dividend of seven sen per share, payable on Sept 18.
For 1HFY19, net profit rose to RM910.3 million from RM631.8 million in 1HFY18 as revenue rose to RM4.44 billion from RM4.16 billion last year.
Fajarbaru Builder Group Bhd and its wholly-owned unit inked a joint venture (JV) agreement with Chinese Gezhouba Group Overseas Investment Co Ltd (CGG) to bid for the construction of a large scale solar photovoltaic (LSS3) energy generating facility in Malaysia. The companies will be jointly submitting a tender to the Energy Commission of Malaysia via the Fajarbaru-Gezhouba- Potential Region Consortium.
The JV will also seek to deliver solar photovoltaic energy to Tenaga Nasional Bhd (TNB) with a total capacity of 40MWac In Tanjung Agas Industrial Area, Mukim Pekan 1, Pahang. Fajarbaru will take a 52% stake in the JV while its unit will hold 5% with rest under CGG's unit.
Malaysian Bulk Carriers Bhd's (Maybulk) losses in the second quarter ended June 30, 2019 (2QFY19) narrowed significantly to RM6.94 million from RM151.27 million a year earlier, as the group did not have to contend with losses from a now-disposed associate company. Revenue rose 19.58% to RM68.75 million from RM57.49 million.
For 1HFY19, the group's losses narrowed to RM17.7 million from RM165.62 million a year prior, as 1HFY18's figures saw losses from the associate totalling RM8.4 million, as well as an impairment loss on the associate worth RM147.66 million.
Malayan Flour Mills Bhd (MFM) fell into the red with a net loss of RM580,000 in its second quarter ended June 30, 2019 (2QFY19), versus a net profit of RM4.77 million a year ago, following losses sustained in its poultry integration segment. This was despite its quarterly revenue rising 14.21% to RM625.52 million from RM547.68 million last year.
It declared an interim dividend of 1.2 sen, payable on Sept 13.
Its 1HFY19 net profit tripled to RM19.29 million from RM6.37 million last year on stronger contribution from its flour and grains trading segment, and its share of profit from joint venture. Revenue increased by 13.42% to RM1.26 billion from RM1.11 billion.
Mega First Corp Bhd today announced that two of its units have called off a mixed development project located in Kinta, Perak in joint venture with Menteri Besar Incorporated (Perak) but that an indirect subsidiary has been given the option to secure a significant plot of land for a solar photovoltaic plant.
Under the option agreement, the unit is entitled to lease and or to buy the land from MBI Perak until Dec 31, 2020.