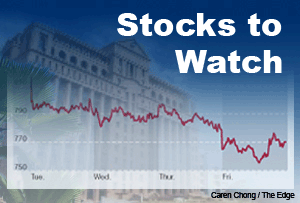 KUALA LUMPUR (Oct 23): Based on newsflow and corporate announcements today, the stocks that will garner interest tomorrow (Oct 24) may include the following: Public Bank, Press Metal, Kuala Lumpur Kepong (KLK), FGV, Genting Plantations, IOI Corp, United Plantations, Kulim and MAHB.
Public Bank Bhd revealed today that its net profit grew 13% on-year to RM1.19 billion for the third financial quarter ended Sept 30, 2014 (3QFY14) from RM1.05 billion, on higher net interest income, net fee and commission income, and lower loan impairment allowances.
In a filing with Bursa Malaysia, the bank said its 3QFY14 revenue also grew 11.6% on-year to RM4.32 billion, from RM3.87 billion.
Public Bank said the favourable achievement in 3QFY14 was mainly attributed to higher operating revenue from growths in net interest income and steady non-interest income, coupled with stable credit costs.
In a separate announcement, Public Bank said it would make a full early redemption of its RM200 million subordinated notes, together with accrued interest, on Nov 6.
Public Bank closed 6 sen higher at RM18.62 today, bringing its market capitalisation to RM71.9 billion.
Press Metal Bhd is upbeat on its 2015 outlook, as aluminium prices are set to continue rising in the near term on a tighter market, said its CEO Datuk Koon Poh Keong.
"Press Metal expects that global aluminium price to rise to US$2200 a tonne in 2015, compared with an average of US$2000 per tonne this year," he told reporters after the group's extraordinary general meeting today.
At the current price level, Koon said Press Metal, Southeast Asia's biggest aluminium smelter, is enjoying a sale premium of US$400 per tonne this year — double that of 2013.
The group will also focus more on doubling its production of value-added aluminium products for the automotive sector, to drive future earnings.
Press Metal climbed 36 sen or 6.8% to close at RM5.59, translating into a market capitalisation of RM3.07 billion.
Plantation stocks such as Kuala Lumpur Kepong Bhd (KLK), Felda Global Ventures Holdings Bhd (FGV), Genting Plantations, IOI Corporation Bhd and United Plantations Bhd may see some action tomorrow. as Reuters reported that Malaysian palm oil made its biggest gain in four weeks on Thursday, buoyed by a weakening ringgit, strong soy oil markets, and more trades to clear positions ahead of the end-of-month rollover.
The ringgit retreated 0.32 % to 3.2715 against the dollar on Thursday, after three days of gains.
By Thursday's close, the benchmark January contract on the Bursa Malaysia Derivatives Exchange had advanced 1.69% to RM2,171 (US$663.61) per tonne — its highest level since last Tuesday, and the biggest single-day climb since Sept 25.
Kulim (Malaysia) Bhd (Kulim) will distribute RM1 billion or 78 sen per share from the proceeds of the sale of its 48.97% stake in New Britain Palm Oil Ltd (NBPOL) to Sime Darby Plantation Sdn Bhd (Sime Darby Plantation), for GBP525.4 million or RM2.75 billion.
Kulim, via a filing to the local bourse this evening, said it will distribute the RM1 billion over a period of two years after the disposal.
Of the remainder of the sale proceeds, RM600 million will be used to repay bank borrowings within the next six months, which should bring down Kulim's gearing from 0.4 times to 0.21 times. Meanwhile, another RM300 million will be used as general working capital for the next 12 months.
It will also set aside RM850 million from the proceeds, for investments or acquisitions of viable assets and businesses, in the next two years. It also intends to part finance its oil palm plantation expansion and its venture into the oil and gas sector in Indonesia.
The filing also said it has received a formal offer document from Sime Darby Plantation today, to acquire its NBPOL stake at an offer price of GBP7.15 per share or RM37.47 — a premium of 85% to NBPOL's last closing price of GBP3.87 on Oct 8 — on the London Stock Exchange.
Kulim's original investment cost for its acquisition of 96 million NBPOL shares was only RM282.71 million in 1996.
Shares of Kulim closed at RM3.39, translating into a market capitalisation of RM4.34 billion.
Malaysia Airports Holdings Bhd (MAHB) announced today that it will exercise its right of first refusal (ROFR) and has proposed to acquire the remaining 40% stake in Istanbul Sabiha Gokcen International Airport Investment Development and Operation Inc (ISG), for a maximum purchase consideration of EUR285 million (RM1.2 billion).
In a filing with Bursa Malaysia today, MAHB said it has, via its wholly-owned subsidiary Malaysia Airports Cities Sdn Bhd (MACities), exercised the ROFR today.
Currently, MAHB holds a 60% stake in ISG, while the remaining 40% stakes are held by Limak and Limak Yatirim.
"MAHB is currently deliberating on the most appropriate funding structure to satisfy the purchase considerations for the proposed acquisitions," it said.
It said it will secure the necessary bridging facilities and/or drawdown its existing facilities, to finance the proposed acquisitions in the event the proposed funding is not finalised or in place, in time for the completion of the proposed acquisitions.
MAHB said the purposed acquisition is in line with its corporate straregy, including the strengthening of MAHB's presence as an airport operator in Turkey and Europe, and to reinforce MAHB's strategic position as a world-class airport operator.
The transaction is expected to be completed by the first quarter of next year.
MAHB rose as much as 23 sen or 3.56% to close at RM6.96, with a market capitalisation of RM9.19 billion.