This article first appeared in The Edge Malaysia Weekly, on August 19, 2019 - August 25, 2019.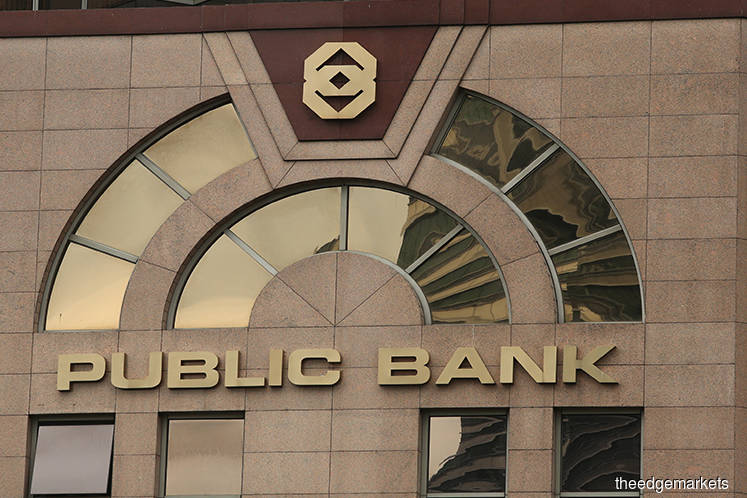 THESE are surely challenging times for Public Bank Bhd. The lender, known for its prudence and perceived to be one of the better-run banks in the industry, has had a long track record of delivering good results even when the industry struggles to show growth.
That it is succumbing to the industry's weakening profitability trend is a sign of just how tough things are for the industry, analysts say.
"It says something about how tough it is out there. It is the first time we are seeing so much weakness on the consumer [banking] side in the industry ... and competition has gotten so much more intense," an analyst from a bank-backed research house tells The Edge.
Public Bank's weaker-than-expected 2Q earnings have turned analysts more cautious on the lender's financial prospects for the full year and point to a bleak reporting season for the banking sector.
At least six research houses are projecting a small decline in Public Bank's net profit in FY2019. If this were to happen, it would be the first time in 18 years — since FY2001 — that the group's earnings fell on a y-o-y basis.
Most analysts cut their FY2019 and FY2020 earnings estimates for the country's third largest lender by assets after it announced last Wednesday a net profit of RM1.33 billion for the quarter ended June 30, 2019 (2QFY2019) — a decline of 4.5% y-o-y and 5.5% q-o-q.
It was the first of the public-listed banks to report its financial results, as per the norm. Most of the other banks are expected to release theirs next week.
Public Bank's net profit for the six months to date, at RM2.74 billion — 2.1% lower than that of a year ago — was deemed by most analysts to be below expectations, coming in at 48% of consensus forecast for the full year.
It fell short of expectations mainly because of a larger-than-expected compression in net interest margin (NIM) following Bank Negara Malaysia's move to cut the overnight policy rate (OPR) by 25 basis points on May 7. It was the first revision following a 25bps increase in the OPR in January last year.
CGS-CIMB Research expects Public Bank to turn in weaker earnings in the second half of the year due to the rate cut.
"We cut our FY2019 to FY2021 net profit forecasts by 3% to 5% as we lower our projection for net interest income by 2% to 3%, and Islamic banking income by 5% to 11%," it says in an Aug 15 report following the bank's results.
It predicts the lender's FY2019 net profit to drop by 1.2% to RM5.52 billion, impacted by margin contraction from the OPR cut.
"It's going to be a washout year, not just for Public Bank, but for most of the banks — not just because of the OPR cut, but also the weaker economic environment, which will slow things down even further for banks," an analyst remarks.
Several key economies, including the US, are reported to be at a higher risk now of falling into a recession. Economists say this raises the possibility of another cut in the OPR by Bank Negara later this year. Malaysia recorded surprisingly stronger economic growth of 4.9% in 2Q, as announced by the central bank last Friday, but economists remain cautious on the outlook.
"I think none of the banks are ruling it (another OPR cut) out, but none wants to really commit to it for now," the analyst adds.
At its post-results analyst briefing last Wednesday, Public Bank senior officials — led by CEO Tan Sri Tay Ah Lek — guided for a high single-digit compression in NIM this year as opposed to an earlier expectation of a mid-single-digit compression. Analysts say the guidance does not take into account another OPR cut.
"We now lower our NIM expectation to factor in management's revised guidance and the possibility of another 25bps OPR cut into FY2020. As such, we expect NIMs to compress -7bps to -4bps in FY2019/20 from -3bps to 1bps previously. Our net profit forecast is correspondingly lowered by 4% for FY2019/20 respectively," Maybank Investment Bank Research says in an Aug 15 report.
Public Bank is, however, fundamentally strong and continues to remain at the forefront of the industry on a number of key metrics like asset quality and cost efficiency. Based on its 1HFY2019 results, it achieved all its full-year targets, except for its loan growth target.
The group's loans grew at an annualised rate of 4%, below its full-year target of 5% set earlier in the year. Some analysts think this was mainly due to slower growth in the SME loan segment, which reflected a weak business sentiment. SME is now also a highly competitive space, with banks looking to grow the segment more aggresively.
Public Bank is now guiding for loan growth of 4% to 5% for the year.
"Management guides that mortgage approvals this year have been higher than in 2018 and this should support loan growth for FY2019/20. However, commercial property loan demand is subdued as is auto loan demand," says Maybank IB Research.
At the analyst briefing, the bank denied market speculation that it had exposure to London Biscuits Bhd, a Practice Note 17 company. "It said it only has small exposure (hire purchase loans of less than RM1 million) to one of the related parties of London Biscuits," CGS-CIMB Research says in its report.
The bank also said that despite ongoing protests in Hong Kong, there were no major disruptions to its operations there, apart from  some decline in business volume. Hong Kong contributes less than 5% to group earnings.
Public Bank achieved a net ROE of 13.6% (against its full-year target of 13% to 14%), a cost-to-income ratio of 34.2% (34% to 35%), gross impaired loan ratio of 0.5% (less than 1%), annualised deposit growth of 5.9% (5%) and a total capital ratio of 16% (more than 13%).
The bank, however, continued to report negative JAWS — banking jargon that denotes expense growth exceeding income growth — in 2Q as growth in expenses (6.5% y-o-y) outpaced that of total income (2.9% y-o-y).
Public Bank's stock, which closed at a 1½-year low of RM20.74 last Tuesday, ended the week higher at RM20.80. Bloomberg data shows that of at least 20 analysts that track the stock, half have a "hold" call on it while six have a "buy" and four, a "sell".
CGS-CIMB Research maintained its "hold" call on the bank as it thinks it is fairly valued at a forward FY2020 PER ratio of 14 times, below the five-year historical average of 14.3 times. It cut its target price by RM1.30 to RM22.30.
"The potential upside/downside risks to our call are an improvement/deterioration in loan growth and asset quality. Another potential downside risk for Public Bank is the potential cut in OPR. We estimate that every 25 bps cut in OPR would trim Public Bank's FY2020 net profit by about 1.6%," it says.