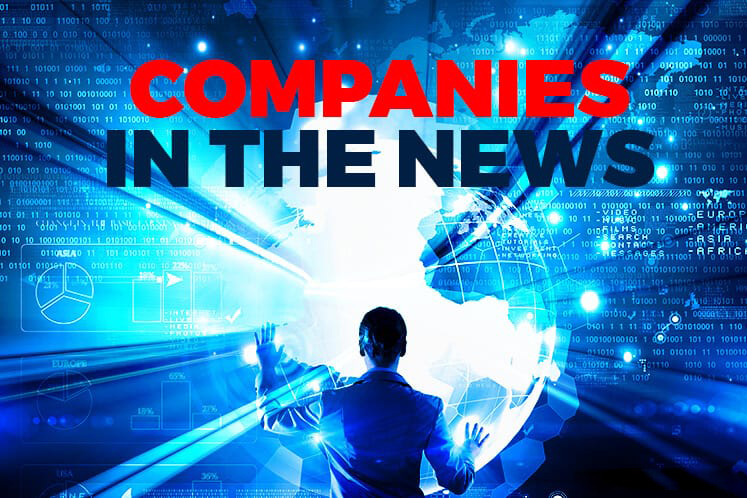 KUALA LUMPUR (MAY 2): Based on corporate announcements and news flow today, companies in focus on Thursday (May 3) may include the following: Public Bank Bhd, Hartalega Holdings Bhd, Asdion Bhd, Petronas Chemicals Group Bhd, IHH Healthcare Berhad,  Inta Bina Group Bhd, Harrisons Holdings (Malaysia) Bhd, GD Express Carrier Bhd, YTL Coporation Bhd, Malaysian Resources Corp Bhd and Gamuda Bhd.
Public Bank Bhd's net profit for the first quarter ended March 31, 2018 (1QFY18) rose 12% year–on-year to RM1.4 billion from RM1.25 billion, underpinned by a sustained growth of 4% in the group's net interest income complemented by strong growth of 15.6% in non-interest income.
Its revenue for the quarter rose to RM5.35 billion from RM5.03 billion previously.
Earnings per share was 36.39 sen versus 32.32 sen a year earlier
Public Bank chairman Tan Sri Dr Teh Hong Piow expects domestic demand to remain favourable in 2018.
Hartalega Holdings Bhd is investing over RM14 million to upgrade its Enterprise Resource Planning (ERP) system as part of its commitment towards realising Industry 4.0, which entails a smart manufacturing system.
The pilot ERP project will begin with its Next Generation Integrated Glove Manufacturing Complex at Sepang this year and will be subsequently rolled out at its Bestari Jaya plants in 2019.
Asdion Bhd, slapped with an unusual market activity (UMA) query on Wednesday, said it is actively exploring avenues to enhance shareholder value.
It said it is unaware of any other corporate developments that may have accounted for the UMA, including those in the stages of negotiation or discussion.
Asdion shares slipped 0.5 sen or 1.06% to close at 46.5 sen, after shooting up to an intraday high of 50 sen. Some 17.35 million shares were traded.
Petronas Chemicals Group Bhd plans to spend RM4.3 billion in capital expenditure (Capex) for Pengerang Integrated Complex (PIC) and RM600 million a year as maintenance capex for its plant for the next two years.
Its chairman Datuk Md Arif Mahmood said PetChem's PIC petrochemical projects are progressing on schedule and are 74% completed, while the overall project, including refineries, is 87% done.
In its 20-year plan, PetChem intends to grow its specialty chemicals business to 15% of revenue from 5% at present.  
IHH Healthcare Bhd  has upped its offer to participate in India's Fortis Healthcare Ltd and its affiliates by 9% to 175 rupees (RM10.31) per share from an earlier proposal of 160 rupees per share.
All other terms and conditions in IHH's last offer will continue to apply to this new offer, which is valid until 5pm on May 15.
IHH said it had issued an enhanced revised proposal letter to the board of Fortis to reiterate its seriousness and commitment to invest in Fortis.
Inta Bina Group Bhd's wholly-owned Inta Bina Sdn Bhd (IBSB) has been appointed as the main contractor for a residential development in Shah Alam for the total contract sum of RM57.7 million.
IBSB had accepted the letter of award from ONG&ONG 360 Consultancy Sdn Bhd to construct 104 semi-detached homes, one community centre and one guard house for Eco Ardence Sdn Bhd.
This project is from April 30 until the completion of the contract which is expected to last 18 months.  
The group said the contract is expected to contribute positively towards the earnings of Inta Bina for the duration of the contract.
Harrisons Holdings (Malaysia) Bhd plans to venture into the retail business in Singapore through the acquisition of the Famous Amos cookies business there for S$5.7 million.
It plans to acquire its second major retailing concept after the recent acquisition of Watts Harrisons Sdn Bhd, which retails and wholesale the uniform price products under the Komonoya brand in Malaysia, Singapore and Brunei.
The group expects the acquisition to be completed within three months from signing the SPA.
Going forward, the group plans to expand to other regional territories with the Komonoya and Famous Amos brands.
GD Express Carrier Bhd has cancelled its plan to acquire two firms collectively known as MBE Malaysia, as the conditions precedent in the agreement inked for the proposed acquisition were not fully satisfied at the cut-off date of April 30.
The company and the sellers had on May 2, 2018 executed a confirmation letter stating their mutual agreement to terminate the agreement.
MBE Malaysia is made up of MBE Business Corp Sdn Bhd and MBE Business Holdings Sdn Bhd, which GD Express proposed on March 1 this year to acquire via a subsidiary for RM5.5 million in total to expand the group's income stream into the retail delivery business.
A consortium consisting of YTL Coporation Bhd and Lembaga Tabung Haji has accepted a letter of appointment from MyHSR Corp Sdn Bhd commissioning the consortium as the project delivery partner for the southern section of the Kuala Lumpur-Singapore High Speed Rail project.
The MRCB-Gamuda Consortium has received a letter of appointment from MyHSR Corporation Sdn Bhd commissioning the joint venture as the Project Delivery Partner for works in relation to the northern section of the Kuala Lumpur-Singapore High Speed Rail.