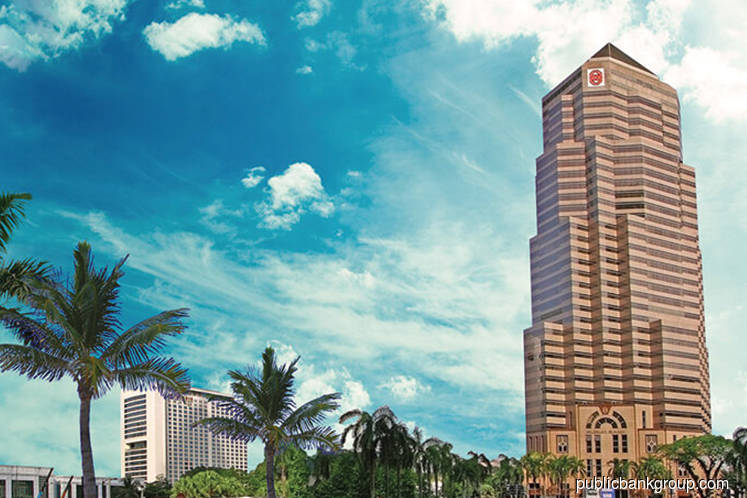 KUALA LUMPUR (Feb 26): Public Bank Bhd saw its net profit for the financial year ended Dec 31, 2019 (FY19) dip 1.41% year-on-year (y-o-y) to RM5.51 billion from RM5.59 billion following adverse impacts from Bank Negara Malaysia's overnight policy rate (OPR) cut and higher operating overheads.
In a bourse filing, the group said this translated into lower earnings per share (EPS) of RM1.42 from RM1.44 in FY18.
Full-year operating revenue came in 1.87% higher at RM22.45 billion, compared to RM22.04 billion in FY18.
The group declared a second interim dividend of 40 sen per share for the fourth quarter ended Dec 31, 2019 (4QFY19), which is higher than the 37 sen dividend declared in 4QFY18. The entitlement and payment dates for the dividend fall on March 12 and 20 respectively.
The group's total dividend payout for the year stood at 73 sen per share, versus 69 sen in FY18.
Net profit for 4QFY19 remained somewhat flat at RM1.41 billion, while revenue rose marginally to RM5.67 billion, from RM5.63 billion a year ago.
EPS stood at 36.21 sen compared to 36.20 sen in 4QFY18.
Despite negative impacts from the OPR cut, Public Bank noted that overall net interest income improved marginally by 0.1% to RM7.57 billion in FY19, from RM7.56 billion the year prior.
Additionally, the group saw investment income increase to RM121.9 million, while registering RM63.2 million in net income from its Islamic banking business.
Furthermore, it saw a lower impairment allowance for loans and other assets at RM21.7 million.
"These were partially offset by higher operating overheads of RM245.7 million (-6.9%) which was in tandem with increased business activities whilst net fee and commission income was lower by RM37.6 million (-2.1%) resulting mainly from lower banking fee income and unit trust management-related fee income," the group said.
Public Bank added that gross loans grew by 4.1% y-o-y to RM330.5 billion in FY19, from RM317.3 billion posted in FY18, on the back of growth in mortgage refinancing, hire purchase financing and corporate lending.
Moreover, total deposits increased by 4.2% to RM353.3 billion. As of Dec 31, 2019, its gross impaired loan (GIL) ratio remained stable at 0.5%, on the back of stringent credit underwriting and proactive recovery processes.
Public Bank's common equity tier 1 (CET1) capital ratio, tier 1 capital ratio and total capital ratio stood at 13.5%, 13.5% and 16.8% respectively. Its gross loans to fund and equity ratio was at 79.2% at the end of FY19.