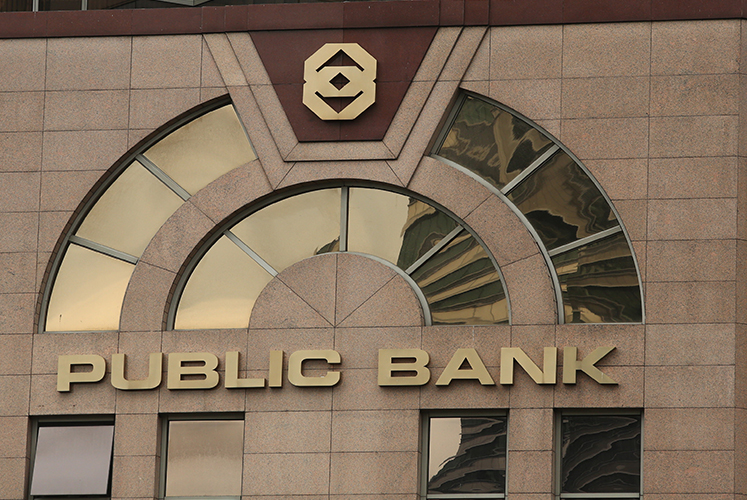 KUALA LUMPUR (May 22): Public Bank Bhd's net profit for the first quarter ended March 31, 2020 (1QFY20) dipped 5.7% year-on-year to RM1.33 billion from RM1.41 billion, dragged down by lower net interest income after the overnight policy rate (OPR) was cut to 2.5% during the period, despite positive loan growth.
Quarterly revenue stayed relatively flat at RM5.52 billion compared with RM5.57 billion for 1QFY19.
According to its filing with Bursa Malaysia today, Public Bank's earnings per share dropped to 34.24 sen for the quarter under review, from 36.32 sen a year ago.
Notably, other operating expenses increased by 8.1% or RM74.7 million, partially offset by higher investment income of RM46.3 million (79.9%), higher income from Islamic banking business of RM33.7 million (10.9%) and higher fee and commission income of RM17.1 million (4.1%) from higher unit trust-related fee income and higher stockbroking income.
Public Bank said the group's profit continued to be supported by loan and customer deposit growth coupled with stable asset quality. Gross loans grew by RM12.5 billion or 3.9% to RM332.9 billion as at March 31, 2020 compared with RM320.4 billion as at March 31, 2019, mainly driven by growth in mortgage financing, hire purchase financing and corporate lending.
Meanwhile, total deposits from customers increased by 3.5% or RM12.1 billion to RM355.1 billion as at March 31, 2020.
In a separate statement, Public Bank founder and chairman emeritus Tan Sri Dr Teh Hong Piow warned that banks will face higher earnings pressure this year, given the extremely difficult economic conditions in 2020 and the reductions in OPR.
"The operating environment for the banking industry is poised to be more challenging this year.
"Under the prevailing weaknesses of the current economy and the uncertainties arising from the still evolving economic landscape, the Public Bank Group will focus on enhancing its core strengths in terms of risk management and productivity.
"The group's strong fundamentals and resilience will position the group in good stead to overcome any challenges, and to pursue further business growth when the economy recovers from the [Covid-19] outbreak," he said.
For the first quarter of the year, Teh said that the global economy started with major challenges stemming from the Covid-19 pandemic as downside pressure on the economy was further compounded with the steep fall in global oil prices.
These factors, coupled with the reductions in OPR, have weighed on net interest margins, causing domestic banks to face heightened earnings pressure in the first quarter of 2020, he said.
"However, the Public Bank Group maintained its resilient fundamentals, as reflected in the group's stable gross impaired loan ratio of 0.5% and efficient cost-to-income ratio of 35.7% in the first quarter of 2020," Teh said.
Notwithstanding the challenging macro environment, Public Bank said Malaysia's banking system remains resilient, underpinned by ample liquidity and strong capital buffers.
"Monetary and financial conditions continue to be accommodative and supportive of economic activities," it said, although it noted that loan growth is expected to be moderate in 2020 given the extremely challenging economic environment.
No dividends were declared for 1QFY20.
At 2.14pm, shares in Public Bank were trading down 10 sen or 0.65% at RM15.38 per share with 672,000 shares traded. Year-to-date, the counter has declined by 22.71% from RM19.90.