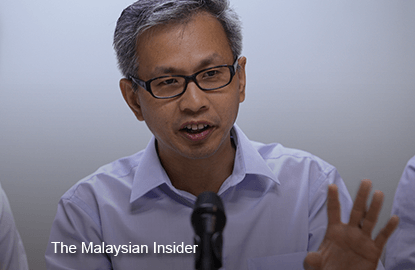 KUALA LUMPUR (July 23): Opposition lawmaker Tony Pua is questioning the accuracy of a report by pro-government newspaper The New Straits Times (NST), which alledged that former Petrosaudi International (PSI) executive Xavier Justo had met with a Malaysian opposition leader in Singapore.
He told reporters today that the NST's report, dated July 16, has become the source of recent allegations spouted by Barisan Nasional (BN) leaders and many mainstream media that Justo, who was arrested for alleged blackmail in Bangkok, had met with this Malaysian opposition leader.
"I have read the New Straits Times report and the report had a quote from the Lieutanant-General Prawuth Thavornsiri, which basically stated that Justo met a very important person from a certain country in Singapore and negotiated the selling price of the documents and then sold them to a buyer.
"But in the non-quoted portion, the report said Justo confirmed meeting a very important person from a Malaysian opposition party.
"I am questioning whether the story is accurate because no other agencies who have spoken to the Thai police have the section that he met a Malaysian opposition leader.
"Every other stories that I have seen [since], whether The Straits Times Singapore or The Star, quoted the story from the New Straits Times," the DAP MP added.
Pua claimed that the NST's "sleight of hand" has since been taken as the gospel truth allowing Barisan Nasional leaders to go on a witch hunt against leading critics of debt-ridden 1Malaysia Development Bhd (1MDB).
Last Friday, Inspector-General of Police (IGP) Tan sri Khalid Abu Bakar had reportedly announced that the police have identified the Malaysian opposition leader who allegedly met with Justo to buy confidential documents linked to PSI's aborted joint venture with 1MDB, and that the authorities would arrest those involved if they refuse to cooperate with the investigation.
In response, Pua had dared the IGP yesterday to name the opposition leaders who met former PSI executive Xavier Andre Justo after being barred from leaving the country.
Today, Pua noted that BN leaders and many mainstream media had also alleged that Thai police had confirmed that Justo had tampered with the information the latter sold to third parties.
Citing an example, Pua said on June 24 in Malacca, Home Minister Datuk Seri Ahmad Zahid Hamidi had announced that based on information obtained from Thai authorities investigating the case, several Malaysians were alleged to have directed Justo to manipulate and tamper with information stolen from his former employers, PSI.
However, Pua said nobody could find any quotes attributable to the Thai police that can confirm that Justo had tampered with the information he sold, nor that Malaysians directed him to do so.
And such allegations, which were blown up by BN leaders valiantly defending 1MDB, had already been proven false when Lt Gen Prawuth Thavornsiri confirmed last week that Justo "didn't make any changes to the documents and sent the original documents (to the buyer) as digital copies," said Pua.