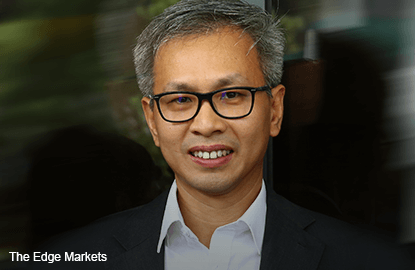 KUALA LUMPUR (May 13): Prime Minister Datuk Seri Najib Razak must now explain how his stepson, Riza Aziz could amass such enormous wealth which The Wall Street Journal (WSJ) now attributes to be sourced from 1Malaysia Development Bhd, said DAP's Tony Pua.
In a statement this morning, Pua cited a WSJ report that Riza Aziz acquired a US$33.5 million 7,700-square-foot duplex in the Park Laurel condominium tower overlooking New York's Central Park and an 11,000-square-foot walled mansion in Beverly Hills with a 120-foot-long pool for more than $17.5 million in 2012. 
Pua said these property transactions worth US$51 million (RM204 million) was first exposed by The Sarawak Report in December 2013. 
"They were subsequently confirmed by Riza Aziz himself to the New York Times, in a story entitled "Jho Low, Well-Connected in Malaysia, Has Appetite for New York", published in February 2015.
"However yesterday, for the first time, The Wall Street Journal made the allegation which Malaysians have suspected all along, that the source of funds for the above purchases originated from the controversial debt-ridden 1Malaysia Development Bhd (1MDB)," said Pua, who is DAP National Publicity Secretary and Member of Parliament for Petaling Jaya Utara.
Pua said WSJ had reported that investigators believe that money used to buy the two properties was part of at least US$238 million that was transferred to an offshore company wholly owned by Riza Aziz, Red Granite Capital from Aabar Investments PJS Ltd. 
WSJ said the funds were transferred directly and indirectly via intermediaries in batches of US$133 million, US$60 million, US$45 million and US$50 million throughout 2012.
"Based on information 1MDB provided to the Auditor-General which was cited in the Public Accounts Committee (PAC) Report on 1MDB, the company had paid the British Virgin Islands (BVI)-incorporated Aabar Investment PJS Ltd US$567 million and US$790 million in May and October 2012 respectively as "refundable security deposits".
"1MDB had further paid the BVI-Aabar US$2.143 billion between September 2014 to January 2015 purportedly for "options termination compensation" and "top-up security deposits"," said Pua.
However, Aabar Investment PJS Ltd which has already been liquidated, has recently been exposed as a fraud when the parent of the real Aabar Investment PJS incorporated in Abu Dhabi, International Petroleum Investment Corporation (IPIC) officially denied any ties with the similarly named BVI company, said Pua.
He said that according to WSJ, the new documents also show that US$60 million of the total received by Red Granite Capital was sent on the same day that 1MDB sent the US$790 million to Aabar in the British Virgin Islands.
Pua said Najib had told The New York Times previously that he "does not track how much Mr. Aziz earns or how such earnings are reinvested."
"As for the prime minister himself, the Prime Minister said he had "received inheritance."
"Such tenuous reply, already incredulous in the first place, can no longer justify Datuk Seri Najib Razak's continued silence on his stepson's spending spree in the United States," he said.
Pua said WSJ's previous allegations such as the billions of dollars of 1MDB funds have been misappropriated to a fraudulent Aabar Investment PJS Limited have proven themselves to be true. 
"The latest allegation, if proven true, will show that Datuk Seri Najib Razak's direct family members have benefited at least hundreds of millions from the misappropriated funds to acquire outrageously priced property assets overseas," stressed Pua.
He said the Prime Minister must now show proof that Riza Aziz, with less than 4 years prior experience as a junior banker with HSBC London prior to founding Red Granite in 2011 obtained his wealth legally, above board and unrelated to 1MDB.
"If Datuk Seri Najib Razak refuses to do so, then he cannot blame ordinary Malaysians who believes him to be completely guilty of corruption and abuse of power," said Pua.