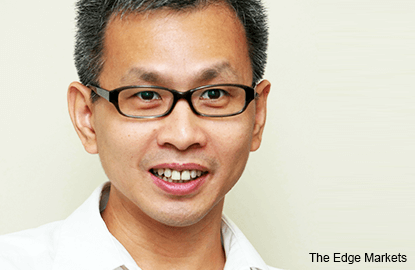 KUALA LUMPUR (July 15): DAP national publicity secretary Tony Pua has taken the new 1Malaysia Development Bhd (1MDB) board of directors to task and asked whether they were going to a turn a blind eye to string of exposés by whistleblower site the Sarawak Report, or act on it. 
In a statement today, Pua, who is also MP for Petaling Jaya Utara asked: "Are the new 1MDB Board of Directors led by Treasury-General Tan Sri Irwan Serigar going to turn a blind eye after the Sarawak Report exposed an outrageous round-tripping fraud involving US$1.22 billion?"
Pua said the Sarawak Report first exposed the banking documents on July 11 which showed that 1MDB Global Investment Limited (1MDB GIL) transferred US$1.28 billion between September to November 2014 to the allegedly fraudulent Aabar Invesment PJS Ltd which was incorporated in the British Virgin Islands (Aabar (BVI)).
"Yesterday, the Sarawak Report leaked more explosive sections from the Auditor-General's Report relating to transactions between Brazen Sky Limited, another 1MDB subsidiary which held 1MDB's controversial investments with a little-known Cayman Islands investment fund and 1MDB GIL," he said.
Pua said that the Sarawak Report concluded based on the additional information from the classified report, 1MDB clearly concocted a round-tripping exercise to give the impression that it has successfully redeemed cash from the Cayman Islands investment. 
He added that the fraudulent transactions were apparently so convincing that 1MDB's auditors, Deloitte Malaysia, signed off the company's audited accounts.
"Assuming the leaked copy of the AG's Report is genuine, this is a massive allegation because for the first time hard evidence is shown to incriminate 1MDB officials as parties colluding with the owners of the fake Aabar (BVI) — Mohamed Al Husseiny and Khadem al Qubaisi.
"Those incriminated include Datuk Shahrol Halmi, the former 1MDB CEO who was instrumental in 1MDB's investment in the Cayman Islands fund; Mohd Hazem Abdul Rahman, who was the CEO when the above round-tripping transactions took place; and Arul Kanda Kandasamy, the current 1MDB president who is covering up the above shenanigans," said Pua.
Pua added that the exposé by Sarawak Report would hugely complicate 1MDB's case in the arbitration proceedings brought by International Petroleum Investment Co (IPIC) against 1MDB involving US$6.5 billion. 
IPIC is the parent company of Abu Dhabi's Aabar Investment PJS, both of whom have officially denied that Aabar (BVI) is ever related to their group. 
Pua said 1MDB's knowing participation with Aabar (BVI) to defraud both IPIC and the Malaysian government would certainly compromise 1MDB's claims that it was an innocent victim to IPIC's then employees Al Husseiny and Al Qubaisi.
"What is more immediately important however, is what is the new 1MDB Board of Directors going to do about this new information, now that it has been made public?
"The previous Board of Directors led by Chairman Tan Sri Lodin Wok Kamaruddin were forced to resign in shame after the Public Accounts Committee (PAC) condemned them in its report on 1MDB to the Parliament.  These Directors failed miserably to carry out their fiduciary duties and responsibilities with any degree of diligence," he said.
Pua said a recent exposé by Sarawak Report also showed that the previous board had blindly signed a retrospective approval of the US$1.2 billion payments by 1MDB GIL to Aabar (BVI) more than a year after these fraudulent transactions took place. 
"The question now is, will the new Board of Directors appointed on May 31, 2016, led by Treasury-General Tan Sri Irwan Serigar do a better and proper job?"
"Are they going to demand answers to these new explosive allegations and act on them – including but not limited to filing police reports?  It is part of the directors' roles and responsibilities to investigate cases of fraud and report them accordingly to ensure the interest of the Malaysian tax-payers are fully protected.
"Or will they similarly turn a blind eye on indisputably, the single largest case of financial fraud in Malaysia's history?" he said.