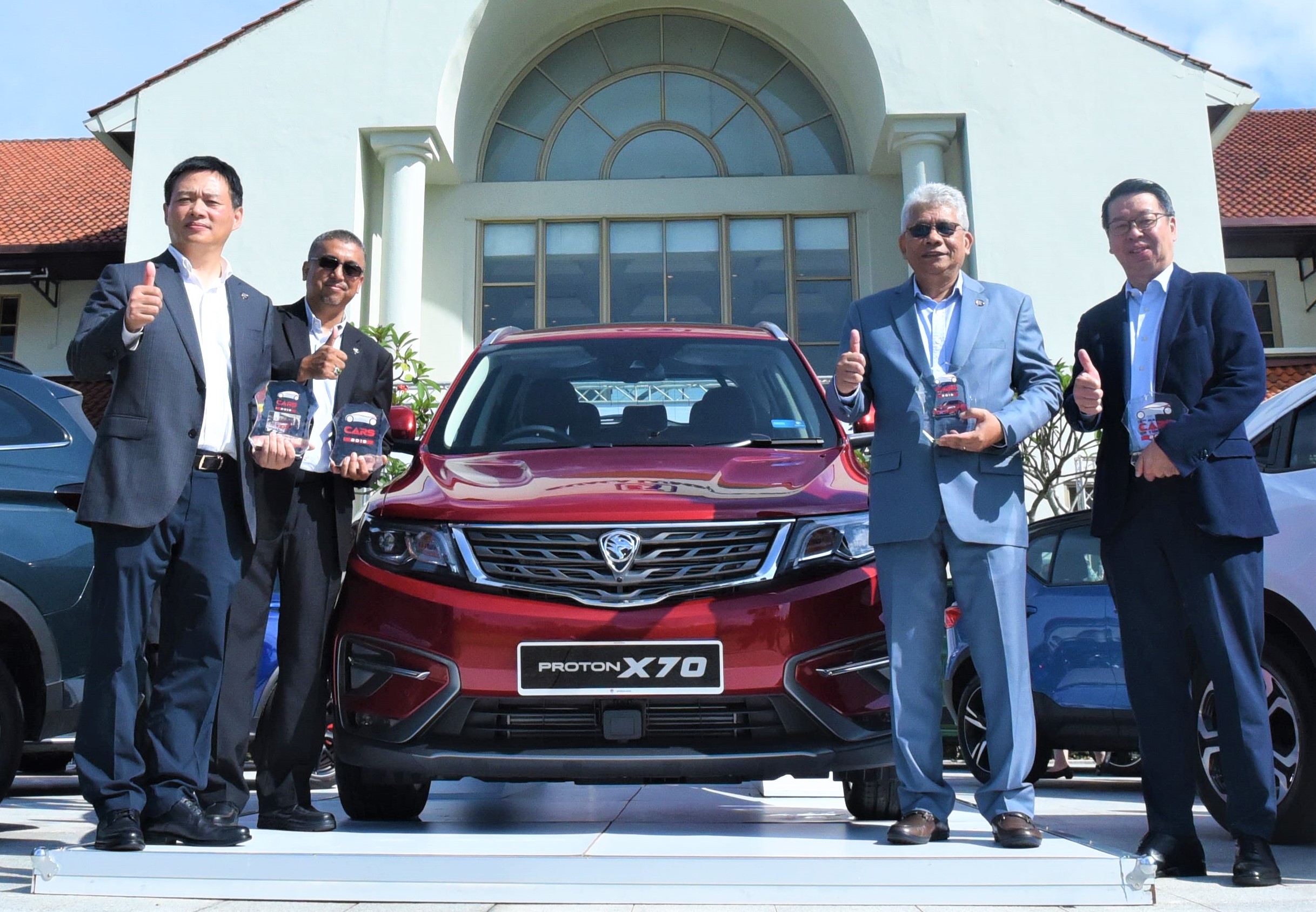 From left: Dr Li Chunrong (CEO of PROTON), En Yohan Mokhtar (VP of Operation Management Division of PROTON), Dato' Radzaif Mohamed (DCEO of PROTON), Mr Cheng Seng Fook (Director, Sales & Marketing of PROTON). (Photo by: Proton Holdings Berhad)
KUALA LUMPUR (Jan 10): National carmaker Proton Holdings Bhd's Proton X70 was named the winner of the Midsize Crossover & SUVs 5 Seaters category, as well as the Overall Car of the Year 2019, for the 18th Malaysia Cars of the Year awards.
In a statement today, Proton said its recently-updated Proton Saga was also a winner, picking up the Entry Level Sedan & Hatchback prize, while its chief executive officer Dr Li Chunrong was honoured with the Automotive Man of the Year award.
The car maker said the Proton X70 being named the Overall Car of the Year 2019, marks the first time a Proton model has won the prestigious award.
Senior Judge of the Malaysia Cars of the Year awards, Chips Yap, said the Proton X70 is the model that has restored pride and confidence in what is still seen as the national marque.
"It is also the model that brought people back to Proton showrooms and the units we tested were of high quality.
"We expect the units being built in Tanjung Malim to be of similar, if not better quality," Yap said.
Proton said the updated Proton Saga has been attracting a lot of attention, since its launch on Aug 6, 2019.
To date, Proton said over 42,000 bookings have been received and for the last two months of 2019, it was the top-selling A-segment sedan in Malaysia.
Dr Li Chunrong said Proton's engineers did a very thorough job in upgrading the Proton Saga.
"Although it is our entry-level model, it remains the best-seller of our range and thus, it was critical [that] the upgraded model appeal to new customers, without alienating current owners.
"This award by the judges is therefore confirmation of the success of our efforts," he said.
Read also:
Proton Perdana remains official car for ministers, deputies