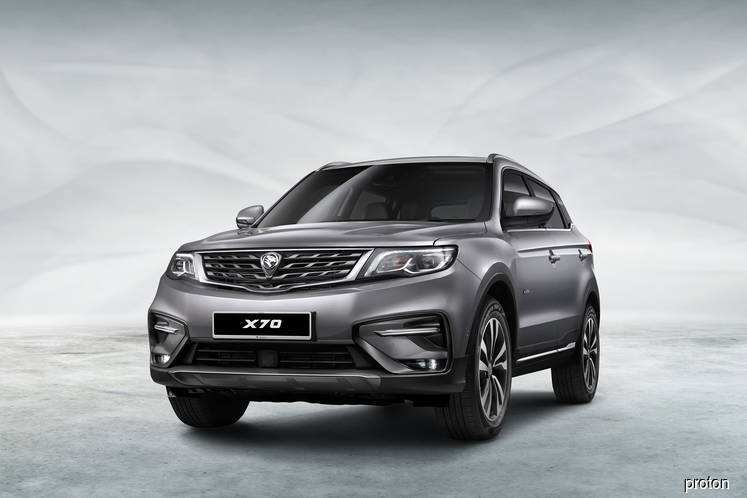 KUALA LUMPUR (Oct 12): Hong Leong Investment Bank Bhd is upbeat on the prospects of Proton Holdings Bhd's new Proton X70 sport-utility vehicle (SUV) because the SUV could be a game changer for Malaysia's national car manufacturer.
Hong Leong analyst Daniel Wong said in a note today the Proton X70 can lead to a potential turnaround for Proton. DRB-Hicom Bhd owns a 50.1% stake in Proton, while Zhejiang Geely Holding Group Co Ltd holds the remaining 49.9%.
"We believe the X70 to be a game changer [for] Proton. (Zhejiang) Geely has continued to show its strong commitment towards Proton's turnaround and establish it as a major automotive player in Asean market.
"Post Proton X70 preview, we are positive with the new SUV model for its various innovative features and built quality. The model has received more than 8,000 pre-orders since September and (it is) expected to increase further with upcoming availability of online booking. Proton has no problem to fulfil the large pre-orders and expects sales volume to be 3,000-4,000 units/month. Our (DRB-Hicom earnings) forecast is unchanged and we maintain our BUY rating with SOP (sum-of-parts)-based TP (target price) of RM2.80," he said.
At Bursa Malaysia today, DRB-Hicom shares rose two sen at 11:17am to RM1.93.
CIMB Research analyst Mohd Shanaz Noor Azam was also among 20 analysts and fund managers invited for the exclusive preview of the Proton X70 at Petaling Jaya yesterday.
"Although Proton has not disclosed the selling price for the X70, we expect this C-segment SUV to be competitively priced relative to its peers at between RM120,000 and RM140,000. In addition, we were excited to learn that Proton has received encouraging pre-orders of over 5,000 units since bookings became available on Sept 18.
"Proton intends to ride on the rising SUV penetration rate in Malaysia which it expects will grow from 11.5% in 2017 to 20% in 2020, and 30% in 2025. We believe the X70 will be a crucial model for Proton to tap the export markets," Mohd Shanaz said.