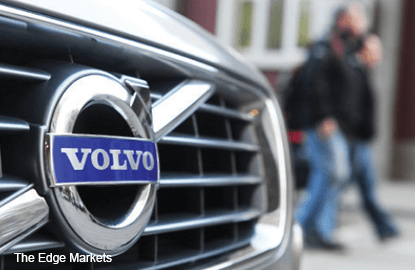 This article first appeared in digitaledge Weekly, on September 14 - 20, 2015.
National carmaker Proton Holdings Bhd could enter a strategic tie-up with AB Volvo, which is based in Gothenburg, Sweden, but owned by a Chinese company, sources say.
It is understood that speculation about a tie-up has been rife since Proton chairman Tun Mahathir Mohamad was rumoured to have met the top brass at both Volvo in Sweden last week and its parent, Zhejiang Geely Holding Group Co Ltd, in China about a month ago.
Mahathir was said to have made a trip to China where he met Geely's chairman, Li Shufu. His visit to Sweden was a half-day affair.
"What sort of form it will take or how the tie-up will pan out is anyone's guess, but it could have far-reaching implications for both Proton and Volvo," says an industry source.
Volvo officials in Malaysia, sources say, are in the dark about what transpired from Mahathir's meeting with Li and the top brass in Sweden. Nevertheless, his visit to Volvo has sparked considerable excitement in the industry.
In June, Proton and its parent DRB-HICOM Bhd (fundamental: 0, valuation: 2) inked a memorandum of understanding with Suzuki to develop small compact cars in 2016. A similar partnership could be concluded with Volvo for larger cars, says another industry source.
Volvo models being assembled in Volvo's plant in Shah Alam include the V40, S60, S80, V60, XC60 and XC90, none of which are in the small car category.
"Volvo vehicles are known for being reliable and dependable, and safety has always been its trademark. With this reputation, Proton could even use Volvo technology and come up with a small car, and it could be successful," says an industry player.
In Malaysia, Volvo has a number of wholly owned units, namely Volvo Malaysia Sdn Bhd, Volvo Car Malaysia Sdn Bhd, Volvo Holdings (M) Sdn Bhd and Volvo Car Manufacturing Malaysia Sdn Bhd, either directly or via units such as Snita Holding BV and Volvo Car Corp.
Of these, however, only Volvo Malaysia has significant business. For its financial year ended December 2013, the company registered an after-tax profit of RM32.3 million from RM400 million in sales. As at end-December 2013, Volvo Malaysia had current assets amounting to RM256.8 million and non-current assets of RM36.1 million. On the other side of the balance sheet, it had current liabilities of RM151.7 million and no non-current liabilities.
The Volvo group's main asset in Malaysia is the assembly plant in Shah Alam that has been operating since 1967, and has the distinction of being the first assembly plant in Malaysia.
There are some indications as to what Volvo may be looking for.
In October 2012, David Stenstrom, then managing director of Volvo Car Manufacturing Malaysia, said that Volvo would operate out of Malaysia as part of its Asean strategy instead of Thailand.
Volvo's assembly plant in Shah Alam has a maximum capacity of 10,000 units per annum, and works on two shifts per day. Last year, Volvo sold 1,210 vehicles while for the first six months of 2015, it moved 496 units.
Depending on Volvo's Asean aspirations, part of the discussions could likely revolve around Volvo utilising Proton's assembly plant in Tanjung Malim, which has surplus capacity.
The Tanjung Malim plant, built at a cost of RM1.8 billion, has an annual production capacity of 150,000 cars and commenced operations in late 2003. However, some models are still being built in Proton's plant in Shah Alam, which means even less utilisation of the Tanjung Malim facility.
Over the years, Proton's sales have shrunk significantly, dwindling from a market share of 74% in 1993, to 32% in 2006 and 21.2% in 2013. Last year, it fell further to 17.4%, with Proton accounting for 115,783 of the total industry volume (TIV) of 666,465 vehicles. For the first six months of this year, Proton sold 50,206 cars compared with the TIV of 322,184, giving it a 15.6% market share.
Proton has to address this slide in sales and market share, but whether the answer is via tie-ups with Suzuki and, possibly, Volvo remains to be seen. The national carmaker has had several partners since its inception in 1983. Its first model, the Saga, whch rolled out in 1985, was built in partnership with Mitsubishi Motor Corp. There have been other models via collaborations with PSA Peugeot Citroen of France, and more recently, Honda of Japan.
The possible tie-up with Volvo comes at a time when parent DRB-HICOM is not at its best. For its first quarter ended June 2015, DRB-HICOM suffered a net loss of RM19.7 million from RM2.9 billion in revenue. 
According to DRB-HICOM's notes which accompany its financials, the losses sprang from "lower profit contribution from certain companies in the automotive and property sectors". 
Apart from Proton, DRB-HICOM's other auto businesses include the distribution and assembly of Mercedes, Suzuki and Honda cars and Isuzu trucks, and distribution of Audi and Mitsubishi marques. 
In addition to Proton's two plants, DRB-HICOM has eight assembly plants. Four are for motor vehicles — three at the integrated assembly complex in Pekan that can assemble up to 17,000 cars a year and a Honda plant in Melaka. The remaining four are for motorcycle assembly.
Proton's latest financial results filed with the Companies Commission of Malaysia for the financial year ended March 2013 showed the national car maker suffering an after-tax loss of RM821.4 million from RM7.7 billion in revenue.