This article first appeared in The Edge Financial Daily, on August 2, 2019.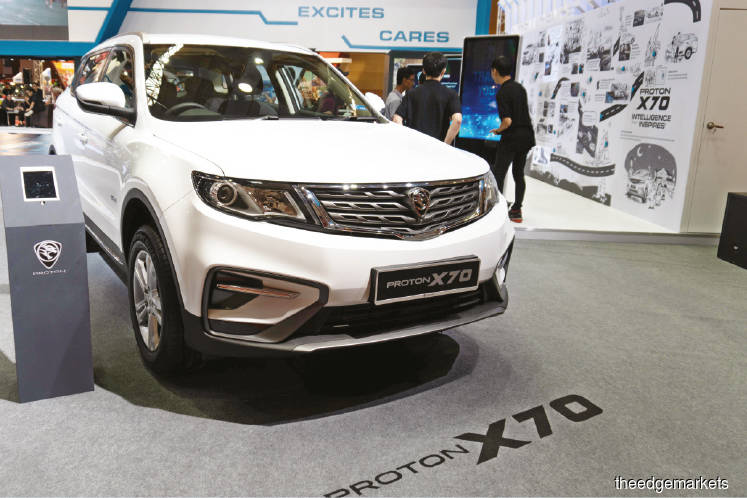 Filepic of Proton's X70. Chunrong said Proton's other models are also the staple of its performance.
KUALA LUMPUR: DRB-Hicom Bhd's 50.1%-owned subsidiary Perusahaan Otomobil Nasional Sdn Bhd (Proton) recorded sales of 8,590 units in July, returning to the second spot in monthly sales for the first time since March 2016.
In a statement yesterday, the national carmaker said its market share for the month is estimated at 16.5% with a total industry volume of 51,960 units, while its overall market share for the year is now estimated to be 15%.
Proton's July sales grew 6% year-on-year (y-o-y), compared with a growth of 23% y-o-y in June, but was the only automotive brand to boast positive growth for July.
This was even without the benefit of the tax holiday that was implemented during the months of June to August last year.
"Proton, like all other automotive brands, posted its best numbers for 2018 during that three-month period. In 2019, however, without the benefit of the tax holiday, Proton's sales have continued to show positive growth," it said.
The company added that its total sales now stand at 52,269 units year to date, compared with 35,561 units a year ago, which equates to a 47% y-o-y growth overall.
Proton chief executive officer Dr Li Chunrong said the company's return to second place in the Malaysian automotive market has happened ahead of its schedule.
"The growth in demand for our products show that we are on track to meet our long-term targets and for the rest of 2019, we intend to consolidate our position to finish the year ranked second for the first time in four years.
"With the launch of the updated 2019 Proton Saga set to take place shortly and our other product introductions in the pipeline, the company is quietly confident about even better results in the future," he added.
While the Proton X70 continues to be the leader in the sport utility vehicle (SUV) segment, Chunrong said Proton's other models are also the staple of its performance.
"The Proton Persona is now the sales leader in a segment that is ruled by Japanese products while Proton Saga is still a popular choice among first-time car buyers. Even the Proton Iriz has seen a surge in demand with sales growing by over 50%. The company is humbled by the trust Malaysian car buyers are putting in our brand," he added.