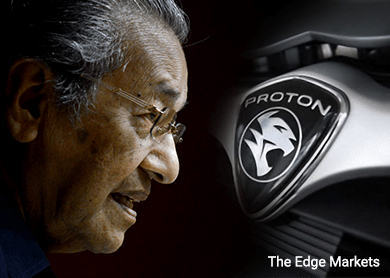 SHAH ALAM: National carmaker Proton Holdings Bhd, a wholly-owned unit of DRB-Hicom Bhd, aims to produce rebadged small and compact cars in the next 16 months by leveraging the technology of Japan's Suzuki Motor Corp, which is part of its "long-term plan" to widen its product portfolio.
The collaboration will involve the introduction of certain Suzuki vehicles under the Proton brand, where Proton will be the exclusive licensee for the manufacture, sale and distribution of the said vehicles in Malaysia, according to DRB-Hicom's filing with Bursa Malaysia yesterday.
DRB-Hicom, together with Proton, penned a memorandum of understanding (MoU) with Suzuki yesterday for the collaboration. They also entered into a licence agreement to appoint Proton as the exclusive licensee for the manufacturing, sale and distribution of Suzuki models, its imported parts, local parts and spare parts, engines, transmissions and accessories in Malaysia.
"Proton will manufacture at its own plant, distribute and sell such models under the Proton brand through its sales network in Malaysia. The first model will be a compact passenger car to be manufactured at Proton's Tanjung Malim plant from around August 2016. Other additional models will be mutually studied by Proton and Suzuki," Suzuki said in a statement available on its website yesterday.
Meanwhile, Proton chairman Tun Dr Mahathir Mohamad said Proton will leverage Suzuki's expertise to design and produce small and compact cars in A and B segments, as the latter has "proven technologies".
"We would like to explore areas where the engine capacity is less than 1,000cc, say, 800cc or 660cc. It is still preliminary and we are looking to finalise the details by 2016," Dr Mahathir told reporters yesterday, after witnessing the signing of the MoU and licensing agreement.
According to Proton chief executive officer Datuk Abdul Harith Abdullah, the first phase of the collaboration will see Proton begin production in the next 16 months, at its plant in Tanjung Malim, Perak.
"The technology advancement in terms of power train engineering for the smaller engine segment vehicles would help complete the offerings of the different segments of vehicles for Proton, with the adoption of features and specifications.
"Suzuki is a renowned global strategic partner and has presence in 13 countries, with 19 plants altogether. What's more, Suzuki's worldwide sales are about three million cars annually. This is proven with its 45% market share in India, through the collaboration with Maruti," said Abdul Harith.
Dr Mahathir expressed confidence that the collaboration with Suzuki will yield "positive results" for both Proton and DRB-Hicom in the long term.
In Malaysia, Suzuki operates via its 40%-owned unit Suzuki Malaysia Automobile Sdn Bhd. The remaining 60% is held by DRB-Hicom (40%) and Japan's Itochu Corp (20%).
Proton, together with other marques it carries, contributes about 76% of DRB-Hicom's revenue. DRB-Hicom shares closed one sen lower at RM1.65 yesterday, with a market capitalisation of RM3.19 billion.
This article first appeared in The Edge Financial Daily, on June 16, 2015.