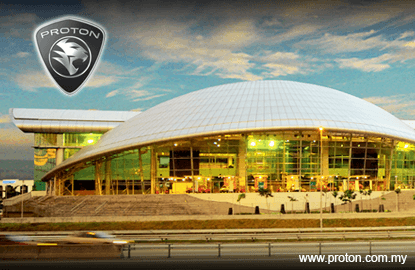 KUALA LUMPUR (March 30): National car maker Perusahaan Otomobil Nasional Sdn Bhd (Proton), which is also a subsidiary of DRB-Hicom Bhd, aims to expand its export market to countries that have signed the Trans-Pacific Partnership (TPP) Agreement.
International Trade and Industry Minister Datuk Seri Mustapa Mohamed said these markets include Chile, Brunei, Vietnam, New Zealand and Australia.
"Although Proton is still conducting a detailed study on the benefits of the TPP Agreement, this does not affect its effort to explore opportunities for export markets by taking a more holistic approach," said Mustapa in a written reply to Hulu Langat MP Dr Che Rosli Che Mat yesterday, which was made available to the press today.
Che Rosli had asked the minister as to the reason behind the price increase of Proton cars recently, despite the stiff competition, after the TPP Agreement was ratified.
Mustapa said the price restructuring of Proton cars was due to various reasons.
"[This] includes uncertainties in foreign currencies exchange, and the current weak economy, which has affected the operations of Proton's vendors, especially from the aspect of import of raw materials from overseas that has gone higher," he said.
Proton has jacked up its car prices between RM312 and RM2,021, depending on model, from Feb 15, 2016, saying the move was due to the impact of the foreign exchange and that many raw materials are purchased in foreign currency.
To tackle this challenge and the competition from the other car makers, Proton has been working hard to come out with new models besides offering more innovative cars that provides value for money, user safety, and better driving performance and designs.
"It is hoped that these measures will help Proton become more competitive and improve its sales in domestic market," Mustapa added.
Apart from that, he said Proton is also looking for a strategic partner as part of its long-term plan to raise consumer confidence and to strengthen Proton's brand inside and outside the country.
Proton has been seeing a severe slowdown in sales due to stiff competition from other car makers in recent years. In the latest February vehicle sales figure released by the Malaysian Automotive Association, Proton sold only 5,947 units, compared to 7,743 units in January.
Perusahaan Otomobil Kedua Sdn Bhd (Perodua), another local car maker, also saw its sales shrink to 14,014 units from 15,539 in January.
This is against the backdrop of an overall 24.8% decline of Malaysia's vehicle sales to 37,876 units in February from 50,390 units in the same month last year, due to slower consumer spending.