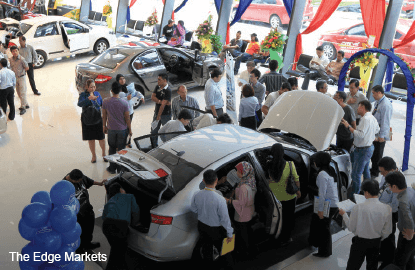 This article first appeared in The Edge Malaysia Weekly, on February 15 - 21, 2016.
Proton Edar Sdn Bhd's directors are at risk of being held in contempt of court after the company was held to be uncooperative in providing sales records with sufficient key data to Electric Angels MSC Sdn Bhd. According to court documents sighted by The Edge, committal proceedings were filed by Electric Angels against the directors on July 28, 2015, for failing to comply with a Court of Appeal order made on Oct 10, 2012.
On Nov 30, 2015, the High Court allowed the committal proceedings to be heard and affidavits were submitted by both sides. The judicial commissioner will decide on the case on Feb 26.
The directors named in the case are CEO Datuk Abdul Harith Abdullah, chief financial officer Rohime Shafie, Datuk Ahmad Fuaad Mohd Kenali and company secretary Datuk Carole Chan Choy Lin.
To recap, Electric Angels was a technical partner of Proton Holdings' distribution arm in ProtonLive, an online marketing platform that ran from 2006 to 2009. The platform was a marketing channel to entice prospective buyers to learn more about the national cars before they proceeded to a dealership. Electric Angels was to get a sales commission for each car sold based on sales records provided by Proton Edar.
A source privy to the matter says Proton Edar was supposed to pay Electric Angels RM750 for each Proton car sold through ProtonLive.
According to data from the Malaysian Automotive Association, 1.8 million passenger cars were sold between 2006 and 2009. During that period, Proton's market share was about 25% of the passenger car market, or about 450,000 units.
However, after about a year, Proton Edar stopped providing sales records. A changing of the guard at Proton also complicated matters.
After several rounds of discussions and negotiations, with Proton Edar disputing Electric Angels' claim of RM12 million in commission, the latter filed an originating summon with the High Court in February 2012 to order Proton Edar to provide sales records of cars sold between 2006 and 2009.
Based on a rough calculation, if 20% of the Proton cars sold in the three years were made through ProtonLive, Electric Angels should have earned RM67.5 million in commission.
However, Electric Angels' application to the High Court was dismissed by Judicial Commissioner Vazeer Alam Mydin Meera. "It seems to me that the present application is being made for a collateral purpose as the plaintiff has not commenced arbitration even after the lapse of more than a year since the issuance of the demand letter.
"There is no element of urgency shown in the affidavits for the plaintiff to come to this court and seek its assistance. This application is clearly an abuse of process," said the commissioner in his written judgment dated Aug 27, 2012.
Electric Angels took the case to the Court of Appeal, where Justices Datuk Mohd Hishamuddin Mohd Yunus, Datuk Abdul Aziz Abdul Rahim and Datuk Rohana Yusuf ordered Proton Edar to provide the sales records with sufficient key data.
Proton Edar provided sales records of about 471,000 units by May last year. Electric Angels' lawyer Datuk Rabinder Singh wrote to Proton Edar's counsel stating that the sales records contained duplicated data. In effect, Proton Edar had only provided sales records on 279,000 cars.
In the records, car owners had similar telephone numbers, there were duplicated registrations and some cars had not been registered.
Electric Angels then filed the committal proceedings.
Proton Edar did not respond to The Edge's request for comment at press time.
Proton Edar had also made other commitments to customers who bought their cars through ProtonLive, including holiday packages, says the source.
"If Proton has to honour all these commitments, the cost would be so huge that it might jeopardise its plans to invest in new models and platforms. It will be an unnecessary distraction for Proton at a time when it is trying to win back market share," the source adds.
After years of flagging sales, Proton is coming up with four new models this year, including the new Perdana. The national automaker aims to produce 150,000 cars this year, an increase of 50% from last year.
It is also coming up with six new engines to replace the long-serving CamPro line. Over the past two years, Proton has invested RM2.2 billion in developing the new models and engines.
It has announced a joint venture with Suzuki Motors to produce A-segment cars with small engine capacities of between 1.0 and 1.2 litres. It has also re-entered the Chilean market and is working with Indonesia to come up with an Asean car.