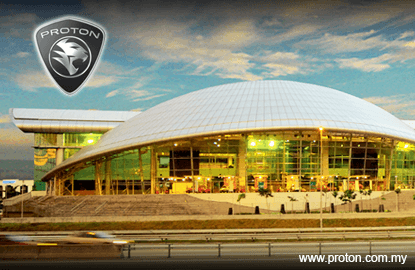 KUALA LUMPUR (Feb 13): Proton Holdings Bhd's losses and RM7.93 billion worth of tax credits make the car manufacturer an attractive acquisition target. This is in anticipation that the company will be able to go on a long tax holiday when it starts reporting profits.
The Edge Malaysia business and investment weekly (Edge Weekly) reported this in its Feb 13–19 issue. Edge Weekly quoted Malaysia's national car manufacturer Proton's latest financial statement for financial year ended March 31, 2016 (FY16).
Edge Weekly reported: "The billions in losses accrued by Proton Holdings Bhd over the years have pushed the company to the brink of insolvency. But the massive losses are also making Proton an attractive acquisition target for foreign strategic partners (FSP) like China's Geely Automobile Holdings Bhd and France's PSA Group."
"A closer look at Proton's latest financial statement reveals that the company was sitting on RM7.93 billion in unrecognised deferred tax assets in FY2016 ended March 31. Today, this sum should easily exceed RM8 billion as Proton continues to bleed red ink," Edge Weekly reported.
DRB-Hicom Bhd wholly owns Proton, which posted a net loss of RM1.46 billion in FY16.
Today, CIMB Investment Bank Bhd analyst Mohd Shanaz Noor Azam wrote in a note that finding the right FSP would be crucial for Proton's rejuvenation.
"We believe that finding the right FSP for Proton is still DRB-Hicom's main priority, as it seeks to move forward with Proton's recovery plan.
"We maintain our Add call on DRB-Hicom with an unchanged SOP (sum-of-parts)-based target price of RM1.69 (10% discount to RNAV (revised net asset value)). Our Add call is supported by the imminent FSP for Proton and better performance in DRB-Hicom's services division. Key downside risks are lack of FSP for Proton and further deterioration in Proton's earnings," Mohd Shanaz said.