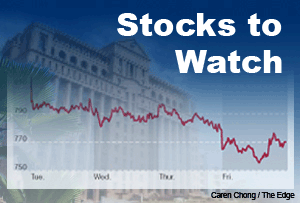 KUALA LUMPUR (Oct 28): Based on news flow and corporate announcements today, stocks that may be in focus tomorrow (Wednesday, Oct 29) could include the following: Protasco Bhd, IRIS Corporation Bhd, Versatile Creative Bhd, Felda Global Ventures Holdings Bhd (FGV), Masterskill Education Group Bhd, Gadang Holdings Bhd and R&A Telecommunication Group Bhd.
Protasco Bhd has appointed a legal firm in response to the lawsuit brought against the company by Kingdom Seekers Ventures Sdn Bhd, which is controlled by its non-executive director and substantial shareholder Tey Por Yee.
In a filing to Bursa Malaysia today, Protasco said it has been served with a Writ of Summons by Kingdom Seekers, which has also listed Protasco's Managing Director Datuk Seri Chong Ket Pen, and individuals including Kenny Chong Ther Nen, Low Kian Seng, Edward Khoo Mong Wei, Lim Yew Ting, and a company called RS Maha Niaga Sdn Bhd, as the defendants in the suit.
Kingdom Seekers' claims against the six defendants are for the return of a sum of RM10 million to the company and general damages purportedly suffered by the company.
In a press conference this morning, Tey said he had discovered evidence of money trail, where money paid to Protasco was flowed through layers of companies before a RM10 million cheque was drawn and paid for the benefit of Maha Niaga's account with United Overseas Bank (Malaysia) Bhd.
Tey claims that PT Anglo Slavic Utama (PT ASU) vide their lawyers, have informed him the money was Ket Pen's financial gain from two contracts.
Protasco dropped four sen or 2.44% at RM1.60, giving it a market capitalization of RM539.58 million.
IRIS Corporation Bhd is acquiring an additional 50% stake in Pulau Peleliu Resorts Ltd from UK Investment Holdings Ltd for US$5 million (RM16.39 million) or US$1.50 per share, increasing its shareholding in Palau Peleliu Resorts to 80%.  
In a filing with Bursa Malaysia today, IRIS said its 60%-owned subsidiary, IRIS Land Sdn Bhd, had signed an agreement with UK Investment for the proposed acquisition.
IRIS said the acquisition would enable the group to have greater control and supervision over the development project to be implemented in Palau, adding it will contribute positively to its earnings in the long run.
 
Palau Peleliu Resorts is involved in the development, management and construction of resorts, villas, residential and commercial buildings in the Republic of Palau — an island country in the western Pacific Ocean and a United States Associated State.
IRIS Corp closed down 1.5 sen or 4.23% at 34 sen, giving it a market capitalization of RM703.86 million.
Meanwhile, IRIS Corp's Managing Director Datuk Tan Say Jim has sold his 20.64% equity interest in Versatile Creative Bhd to Datuk Lee Kwee Hiang, the co-founder of Iris. The transacted price was not revealed in the announcement to Bursa Malaysia.
Following this, Tan is left with a 0.13% stake or 146,000 shares in Versatile Creative, while Lee has emerged as a substantial shareholder with a direct interest of 24.9% stake in Versatile Creative.
IRIS Healthcare Sdn Bhd, a wholly owned subsidiary of IRIS Corp, is the largest shareholder in Versatile Creative — the paper and boxboard packaging products manufacturer — with a 39.6% stake.
Versatile Creative closed up 5 sen or 8.33% to 65 sen, giving it a market capitalization of RM66.39 million.
Felda Global Ventures Holdings Bhd (FGV) announced today that it has successfully made a maiden shipment of 6,000 tonne of palm methyl ester (PME) to Nansha Port, Guangzhou, China, marking the expansion of its biodiesel business to the republic.
The PME was produced by FGV's subsidiary, Felda Global Ventures Biotechnologies Sdn Bhd (FGVB), and delivered to China in early September, and a second consignment of similar tonnage will arrive in Dongguan Port, Guangdong, by end of this month, said the world's largest crude palm oil producer via a media release.
"FGV's maiden shipment of PME to China is a highly significant development for the company's biodiesel ambitions. By successfully penetrating the China market, FGV is on track to achieving its global growth targets for its biodiesel strategy," said FGV Group President and Chief Executive Officer Datuk Mohd Emir Mavani Abdullah.
Separately, Tony Pua, DAP national publicity secretary and Member of Parliament for Petaling Jaya Utara, said the government should sack and replace the top brass of FGV — the world's third largest oil palm plantation operator — for the poor performance of its share price.
"Over the past six months for example, FGV was the worst performer of all plantation stocks listed on Bursa Malaysia," Pua told reporters at Parliament today.
FGV closed down 1 sen or 0.29% at RM3.48, giving it a market capitalization of RM12.66 billion.
Masterskill Education Group Bhd's wholly-owned subsidiary, ASIAMET Executive Education Centre Sdn Bhd, has signed a memorandum of agreement with China-based sustainable business development group, BBQ Global Connection, to provide industry training programmes for Chinese students.
The agreement would be carried out over a period of five years.  
"The first intake of 500 students was expected to arrive at AMU in March 2015. We expect to have 10,000 students per year [brought in for training]," Asia Metropolitan University's (AMU) Deputy Chief Executive Officer Datuk Dr Jayles Yeoh told reporters, after the agreement signing today.
These students will receive industry training in franchising, retailing and entrepreneurship services for one year. Yeoh also said although these students would return to China once their training was complete, there would be spin-off benefits to Malaysia, in terms of tourism and manpower.  
Masterskill fell one sen or 2.04% at 48 sen today, giving it a market capitalization of RM178.64 million.  
Gadang Holdings Bhd's net profit for the first quarter ended Aug 31, 2014 (1Q15) surged 34% to RM9.54 million or 4.41 sen per share, from RM7.14 million in the previous corresponding period, on higher contributions from construction activities.
Revenue in the quarter rose 18% to RM133.36 million, from RM113.45 million a year ago. Gadang did not declare any dividend for the quarter.
On prospects, Gadang expects the performance for the current financial year to further improve, in tandem with its outstanding construction order book of some RM1.3 billion.
Gadang fell five sen or 3.25% at RM1.49, giving it a market capitalization of RM322.39 million.
R&A Telecommunication Group Bhd is confident to turnaround its businesses in two years, according to its chief executive officer, after having suffered losses for two consecutive financial years since 2012.
"We are confident for that (turnaround), the strategy is to build and lease our infrastructure, so as to create recurring income for the group," Chief Executive Officer Francis Tan Hock Leong said, after the company's extraordinary general meeting.
Currently, R&A Telecommunication would only build for telecommunications operators, and earn one-off income from it. However, Tan said the group will have to complete the corporate exercise, before planning on the allocation of fund to execute the strategy.
R&A fell 0.5 sen or 11.11% at four sen today, giving it a market capitalization of RM43.51 million.