This article first appeared in The Edge Financial Daily, on December 31, 2019.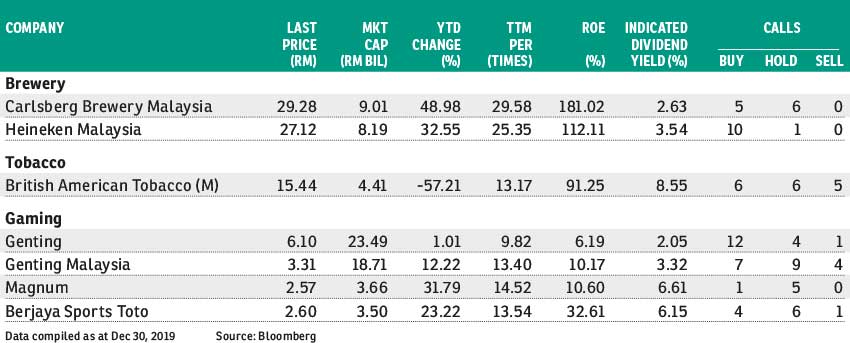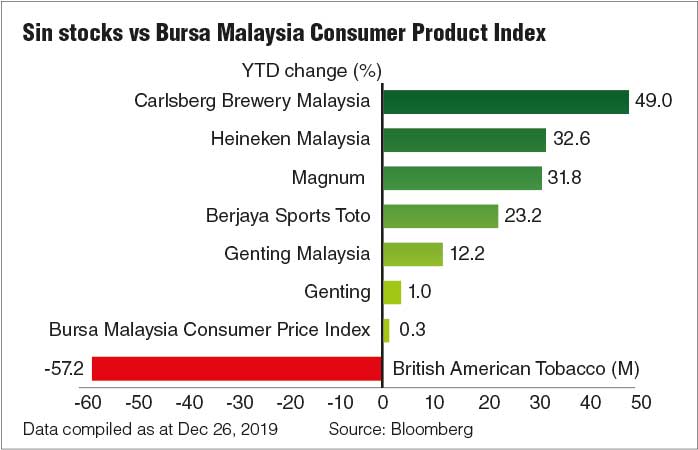 Lady Luck seems to smile more at investors who took a bet on breweries and numbers forecast operators (NFOs) in 2019. These sin stocks outshone their peers, in terms of share price performance, despite lingering concerns about consumers tightening their belts more amid the less rosy economic prospects (see chart).
British American Tobacco (Malaysia) Bhd (BAT) saw its worst annual share price performance of a 57.2% fall in 2019 as a result of poor earnings even though smokers might not have cut down on smoking. The legal cigarette manufacturer is choked by the rampant contraband products flooding the market here.
Meanwhile, casino operator Genting Malaysia Bhd regained some lost ground in 2019, with its share price up 12.2%. However, it is still a far cry from the 2018 level. The stock was trading at above RM4.50 before the new government slapped a steep hike in gaming tax. It closed at RM3.31 yesterday.
Moving into the new year and new decade, analysts seem to be relatively bullish on the brewery and gaming subsectors, with most of them having an "overweight" rating on them.
The Edge Financial Daily has contacted industry players to gather some of their insights into the prospects for 2020.
Brewery
A toast to the breweries' better prospects in 2020
Carlsberg Brewery Malaysia Bhd and Heineken Malaysia Bhd shareholders should not have much grouses for 2019 with the two breweries' share prices reaching record highs — making them the clear winner even among consumer stocks.
This was despite the Consumer Sentiment Index (CSI) continuously remaining below the 100-point optimism threshold in the first three quarters of 2019. The CSI for the third quarter of 2019 (3Q19) fell to 84 points — the lowest reading since 4Q17, according to the Malaysian Institute of Economic Research.
Year to date, Carlsberg has surged 46.85% to settle at RM28.86 on Dec 26, valuing it at RM8.88 billion, while Heineken has gained some 33.33% to close at RM27.28, bringing it a market capitalisation of RM8.24 billion.
For 2020, brewers heave a sigh of relief as the government has not raised any excise duty in the recent Budget 2020 announcement. The last hike was in March 2016, when the excise duty structure for beers changed to RM175 per 100% volume per litre, from the previous RM7.40 per litre and 15% ad valorem tax.
Carlsberg Brewery Malaysia's newly-appointed managing director (MD) Stefano Clini said innovations will continue to play a big part in the revitalisation of its brands, as Carlsberg's new betterment in its overall consumer drinking experience will be the key.
As consumer sentiment is not expected to be robust in 2020 and costs of packaging and raw materials could be a squeeze on profit margins, on top of the prevalent contraband beer, Clini said Carlsberg has put in place measures to be more efficient in cost management and investments to deliver a sustainable shareholder value.
"We are committed to continue investing in Carlsberg's new improved packaging and to intensify our consumer activations to drive further premiumisation in both Malaysia and Singapore while keeping costs under control," Clini said in an email reply.
"The early responses towards Carlsberg's practical improvements in visibility, packaging and amenities have been very encouraging," he added.
Moreover, with the recently concluded "Probably the Best Oktoberfest" and "Connor's Perfect Pour Challenge" campaigns boosting sales, Clini expects the early 2020 Chinese New Year to sustain its current growth momentum before the year ends.
Heineken Malaysia MD Roland Bala expressed his confidence in delivering a satisfactory performance for financial year 2019 (FY19), driven by the group's efforts in improving cost efficiencies and top-line growth on the strong performance of its core brands and new products.
However, his optimism is tempered by caution, given the softening economic environment, competitive market and continued threat from the illicit trade.
He anticipates these — especially intensified commercial activations planned by all brewers in the market for the final three-month run of the year — to have some impact on the group's profitability for 4QFY19.
While Heineken has launched new products this year, Heineken 0.0 and Tiger Crystal, the brewer has removed some non-performers from the shelves so that the group only focuses on core brands and innovations that have scale and potential.
"While the rising cost structure remains a mild dampener on the subsector, we observe the brewers could pass-through costs when deemed necessary, because the last price hike in April 2019 did not affect legal consumption considerably," TA Securities Holdings Bhd said in its 2020 annual strategy report.
Hong Leong Investment Bank (HLIB) Research expects high beer sales in 2020 amid the anticipation of more tourist arrivals due to Visit Malaysia Year 2020. HLIB noted about 80% of top tourist receipts come from non-Muslim majority countries such as Singapore, China, Thailand and India in terms of total spending, and China, the UK, Canada and Taiwan on per-capita spending.
Tobacco
Another tough year ahead for BAT
BAT is offering the highest dividend yield of 8.62% among the sin stocks, but this does not help to whet investors' appetite for the counter.
Shares in BAT plunged 57.2%, or RM20.64, to close at RM15.44 yesterday.
In a nutshell, even with the 9% dividend yield, shareholders who have held BAT shares since the beginning of this year have lost 48%.
BAT MD Erik Stoel, in an email reply, said the tobacco industry's operating environment outlook for 2020 will remain bleak.
While BAT commands 55% of the legal volume share or over 90% in value terms of the legal tobacco industry, Stoel noted that 2019 has certainly not been a year of "business as usual" for the company as it has faced strong external headwinds, mainly due to illicit cigarette and illegal vaping products, no thanks to affordability stretch.
"We foresee the grip that illicit tobacco has on the country to remain the same, if not grow even larger in 2020. Simply put, any legal company will be challenged to operate in an environment that consists of a 68% black market," Stoel said.
He stressed that pessimism about prospects for the tobacco industry is due to the ministry of health's (MoH) lacklustre efforts to clamp down on illicit tobacco.
"We urge them (MoH) to take a more tangible approach to curbing this issue as it contributes to underage smoking and a liability on the health agenda," said Stoel. He noted that enforcement, albeit it has increased, has not been effective and the minimum RM100,000 penalty has not been rigorously pursued.
Nonetheless, for BAT, the 2020 business focus will centre on its continued advocacy for a sustainable tobacco framework, said Stoel.
As the tobacco market in Malaysia continues to be attractive for the industry in terms of value relative to its size, Stoel said the real opportunities, however, lie in transitioning consumers from illegal to legal cigarettes and regulated vaping.
"We will do whatever it takes to push the government to decisively cripple this black economy," said Stoel, adding that BAT will continue to actively and continuously engage all relevant stakeholders to effect a change that will significantly lower the high levels of illicit tobacco in the country.
In 2020, BAT will also focus on building and investing in new categories of tobacco with BAT's range of potentially reduced risk products comprising tobacco heating products like Glo and Vaping when regulated, said Stoel.
He said this sector's current opportunities to grow value in Malaysia will probably unfold more rapidly, should the tax policy for vaping is regulated. "However, this outcome will be determined on how the government shapes its policy surrounding new categories of tobacco products in 2020," he said.
CGS-CIMB Research analyst Kamarul Anwar, in its 2020 strategy note, wrote the only hope for BAT now rests on the possible regulation of vapes and e-cigarettes under the proposed Tobacco Act, allowing legal tobacco players to capitalise on their rapidly growing popularity. Kamarul, however, said renewed calls to ban vaping are jeopardising prospects of a possible regulation.
Kamarul is forecasting a 22.6% decline in net profit to RM333 million for the financial year ending Dec 31, 2019 (FY19), from RM430 million for FY18, and is estimating a further contraction to RM329 million in net profit for FY20. He is also anticipating revenue to fall to RM2.71 billion for FY19 and RM2.59 billion for FY20.
Bloomberg data shows 17 research houses covering the stock, with only six "buy" ratings. Nonetheless, with a consensus target price of RM19.62, this implies a 27.9% headroom.
Gaming
Better luck factor in 2020
It was not a smooth sailing for Genting Malaysia Bhd (GenM) in 2019. Still, it was a better year compared with 2018.
While GenM has to bear the 10% hike in casino duties this year, analysts are optimistic the group will be dealt with a better hand of cards in 2020.
In July, GenM reached a settlement agreement resolving disputes with Fox Entertainment Group and The Walt Disney Co, dismissing all claims and counterclaims against each other, with the upcoming outdoor theme park opening in the third quarter of 2020. In addition, the indoor theme park, Skytropolis Funland, opened in December 2018.
In 2020, GenM is expected to benefit from higher tourist arrivals as the opening of its long-awaited outdoor theme park in the second half coincides with Visit Malaysia Year 2020 (VMY2020), said HLIB Research.
"We upgrade our call on the sector to overweight in line with our recent upgrades on GenM and Genting Bhd. We believe share prices have overreacted to the increased competition of the VIP (very important person) segment in the region," said HLIB Research analyst Andrew Lim Ken-Wern.
GenM shares rose around 12.2% during the year to close at RM3.31 yesterday, while Genting was down a minimal 0.16% to settle at RM6.10.
Bloomberg data shows there are more "buy" calls on Genting compared with GenM, with 12 "buy" calls, from the 17 research firms covering the stock, while GenM has seven "buy" ratings out of 20. In terms of upside in share price growth, Genting has a headroom of 19.6% from its consensus target price of RM7.26, while GenM has 9.8% from RM3.57.
Apart from VMY2020 being the catalyst for Genting Group, TA analyst Tan Kam Meng noted 2020 will be a crucial year for Genting as its Singapore unit Genting Singapore Ltd (GenS) is bidding for a licence to operate an integrated casino resort (IR) in Japan.
"So far, we understand [that] there would be three IRs in Japan, one each in Osaka, Yokohama and Tokyo. In fact, IR bids have already started in Osaka and Yokohama where the former has officially accepted bids from MGM Resorts International, GenS and Galaxy Entertainment," Tan said, adding that the selection of the winner would likely be in 3Q20.
Besides Osaka, GenS indicated that it is now preparing for Yokohama's request-for-concept, which opened in October and will be closed on Dec 23, 2020, said Tan, adding that the selection of the winner would likely be at end-3Q20 or 4Q20.
Genting would benefit but TA expects the bigger attraction lies in its likely ability to win the casino licence from Japan in 2020, said the research house.
Meanwhile, for NFOs, the government has introduced stern penalties, a higher minimum mandatory penalty of RM100,000 for illegal gamblers along with a minimum mandatory six months' jail sentence, to curb illegal gambling in Budget 2020, said Tan. This was from the maximum penalty of RM50,000.
"We believe the drastic increase in penalty with [a] jail sentence could effectively curb black market activities in the NFO industry in Malaysia, which command a hefty market share of 50% or more," said Tan, adding that there are more raids to eradicate illegal gambling.
He noted this bodes well for legal NFOs and the impact is expected to outweigh the reduction in special draws from 11 to eight times in 2020, adding that this move is expected to lower Berjaya Sports Toto Bhd's (BToto) profit by 0.5% annually, deeming it as "insignificant".
In comparison to the casino operators, the NFOs have been performing well with Magnum Bhd's shares jumping some 31.8% year to date to close at RM2.57 yesterday, while BToto shares rose 23.2% to settle at RM2.60.
To add to that, Magnum and BToto have much attractive dividend yields (indicated) of 6.67% and 6.2% respectively.