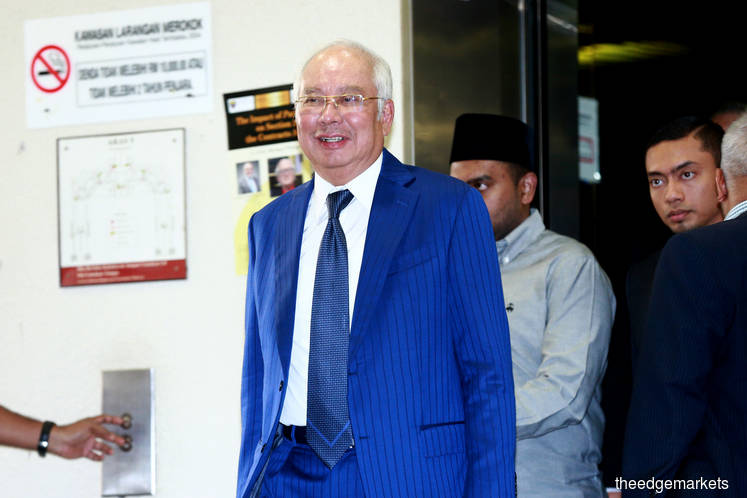 Datuk Seri Najib Razak at the Kuala Lumpur High Court this morning. (Photo by: Sam Fong/The Edge)
MACC investigating officer Senior Assistant Commissioner Rosli Hussain (left), the prosecution's 57th witness (Photo by: Sam Fong/The Edge)
Senior lawyer Tan Sri Muhammad Shafee Abdullah speaking to the press at the Kuala Lumpur High Court. (Photo by: Sam Fong/The Edge)
Appointed prosecutor Datuk V Sithambaram (Photo by: Sam Fong/The Edge)
Attorney General Tommy Thomas (Photo by: Sam Fong/The Edge)
KUALA LUMPUR (Aug 27): The High Court has set Nov 11 to decide whether to call for the defence or acquittal of former premier Datuk Seri Najib Razak in the SRC International Sdn Bhd case today.
High Court judge Mohd Nazlan Mohd Ghazali also fixed Oct 22 and 23 to hear submissions from the prosecution and defence on whether Najib should enter his defence or not, after the prosecution in Najib's SRC trial officially wrapped up the case this afternoon.
There are also dates fixed in between for both the prosecution and defence to file their written submissions.
The defence will be called if there is a prima facie case or the former premier has a case to answer the seven charges that he is facing.
If the defence is called, Najib has three options — namely, to testify from the witness stand where he could be subject to cross-examination by the prosecution, make an unsworn statement from the accused dock where he cannot be cross-examined, or keep quiet.
Justice Nazlan has also fixed Dec 4 to 19 as trial dates should defence be called.
The conclusion of the prosecution's case involving Malaysia's highest-ranked politician comes following the end of Malaysian Anti-Corruption Commission investigating officer Senior Assistant Commissioner Rosli Hussain's testimony today.
Rosli is the 57th prosecution witness, while the trial had already taken a total number of 57 days over five months.
Najib is charged with three counts of criminal breach of trust, one for abuse of power and three for money laundering of the RM42 million involving SRC funds between Dec 26, 2014 and Feb 10, 2015.
The prosecution was led by Attorney General Tommy Thomas, appointed prosecutor Datuk V Sithambaram and senior deputy public prosecutors (DPP) like deputy head of prosecution in the Attorney General's Chambers Datuk Ishak Mohd Salleh.
Others in the prosecution team include senior DPP Datuk Suhaimi Ibrahim and DPPs Muhammad Izzat Fauzan, Mohd Ashrof Adrin Kamarul, Budiman Lutfi, and Saifuddin Hashim Musaimi.
Meanwhile, senior lawyer Tan Sri Muhammad Shafee Abdullah led the defence along with co-counsel Harvinderjit Singh, Farhan Read and lawyers Syahirah Hanafiah and Farhan Shafee.
See also:
Painful for Najib to sit on wooden bench in accused dock — Shafee
SRC trial: Zeti and Nor Mohamed among 66 witnesses offered by prosecution to defence