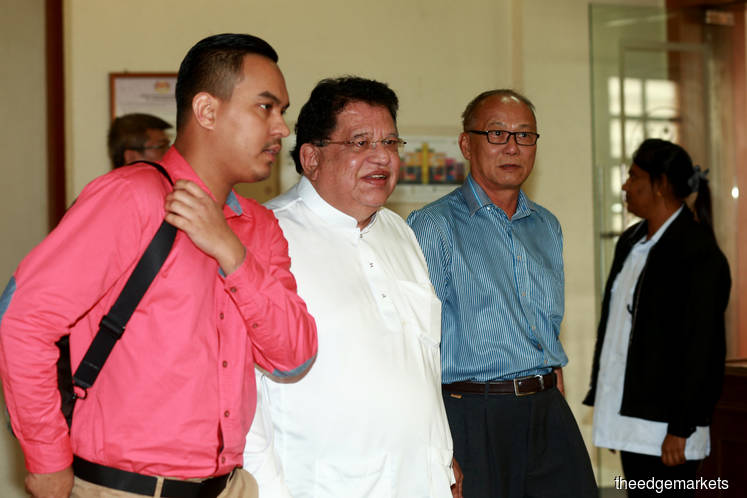 KUALA LUMPUR (Sept 20): The prosecution aims to show that former Federal Territories (FT) Minister Datuk Seri Tengku Adnan Tengku Mansor had received RM1 million as an inducement to assist a company to secure approval from Kuala Lumpur City Hall (DBKL) to increase the plot ratio for a development at Jalan Semarak here.
Deputy public prosecutor Julia Ibrahim, who is leading the prosecution team, said in her opening statement on the first day of Tengku Adnan's graft trial that evidence will prove he had assisted in securing the approval of an application by Nucleus Properties Sdn Bhd (now known as Paragon City Development Sdn Bhd), after several applications and appeals had been rejected by the Urban Development Planning Department of DBKL.
In her opening statement, Julia said Nucleus Properties had applied to increase the plot ratio from 1:4 to 1:7.
The application was eventually approved through a One-Stop Centre (OSC) meeting held on Oct 30, 2013, which was chaired by Tengku Adnan as FT minister at the time, she said.
"Evidence will show that the accused (Tengku Adnan) had assisted Nucleus Properties to secure approval for its application. The assistance given by the accused was through his links to other related agencies and urban development connections, as well as through letters signed by the accused since he became the Putrajaya MP and appointed as the federal territories minister," she stressed.
Julia said the prosecution will prove that those companies belonged to businessman Datuk Tan Eng Boon, who had been fined RM1.5 million on Tuesday (Sept 17) after he pleaded guilty to an alternative charge of abetting Tengku Adnan in receiving the RM1 million bribe.
Tengku Adnan, popularly known as Ku Nan, is charged with receiving RM1 million through a Public Bank cheque belonging to Pekan Nenas Industries Sdn Bhd into the former minister's CIMB Bank account.
The prosecution also said it will rely on direct, circumstantial and documentary evidence to prove Ku Nan's guilt.
Upon completing the opening statement, the prosecution then proceeded by calling two prosecution witnesses, namely Daman Huri Nor, who is a division secretary for constitution and parliamentary matters in the Prime Minister's Department, and the deputy registrar of the Companies Commission of Malaysia (CCM) Muhamad Akmaludin Abdullah, to the stand.
The first prosecution witness Daman, 55, testified that Ku Nan earned a salary of about RM14,000 and allowances of RM24,000 a month since he became the minister in 2013 until last year.
Meanwhile, the second prosecution witness, Akmaludin, 36, in his testimony confirmed that Tan was the director of Nucleus Properties, Pekan Nenas Industries and Nipponkey Sdn Bhd.
Nipponkey had acquired a 0.54-acre plot for RM4.92 million in October 2015 in Kuala Lumpur under suspicious circumstances during Tengku Adnan's tenure as FT minister.
The hearing before the High Court Judge Mohd Nazlan Mohd Ghazali will continue on Jan 2 next year.
See also: High Court orders Ku Nan's RM1m graft trial to proceed