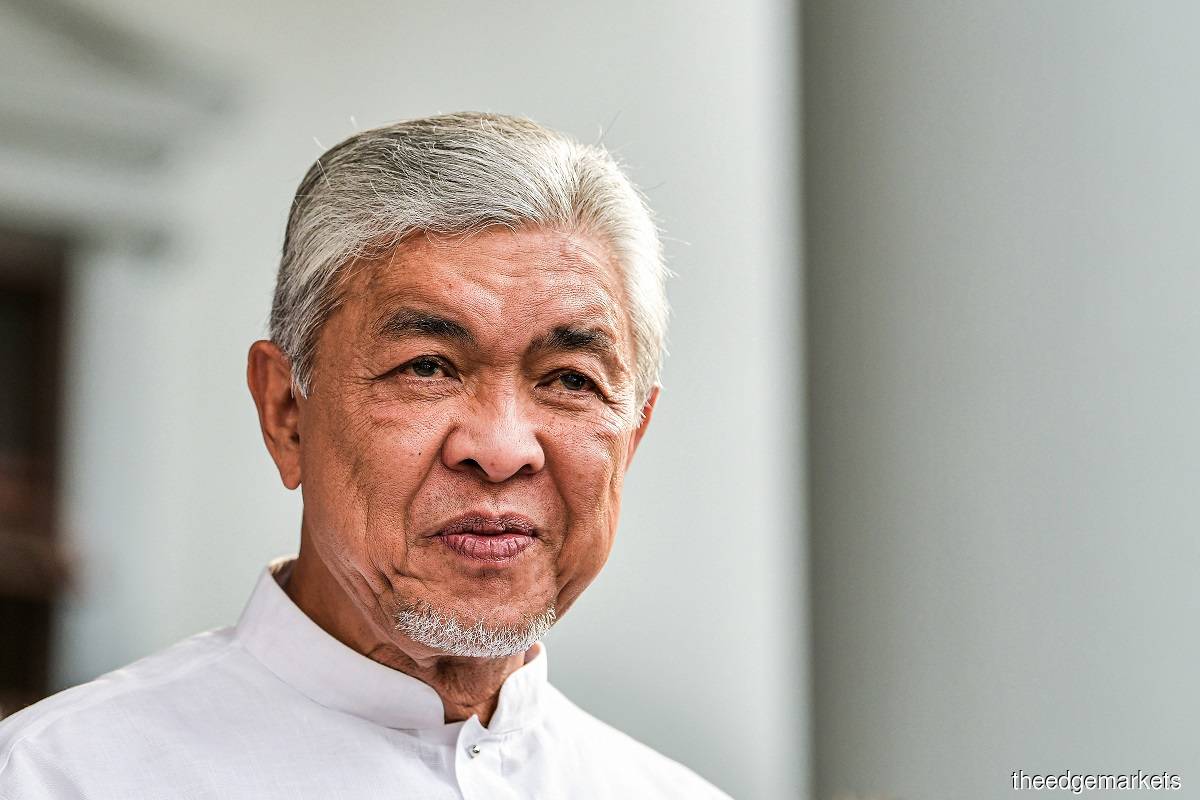 Judge Datuk Mohd Yazid Mustafa ordered the defence to file its written submissions by Aug 29, and set Sept 1 and 2 for its oral submissions before him.
SHAH ALAM (Aug 11): The prosecution in former home minister Datuk Seri Dr Ahmad Zahid Hamidi's trial involving 40 charges for receiving bribes in the foreign visa system (VLN) matter has closed its case after calling 18 witnesses. The trial began on May 24 last year.
The 18th witness, Malaysian Anti-Corruption Commission (MACC) investigating officer Mahendran Vrejenan was released from the stand after examination-in-chief by deputy public prosecutor Datuk Raja Rozela Raja Toran and her legal team as well as cross-examination by Zahid's lawyer Datuk Ahmad Zaidi Zainal.
Once the witness was released, Raja Rozela declared that the prosecution's case was closed.
Judge Datuk Mohd Yazid Mustafa ordered the defence to file its written submissions by Aug 29, and set Sept 1 and 2 for its oral submissions before him.
Yazid then ordered the prosecution to submit its written submissions by Sept 5, and set that very same day till Sept 8 for the prosecution's submissions.
He also thanked both parties for conducting the case in a civil manner and for their decorum.
Once the submissions on both sides are done, Yazid will determine whether a prima facie case has been put forth by the prosecution against Zahid.
If the judge determines that the prosecution is successful in proving a prima facie case against the Bagan Datuk MP, Zahid will then be asked to enter his defence against the charges, where he will call his witnesses to testify for him.
In legal context, the Latin phrase prima facie indicates a situation where this is enough evidence for a trial to proceed.
Raja Rozela also offered Zahid's legal team a list of 27 witnesses to be offered to the defence should Zahid be called to defend his criminal charges before the court.
Among the list of witnesses are former immigration director general Datuk Seri Mustafar Ali, who is also the current head of the National Financial Crime Centre (NFCC). He also served in the MACC.
Other notable witnesses offered are Chong Kian Leong @ Raymond, who is a director in Hong Kong company Maintech System HK Ltd, Fong Mee Yee, a director for Visa Malaysia Ltd Hong Kong.
In this trial, Zahid, 69, is facing 33 charges of receiving the S$13.56 million (about RM42 million) bribes from Ultra Kirana Sdn Bhd (UKSB) as an inducement.
On another seven counts, Zahid is charged, as the then home minister, to have obtained for himself S$1,150,000, RM3 million, Swiss francs 15,000 and US$15,000 in cash from the same company in connection with his official work.
He is charged with committing all the offences at Seri Satria, Presint 16, Putrajaya, and Country Heights, Kajang, between October 2014 and March 2018.
From February 2013 to October 2019, UKSB operated visa facilitation services in China for Malaysia-bound travellers, following the inking of an agreement with the Malaysian Government in 2012 to provide such services.
UKSB administrative manager David Tan Siong Sun, who testified as the 17th prosecution witness in the trial, said he handled the transactions to Zahid during that tenure.
He said UKSB gave the money to Zahid to secure its position as the sole contractor for the visa facilitation services and to fend off the competition.
Despite UKSB recording paltry profits since its inception, Tan testified that the company did, however, manage to contribute more than RM70 million to at least 11 politicians, including Zahid.
According to a previous report by The Edge, all the politicians named in court — former prime ministers Tun Dr Mahathir Mohamad and Tan Sri Muhyiddin Yassin, Defence Minister Datuk Seri Hishamuddin Hussein, Health Minister Khairy Jamaluddin, Housing and Local Government Minister Datuk Seri Reezal Merican Naina Merican, former transport minister and Malaysian Chinese Association (MCA) deputy president Tan Sri Chan Kong Choy, former MCA secretary general and former second minister of international trade and industry Tan Sri Ong Ka Chuan, former foreign minister Tan Sri Anifah Aman and Umno information chief Shahril Sofan Hamdan — have denied receiving any money from UKSB. Parti Warisan president and Semporna MP Datuk Seri Mohd Shafie Apdal declined to comment when questioned by a Malay language portal.
Tan testified that UKSB did not have the funds to make political donations and that the money came from its business partner in Hong Kong, which channelled funds into Malaysia via money changers. The business partner is allegedly Maintech System.
If Chong and Fong are called to testify, it will provide an insight into why Maintech System forked out the money given to the politicians and what its role in the VLN contract is.
Read also:
Who is UKSB's HK partner that paid millions to Malaysian politicians?