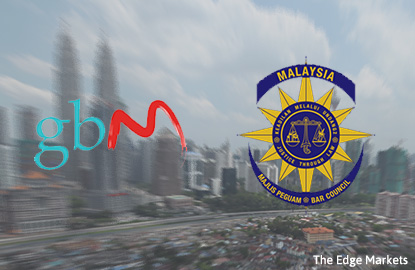 KUALA LUMPUR (July 21): The proposed amendments to the Legal Profession Act 1976 (LPA) are an open attack on the independence of the Malaysian Bar and designed to paralyse the Bar, says coalition of non-governmental organisation led by Gabungan Bertindak Malaysia (GBM).
In a statement today, signed by GBM and other civil society groups, the group highlighted that the decision of the government to make several amendments to the LPA sets a dangerous precedent of government interference in the operations of independent statutory bodies and civil society organisations.
The group urged the government to withdraw the proposals immediately.
"The amendments, due to be tabled in parliament in October 2016, empowers the government to abolish the current direct elections of 12 members of the Bar Council through postal votes and replace it with elections at the state level, the appointment of two representatives by the minister in charge of legal affairs to sit in the Bar Council and to increase the quorum of the Annual General Meeting of the Malaysian Bar from 500 to 4000 members.
"The government purportedly made the amendments to improve transparency and representation of the Bar Council, when in reality, it does the exact opposite," they said.
The group said these proposals were not mooted by the members of the Malaysian Bar.
They also pointed out that the proposed bill had not been made available either to the Malaysian Bar or the public.
"Hence, its claim of improving transparency and representation is highly questionable.
"It is ironic that the Attorney General who had complained about the inadequate representation of the current Bar Council, had no qualms about government appointees, a measure that is totally devoid of transparency and representation of the members of the Bar," they said.
The group said the proposal to raise the quorum of the Annual General Meeting to 25% of the membership or 4000 members, smacked of ill intent.
"It is absolutely unreasonable and unrealistic, since the highest turnout for any of her AGM has not surpassed 1910 lawyers, out of their 17,000 membership. It is designed to paralyze the functions of the Malaysian Bar.
"In comparison, the quorum for the AGM of the Canadian Bar Association with 37,000 members, is only 100. The Hong Kong Bar Association with about 1,300 members, requires not less than 20 members, as its quorum to convene a general meeting," they said.
The coalition said it is the right of the Malaysian Bar members to choose their leaders and representatives, through a democratic electoral process.
"The government must not interfere nor impose conditions on this legitimate and transparent electoral process," they said.