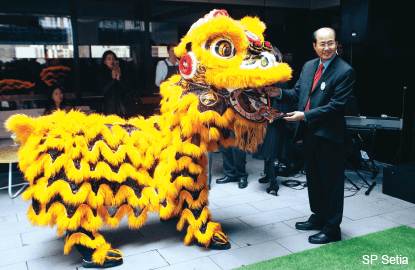 THE grey winter sky did nothing to dampen the upbeat mood at the handover ceremony of S P Setia Bhd's Fulton Lane in Melbourne, Australia in early August. More than 200 guests, including business associates, purchasers and staff, sipped cocktails and coffee, and indulged in a spread that ranged from Malaysia's Pai Tee snacks to strawberry tarts.
Fulton Lane is S P Setia's maiden project in Australia and is being handed over two months ahead of schedule.
Present at the ceremony was Fulton Lane's architect, Karl Fender, of Fender Katsalidis Architects. 
"I have seen S P Setia developments in Malaysia and was taken in by the quality and amenities they have created for their purchasers. This attitude was carried on to Fulton Lane, and we are all proud and privileged to have been involved in realising the dream and vision of S P Setia with Fulton Lane," says Fender. 
The success of Fulton Lane and its follow-up project, Parque, also in Melbourne, has raised the profile of the developer in Australia. The former has also benefited the developer financially, raking in a profit of A$145 million (RM433 million), which is expected to boost its 3QFY2015 earnings.
"I'm happy to know that the locals are getting more confident with our brand. A lot of them would have heard [about us and our projects], but when you can show them what we can do, that's how we build [our base]," says S P Setia acting president and CEO Datuk Khor Chap Jen.
The fully sold Fulton Lane has also settled its development loans of A$184 million as at July 22. It is an eco-friendly and sustainable project that has been awarded a four-star Certified Rating in Ecologically Sustainable Development.
Sitting across the road from Melbourne's famous Queen Victoria Market, the A$480 million Fulton Lane was built on the site of a former open-air car park. It has 804 luxury apartments in the two blocks of 28 and 45 storeys.
The units have built-ups of 500 to 1,474 sq ft and were priced between A$355,000 and A$1.346 million. The retail space on the ground floors of the two towers, measuring 1,400 sq m, will be retained by S P Setia for recurring income.
Meanwhile, progress of Parque is on track. The A$252 million development was launched in September 2013 and is fully sold. Sitting on 9,301 sq m of heritage-protected land in St Kilda Road, it features 332 apartments, priced between A$390,000 and A$3.35 million each.
The confidence in S P Setia's brand has translated into sales — some 50% of Fulton Lane's buyers are locals while Parque has 65% local buyers.
"Parque offers more exclusive residences, which the locals love. We hope to increase the number of local buyers [in future developments], but it will depend on the location. Certain areas will appeal to foreigners, and others, to the locals," says Khor. "We are definitely expecting more interest from the locals. We have a lot of good reviews, especially on the amenities. Most local developments do not have this many amenities and the prices are almost the same."
While S P Setia's focus in Australia is still on apartments in the central business district (CBD), it is also considering building landed homes in the suburbs.
"Now that we have been here for five years, we feel more confident and braver to venture into landed [properties]," says Khor. "When we first came to Australia, we said we were here to stay. That remains true. We are actively looking for new sites to build. Our main focus is still on Melbourne but we are not discounting the other Australian cities; we are looking at Sydney, Adelaide, Brisbane and, to a lesser extent, Perth."
He adds that there have been many land offers, but choosing the right one takes time.
"We don't accumulate land in Australia, as things work differently here. You must develop the parcel within two years of purchase in the CBD and some suburbs. If you don't, you can be fined, or you have to dispose of the land," he says.
Demand versus supply
Khor is optimistic about the outlook of Melbourne's property market, noting that the demand for homes is strong, aided by the growing population.
According to the "Victoria in Future 2015" report by Victoria's Department of Environment, Land, Water and Planning, the population of Greater Melbourne is projected to rise from 4.4 million in 2014 to 7.8 million in 2051.
"Prices are still strong, as evidenced by the sales. Demand is also coming from another group that has not been taken into account by property consultants — the new rich from China's second-tier cities. They are coming in, and properties in Melbourne are still more affordable that those in places like Singapore. Those with money will buy for investment," says Khor.
According to Knight Frank Australian Apartments Overview 2Q2015, over the past two years to March 2015, the values of apartments in Melbourne have risen 9.6%, with a growth of 3.5% year on year in March 2015.
"Median capital values of metropolitan Melbourne were down 0.1%, at A$470,000, in 1Q2015, indicating the market's continuing resilience," says Knight Frank.
Sales volume is also on an upward trend, with 37,439 apartments sold over the year to March 2015, up 15.5% from a year ago.
Meanwhile, rents for apartments in Melbourne's metropolitan area have risen 2.6% to A$400 a week in the past year.
"Total vacancy of 3% was recorded in March after oscillating around the 3% market equilibrium over the past five years," says Knight Frank.
It also notes that throughout the period under review, rents grew an average 3.5% per annum. Gross rental yields across the metropolitan area were at an average of 4.45% over the past 10 years.
"As rents continue to rise with sustained population growth, we expect vacancy to hover around the 3% mark and yields to continue to improve," it says.
On S P Setia's overseas business, Khor says the developer will focus on Singapore, Australia and the UK. "We are going through challenging times. At the moment, these are countries we are looking at. We have targeted 40% of our revenue to come from overseas projects, but this year, it will be slightly less, as we have sold both our Australian projects. Hopefully, next year, we can launch a new project."
This article first appeared in Property, digitaledgeWeekly, on August 24 - 30, 2015.