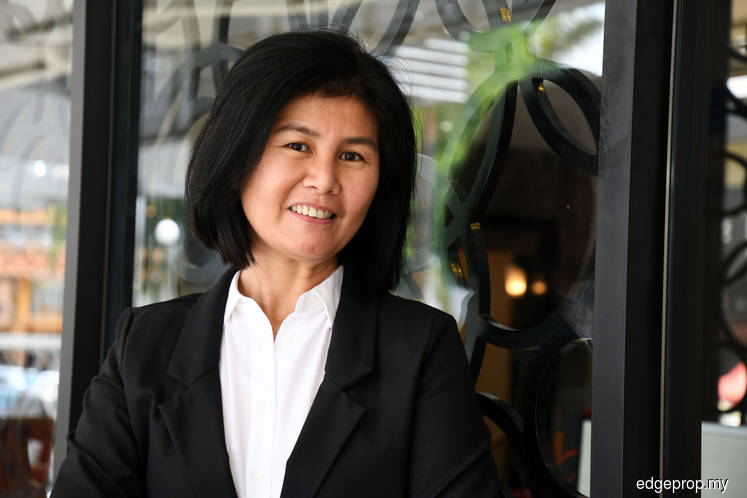 GROWING up in a little village, Shimry Wong had never dreamt that she would one day be an accomplished real estate negotiator.
"I'm from a small village in Kuantan. My parents were farmers and I used to help them when I was growing up," says the team manager at Allhomes
Properties Sdn Bhd.
Wong graduated from college as a secretary and started her working life as one for about two years before becoming a kindergarten teacher in Taman Desa, Kuala Lumpur, where she lives.
"I used to work multiple jobs in a day; it is not because of the need to support my family. In fact, my husband is a very successful businessman. He always wanted me to stay home and take care of our children. But I grew up in a farming family — I can't sit still at home and just be a housewife," says the mother of three.
Wong enjoyed teaching and thought she would be a kindergarten or tuition teacher till her retirement — then one day, she was offered the opportunity to become a part-time real estate negotiator.
"My cousin was a real estate agent and he told me it is not that difficult to become one. I took this as a challenge and began as a part-timer," she recalls.
She started with small, simple rental deals and only closed her first property sale after a year. She remembers it clearly.
"It was an end lot terraced house worth over RM2 million. The commission was way more than my monthly salary at that time. That motivated me to change to full time," says Wong.
But that was not the sole reason for the career change.
"It was something a client — who is also my friend — suggested. As my client, he complained that he was too busy running around juggling a full-time job with a part-time one on top of other odd jobs, to focus on handling his property properly. He asked me, why not invest 100% in one and only one job and make myself an expert," she recalls. Wong took his advice to heart and chose to focus solely on establishing a career in real estate in 2012 after more than a decade in the education sector.
It was one of the best decisions she ever made. She loves life as a real estate negotiator. "It is not a routine nine-to-five job and you get to meet a lot of people. Having only three years of experience, I'm blessed that my life as a full-time real estate negotiator began smoothly. Most of my clients were my former students and their parents, or my previous part-time workmates and ex-colleagues. I am grateful that they gave me their full support.
"Although I only found my dream job late in my work life, I have no regrets. I believe everything happens for a reason. Indeed, my previous work experience and network are the cornerstone of my career today," Wong says.
Despite the current property market slowdown, she regularly comes in as a top negotiator earning as high as RM100,000 in a single commission. She mainly covers in and around the area where she lives, especially Taman Desa and Old Klang Road.
According to Wong, it takes more than just industry knowledge and a strong network to be a successful real estate negotiator. One's approach and attitude are just as important.
"In every deal, think of yourself as the buyer or the seller, not being too calculative, and be honest. These are important attributes, especially during this slowdown.
"Taking short-cuts will not take you very far. Homebuyers and sellers are smarter and more knowledgeable today. Only being honest and sincere in every deal can bring you long-term business," she shares.
This story first appeared in EdgeProp.my pullout on Dec 22, 2017. Download EdgeProp.my pullout here for free.