This article first appeared in City & Country, The Edge Malaysia Weekly, on November 18, 2019 - November 24, 2019.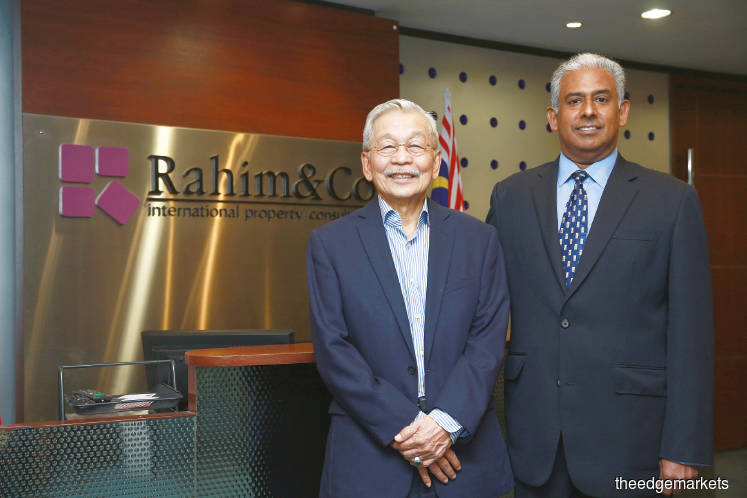 Abdul Rahim (left) and Siva. Photo by Sam Fong/The Edge
Siva Shanker is all smiles when we meet him in his new office in Rahim & Co International Sdn Bhd in the city centre. His enthusiasm is expected, as he has just been given his dream job — CEO, real estate agency.
"This is a homecoming for me. I'm back doing what I have always loved the most. It's also great to be part of this great team," says Siva. After three decades in the industry, he took up a different challenge and became head of investments and marketing at Axis Real Estate Investment Trust in 2016.
Rahim & Co executive chairman Tan Sri Abdul Rahim Abdul Rahman appears just as happy. "We have been very lucky to be able to always find the right people. Siva is replacing Robert Ang, who has been with us for more than 40 years and has retired. I'm sure Siva is going to do well."
However, the gentlemen are less enthusiastic about the property market. "The average occupancy rate of offices in the Klang Valley is about 80%, which means there is vacant space of about 28.8 million sq ft. It is a bit worrying. The Klang Valley has 137.4 million sq ft of office space and out of this amount, 95.8 million sq ft is in KL and 41.6 million sq ft in Selangor.
"The incoming supply is quite big. I don't know if the market can take the incoming supply. We have noticed that more companies are moving out of the city centre to where the rental is cheaper. Rents are under pressure and landlords are giving longer rent-free periods. I think the current state of affairs will persist for another 12 months," says Abdul Rahim.
He believes that the new grade A office buildings in the Klang Valley are comparable to the best in the world. "The rents of these buildings may seem high here but compared with other cities in the region such as Singapore, Jakarta, Hong Kong and even Manila, it is still low. This is why multinational companies come here," says Abdul Rahim.
As for the retail property market, Abdul Rahim puts the current supply in the Klang Valley at 70.4 million sq ft, of which 32.9 million are in KL and 37.5 million sq ft in Selangor.
"The average occupancy rate in the Klang Valley is 85.3%. This means, on average, every mall is about 15% unoccupied and there is another 11 million sq ft in the pipeline. All of these are concerning," says Abdul Rahim.
According to Siva, the malls that are doing well are the usual suspects such as Suria KLCC, 1Utama and Mid Valley Megamall. "These are the ones that are thriving. It's quite obvious why. They have a good mix of everything. You can get six different things done in one place and you can walk leisurely around the mall. While online shopping has affected the physical stores, I don't think the impact is that bad. I feel that Malaysians are still bricks-and-mortar people who like to go to malls … and many do both."
Abdul Rahim believes that young people are attracted to activities. Accessibility and parking are also important.
Defining affordable
Affordability and overhang are still the main issues in the residential market. Interestingly, Abdul Rahim says some 52% of the overhang are priced below RM500,000.
"It comes back to affordability. One of the biggest problems Malaysians face when it comes to buying homes is getting loans.  This is definitely something we need to look into.
"The land costs are high, so you can't build houses close to the city. I think the government is doing the right thing by building the mass rapid transit (MRT) as it allows people to buy homes a little farther from the city," says Abdul Rahim.
He puts the price of affordable homes in the Klang Valley at between RM300,000 and RM400,000, noting that anything beyond that is not affordable for a lot of people.
"One of the problems is that we have never really defined what is affordable and set the correct parameters. We are actually stabbing in the dark," says Siva.
Abdul Rahim concurs with Siva, adding that the prices of affordable homes should be defined according to the areas.
"A house priced at RM300,000 is considered affordable in KL but not in Kelantan because the salary scale is much lower there. I think in places like Kelantan, the affordable range is less than RM200,000. The Ministry of Housing and Local Government should sit down and define what is affordable in each state, which is not difficult to do," says Abdul Rahim.
While the property market remains sluggish, Siva remains optimistic. "All indications are that the worst is over. I think it's important the market understands this. We had a drop in 2012, followed by protracted contractions of the property market over the next few years. But in 2017, we started to see a bit of an increase in the market. In 2018 and 1Q2019, we registered positive growth.
"So, it would seem that we are at the bottom of the 'U' curve and we may start to see a small growth of 3% or so in the next 12 months. After that time, we can see the market inching upwards. People like to ask me if there is a light at the end of the tunnel. My answer is, yes, to a large extent," shares Siva.
As for the company, Abdul Rahim reveals that he has plans to expand the business in Asia-Pacific. "We are looking at the region but the problem is the [different] rules of practice in each country. We have to be very careful [about] who our local partners are. We are looking but we will take our time to wait for the right opportunity and the right partner. There is no deadline."
A chance of a lifetime
Some 35 years ago, a young man decided to get a job while waiting for his STPM results. One day, a friend rang and told him to hurry to Bangunan Cahaya Suria in Pudu.
"A company here is hiring people!" said the friend.
Excited, the young man ran out the door but due to the distance and transport issues, he arrived at the office too late. All the jobs had been taken. As he left, he looked up and saw the signboard. "Rahim & Co, Chartered Surveyor," it read. He had no clue what "chartered surveyor" meant.
As he made his way to another destination, he came across a signboard that read, "Gupta and Co, Chartered Surveyor". Another chartered surveyor, he thought. Maybe they will have a job for me.
So, he walked in and asked for a job.
"And I got it! It was my first job and that was how I got my start in real estate. It's fate. One full circle later, I'm finally with Rahim & Co," laughs Siva Shanker, the newly appointed CEO, Real Estate Agency, of Rahim & Co International Sdn Bhd.
Siva was hired as a valuation assistant for RM300 per month at Gupta & Co, which later became Knight Frank Baillieu.
Siva is a familiar name in the real estate industry. He owned his own real estate agency, Linear Estates, which he later merged with PPC International, and headed as CEO. Then Axis Real Estate Investment Trust (Axis REIT) came a calling.
"I have always been interested in REITs, ever since the first REIT appeared in Malaysia, which, incidentally, was Axis REIT. It was looking for someone to head the investment department," says Siva.
He initially turned down the offer because he did not want to switch jobs so late in life but the company was persistent and curiosity got the better of him.
"So, I joined Axis REIT as head of investment. It was a good three-plus years. It's a different kind of life and different kind of stress. But deep in my heart, I knew one day I would come back to real estate agency," says Siva.
When Rahim & Co executive chairman Tan Sri Abdul Rahim Abdul Rahman asked Siva if he would be keen to take over the position vacated by Robert Ang, who was retiring, he was immediately interested. Ang remains as a consultant.
"When I got the call, memories of my attempt to get a job at Rahim & Co all those years ago came flooding back. I told Abdul Rahim that this was fate. I missed my chance 35 years ago and now, I am getting a second chance. I have big shoes to fill. I'm excited to be given the opportunity to run this department in one of the biggest real estate consultancies in the country and we have a great team.
"It's a chance of a lifetime. I saw an article that said a shark in a tank grows to eight inches but a shark in the ocean will grow to 8ft or more. The shark will never outgrow its environment. I'm in the ocean now and this environment and company will push me to grow," says Siva.