This article first appeared in Personal Wealth, The Edge Malaysia Weekly, on March 25, 2019 - March 31, 2019.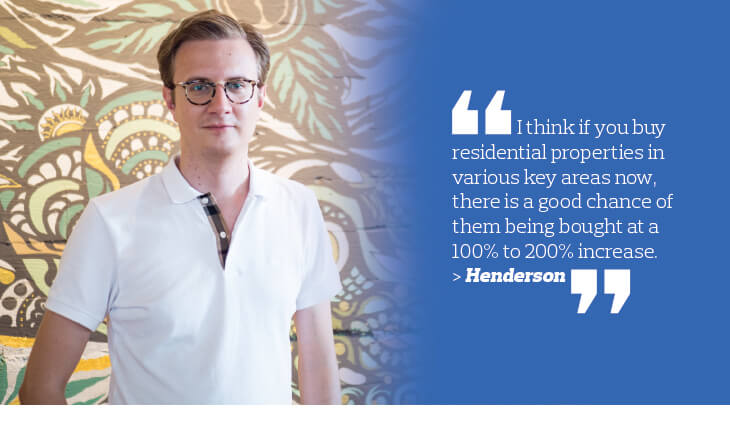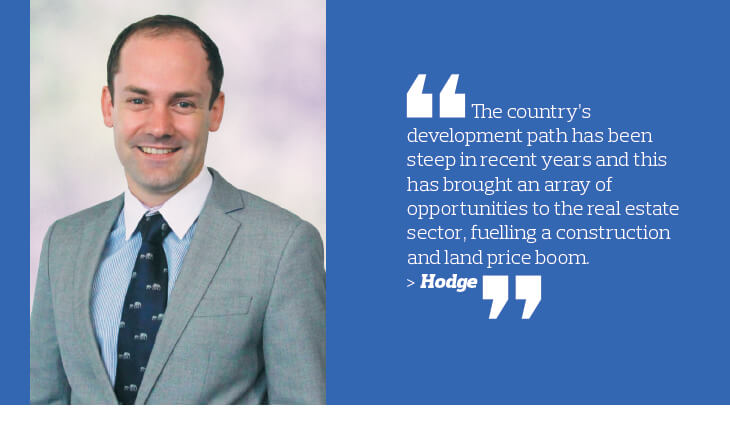 Cambodia, considered a frontier market, has been experiencing strong economic expansion over the past few decades. Its open-door policy on foreign investment, coupled with attractive returns, has managed to turn the country into one of the most highly sought-after destinations for property investments in the region, according to real estate agents and a property investor.
Cambodia's real estate sector has seen tremendous growth in the last several years. Due to a healthy inflow of internal and external investments, there has been a flurry of non-stop construction work in cities such as Phnom Penh and Siem Reap, says Malay Nop, branch manager at real estate firm IPS Cambodia.
Construction activity does not appear to be slowing down. Ann Sothida, director of real estate services firm CBRE Cambodia, was quoted in a recent news report as saying that 43 condominium projects (16,939 units) were expected to be completed this year. This is a huge jump from last year, when only 20 projects (5,000 units) were finished.
Cambodian properties compare favourably with those of their competitors in neighbouring countries, often being cheaper than assets of equivalent grade, says James Hodge, associate director at CBRE Cambodia. "The market has considerably more variety than the Laotian market and the occupational market is also more developed. Prices are often lower than in Vietnam and the level of market development suggests that there is often more negotiating room in Cambodia."
Andrew Henderson, founder of consulting firm Nomad Capitalist and an investor in Cambodian properties, echoes Hodge's views. He thinks Cambodia's property market is more open than those of its neighbours. "Thailand's market is relatively open too, but I think many investors have missed the boat. As the market gets more advanced, there are not that many attractive property deals for retail investors anymore," he says.
"For those with more than US$100 million to invest, I think Vietnam would make much more sense because there is only so much you can do in Cambodia. For the retail mass market investor, however, I think Cambodia is the better alternative. It is far easier to navigate and they will get a lot more for their hassle."
With an annual GDP growth of about 7%, Cambodia is on a steady path of economic improvement, says Hodge. "The country's development path has been steep in recent years and this has brought an array of opportunities to the real estate sector, fuelling a construction and land price boom."
Cambodia may not be the usual recommended investment destination. In fact, it only has five company listings on its stock exchange at the moment. However, it is starting to be a very popular property investment destination, says Nop. This is supported by large multinational corporations that have been lured there by the country's low taxes and business-friendliness, she adds.
On top of this, Cambodia's economy is highly dollarised. All real estate transactions take place in US dollars, says Henderson. Coupled with the absence of currency controls, investors have flocked to the country to reap the benefits of denominating their assets in the greenback and eliminating currency risk.
Easy access
The number of foreign property investors in Cambodia have significantly increased over the past few years. While there are investors from all over the world, those from Southeast Asia were among the first to identify the country as an alternative investment destination, says Ross Wheble, country head for Knight Frank Cambodia. "This was largely driven by the entry of developers from Southeast Asia, including Singapore's Oxley Group."
Nop concurs, saying that there has been a notable increase in foreign investors from Malaysia, Hong Kong and mainland China. She points out that under Cambodia's foreign ownership property law, individuals can directly own freehold apartments and condominium units but not land. Should they want to own landed properties or apartments/condominium units on the ground floor, they would need to purchase the property via a nominee or forming a company with a Cambodian citizen, among others.
"About 95% of the condominiums in Cambodia are freehold, so foreign investors do have a lot of options to choose from. One thing that is important to note about buying such property is that the taxes are fairly low. They are also able to avoid some of the taxes, such as the tax on capital gains, by buying off-plan units," says Nop.  
Investors tend to buy off-plan units to take advantage of the early-bird discounts — usually 10% of the original price, she says. "Developers like to offer special prices during the pre-launch. When the projects have been completed, prices will immediately soar — up to 30% of the original price. That is why investors like to buy early and flip units instead of renting them out."
While there are many off-plan units available at the moment, Nop says it can be challenging for investors to find a good deal (early-bird discount of more than 10%).
This is the reason Henderson says he will not buy any new condominium units in Cambodia. He thinks that, while this is not always the case, the prices of new units are overpriced — sometimes triple their original value.
"Here is my back-of-the-envelope benchmark — anything between US$600 and US$1,000 per sq m (psm) in the core city centre is ultra-cheap real estate. That is the price I am willing to pay and I think it is good value. What I will not be buying are brand new renovated units or 'dumps'," he says.
Nomad Capitalist is a boutique consulting firm that helps its high-net-worth clients with issues such as legal offshore tax reduction, immigration and second passports and global citizenship. It also assists clients in property purchases in various countries around the world.
According to CBRE Cambodia, average prices for high-end condominium units in Phnom Penh were US$3,200 psm in 2Q2018. This was a 60% increase from 2013.
Rental yields have declined due to increased supply in recent years. This is not to say it is no longer attractive, says Nop. "The average rental yield in Phnom Penh is currently 6% to 7%, and slightly higher at 7.5% for higher-end properties. It was 10% to 12% from 2014 to 2016. This is still considered attractive to foreign investors."
Some investors worry that they may not be able to rent out their properties due to the rising supply in the market. But Nop says investors need not be concerned as the job market for expatriates is thriving in Cambodia.
She adds that the most popular residential properties are currently in the expatriate communities of Phnom Penh's Boeung Keng Kang Muoy (BKK1). The suburb is a hot spot for upmarket bars and restaurants, international food and beverage brands and retail stores.
"Every month, IPS receives 200 inquiries for BKK1. It is desired by expatriates due to its convenient location, being walking distance to retail outlets and other establishments," says Nop.
The other areas considered to be prime locations for residential properties currently include Tonle Bassac and Toul Tom Pong (Russian Market), she adds.
In BKK1, condominium units can cost between US$1,900 and US$3,600 psm, with an average price of US$3,000 psm says Nop.  Meanwhile, in Tonle Bassac, the units can cost US$1,500 to US$5,000 psm, with an average price of US$2,500 psm.
IPS is one of the leading agents in the booming Cambodian real estate market, with offices in Phnom Penh, Siem Reap and Sihanoukville. Apart from managing condominiums, apartments and houses for rent, the firm also provides real estate opportunities for local and international clients (including Malaysians).
Having invested in Cambodian properties for a few years now, Henderson says there are good prospects for retail investors. "Phnom Penh was not very developed five years ago — there was only one skyscraper. Now, there are malls, high-end apartments and big brands coming to set up shop.
"I think if you buy residential properties in various key areas now, there is a good chance of them being bought at a 100% to 200% increase, while you are making 10% to 15% appreciation per annum plus up to 7% rental yield."
Market not as liquid
It is relatively easy for Malaysian investors to purchase a strata title in Cambodia as there are no complex regulatory procedures to overcome, according to CBRE's Hodge. "The funds required for the purchase can be moved to the country without restrictions and profits may be repatriated freely so long as all the taxes have been paid," he says.
However, investors need to bear in mind that the market may not be as liquid as they may have hoped. Hodge explains that the secondary market does need to develop further to increase liquidity.
"We expect this will occur in the medium term as local spending power increases and the rapid changes that have impacted the market in recent years settle in. Older, well-established condominiums, such as DeCastle Royal (in BKK1) and Rose Condominium (in Tonle Bassac), continue to sell well on the secondary market, likely because buyers have confidence in the management's track record and the property's appeal to tenants," he says.
To easily sell their properties, it is recommended that investors get help from local experts such as real estate agents, says Nop. Apart from helping overcome language barriers, these experts are able to inform investors which projects are good, what the current market price is for certain projects and which developers are reliable as well as help them sell their properties quickly.
"Buying properties based on what investors think and read online will not work. There are a lot of challenges in selling the properties they have purchased. If they consult a local expert, they can sell a good property in less than three months. My personal record was selling a property in under three weeks," says Nop.
There are other factors that investors should consider prior to investing which will lead to better returns over the longer term, says Hodge. For instance, Phnom Penh is developing more quickly than its infrastructure can sustain. Also, car ownership is on the rise and traffic levels are increasing.
"I would encourage investors to consider their choice of location and the availability of car parks to future-proof against the city's medium-term capacity issues. A developer's property management approach should be carefully scrutinised to ensure they have calculated an appropriate service charge, which will allow the property to the maintained throughout the investors' holding period," he says.
"I would also suggest checking out the developer's track record and if possible, taking a look at the projects they have completed to check on their construction quality. Cambodia's building regulations are quite relaxed and full building codes remain under development. Thus, it is important to see if the construction has been completed to a satisfactory level."
Attractive investment destination
The ruling Cambodian People's Party is known for its pro-business policies aimed at bringing in foreign direct investment. Also, the country is seen as an attractive investment destination because it is less correlated to the global economy, says Nomad Capitalist founder Andrew Henderson.
"Developed and emerging markets tend to be heavily affected by global geopolitical events. But this is not the case for Cambodia as a frontier market. It was barely impacted by the 1997/98 Asian financial crisis, dotcom bust and 2008 global financial crisis. In fact, it has not suffered a recession in 20 years," he adds.
Cambodia has come under the spotlight recently due to its strategic location in Southeast Asia, being sandwiched between the fast-growing economies of Thailand and Vietnam. It is also an appealing destination for Chinese investments, especially following the announcement of the One Belt, One Road (OBOR) initiative in 2013.
According to a Bloomberg report, China President Xi Jinping brought along more than 200 Chinese investors when he visited Phnom Penh in October 2016 to expand the footprint of the OBOR initiative. Last year, Chinese firms pledged an additional US$7 billion in new projects, including a highway that will connect Phnom Penh to Sihanoukville.
While it is against the law for Cambodians to gamble, dozens of casinos have sprung up in Sihanoukville, catering for the thousands of Chinese tourists and workers. In addition to Phnom Penh and Sihanoukville, Chinese investments are also going to Siem Reap, the gateway to the famous Angkor Wat temple.
"Tourism has become an important driver. The country is currently relying on China to develop its cities. The government aims to turn Sihanoukville [a coastal city in the southwest of Cambodia] into the next Macau. While I will not buy any properties in Sihanoukville anytime soon, as prices have doubled and even tripled, it will be interesting to see what happens there," says Henderson.