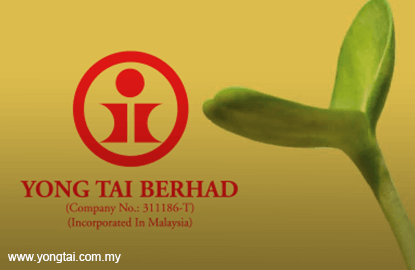 This article first appeared in The Edge Financial Daily, on April 20, 2016.
Yong Tai Bhd
(April 19, 84.5 sen)
Not rated: In line with the group's overall expansion plan into the property sector, Yong Tai Bhd has announced several proposals, key of which are: i) the RM37 million acquisition of a 17-acre (6.88ha) plot of land in Melaka (Impression Land) for the development of a theatre to produce Impression Melaka, as well as the acquisition of PTS Impression (to hold a 30-year licence to stage the show) for RM3 million; ii) a joint-venture agreement for the development of 100 acres of land adjacent to Impression Land; and iii) a fundraising exercise to raise more than RM300 million.
The proposals are expected to be completed and take effect by the first half of the financial year ending June 30, 2017 (1HFY17).
Impression Melaka is a live cinematography show that utilises the latest light and sound technologies, modern art concepts and cultural performers.
This is to be the first live large-scale Impression series outside China, and is one of the "entry point projects" within the National Key Economic Area initiative for the tourism sector.
The performing arts centre is estimated to cost about RM300 million, with its completion targeted for end-2017.
Management expects Impression Melaka to contribute RM50 million to RM60 million per annum to its bottom line thereafter.
Concurrent with the construction of the theatre for Impression Melaka, Yong Tai is to develop the land adjacent to it (the development collectively known as Impression City). The mixed development includes residential, commercial and retail units.
The total gross development value over an 8- to 10-year period is estimated to be about RM5.4 billion.
Management believes the Impression Melaka project would spur the growth of tourism and related industries, such as real estate, hotels and eateries, as catalysts for Impression City.
We project Yong Tai to turn around and post a net profit of RM14 million in FY17, accelerating to RM64 million in FY18.
This is underpinned by the progress of its property projects. Our forecasts do not factor in the contribution from Impression Melaka, which we have pushed to FY19.
We derive an indicative valuation estimate range of RM1.03 to RM1.18 (fully diluted) based on sum-of-parts valuation.
The low end of our valuation range excludes Impression Melaka while, for its property development business, we have ascribed a 40% discount to its revalued net asset valuation. 
The top end of our valuation range incorporates the show, where we estimate the business to be worth RM107 million based on discounted cash flow.
We see an upside to our valuation of Impression Melaka as execution risks ease.
Our indicative valuation estimate range implies a FY18 price-earnings ratio of seven times to eight times (10.6 times to 12 times, fully diluted). — RHB Research Institute, April 19