This article first appeared in The Edge Malaysia Weekly, on December 31, 2018 - January 06, 2019.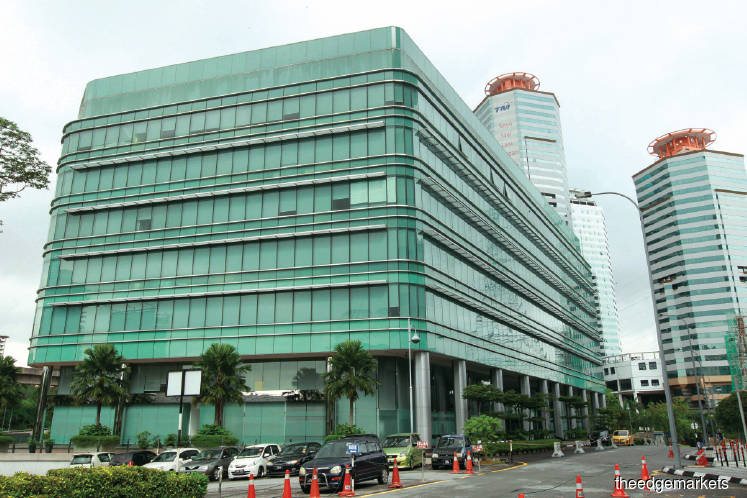 Shuchita: Wisma UOA was a good value purchase for CIMB
EVEN though many commercial assets were put up for sale in 2018, only a handful of major transactions were signed compared to last year, including a smattering of retail assets, a couple of office buildings and a few land deals.
"Overall, it has been a fairly quiet year for big-ticket property sales and we have noted a hesitance on the part of property developers (big and small), investors and government-linked companies alike to commit to large purchases. This can be attributed to lacklustre economic conditions, the oversupply situation and of course, the seismic shift in the Malaysian political landscape," Rahim & Co director of real estate agency, Robert Ang, tells The Edge.
On a more positive note, unlike previous years, 2018 saw a significantly higher number of major industrial asset transactions.
Industrial land dominated the market as there was very little activity in the office, retail and hospitality subsectors," CBRE | WTW managing director Foo Gee Jen says, adding that the lack of sales of investment class assets indicates that asking prices of existing completed buildings are too rigid to afford a reasonable investment yield.
As in previous years, The Edge asked real estate agents and valuers to list their Top 10 property deals of the year. Apart from Ang and Foo, the others were Exastrata Solutions Sdn Bhd chief real estate consultant Adzman Shah Mohd Ariffin; Savills Malaysia senior vice-president, capital markets, Alvin Tan; LaurelCap Sdn Bhd executive director Stanley Toh; Zerin Properties head of agency Shuchita Balasingam and JLL Malaysia country head Y Y Lau.
Wisma UOA Pantai the top pick
Wisma UOA Pantai emerged the clear winner of this year's Top 10 property deals as it was on the list of all seven property experts. The virtually unoccupied building, located off Jalan Pantai Baru, was sold by UOA Real Estate Investment Trust (UOA REIT) to CIMB Bank Bhd for RM120 million.
Shuchita says at that price, the deal works out to RM407 psf. "It was a good value purchase (for CIMB), plus it would serve its internal purposes after its restructuring exercise whereby CIMB will be vacating most of Menara Bumiputera-Commerce [to move to Wisma UOA]."
Meanwhile, Foo considers the Wisma UOA deal as the only significant office building sale in 2018, noting the low valuation was because the building had an occupancy rate of only 19%.
Another deal that features prominently on the property experts' lists was AREA Group of Companies' (AREA) purchase of 212.54 acres of freehold industrial land in Kota Seri Langat, Selangor, from PNB Development Sdn Bhd for RM320 million.
AREA plans to build Selangor's first gated, fully integrated and serviced industrial and logistics park. To be named The [email protected] Seri Langat, it will be a premium standard industrial and logistics hub with resort-style features. AREA also plans to offer built-to-suit warehouses and manufacturing facilities, with sizes ranging from 200,000 sq ft to 1 million sq ft. The project has a gross development value (GDV) of RM4 billion.
"This is probably the largest new modern integrated and gated and guarded industrial park strategically located at the end of the West Coast Expressway, which is being built," Foo says, adding that it is expected to set a new benchmark.
Ang believes the development is poised to capitalise on its access to the upcoming West Coast Expressway and its strategic connectivity to major Klang Valley highways.
The deal made it onto Tan's list as he considers it the most high-profile acquisition to date by AREA — which had previously acquired logistics and educational assets — and is backed by the Employees Provident Fund as well.
The sale of SStwo Mall in Petaling Jaya made it to the lists of six of the seven property experts surveyed. The mall, owned by Asia Retail Mall Fund II and managed by AsiaMalls Sdn Bhd shut down in March 2015 after operating for just 41/2 years. Following multiple attempts to sell it, ultimate owner PGIM Real Estate found a purchaser in the DK Group of Companies, which acquired it for an estimated RM180 million.
Foo says his reason for selecting SStwo Mall is because "it will probably be remembered as the mall with the shortest life span ever in the country".
Tan remarks,"It is the most high-profile casualty of the post-global financial crisis neighbourhood mall boom in Greater Kuala Lumpur. All eyes are on DK's plans for the site, located in a highly desirable residential part of Petaling Jaya."
Shuchita is keen to see what plans DK Group has to turn the development around or whether it intends to redevelop the site.
Both Adzman and Lau consider the 7.8% yield for Aeon Mall Kinta City attractive. Moreover, it comes with 100% master tenancy. Toh reckons this deal was probably the largest in Perak this year. "At the purchase price, the mall provides an adequate yield to the purchaser, KIP REIT. It is not a bad deal for the purchaser considering the current depressed yield momentum the country is facing."
Foreign investors make maiden foray
Thailand-listed Strategic Hospitality Extendable Freehold and Leasehold Real Estate Investment Trust (SHREIT) purchased two hotel assets this year — Hilton Garden Inn North and Hilton Garden Inn South — in Jalan Tuanku Abdul Rahman, Kuala Lumpur, from Singapore's Royal Group for RM240 million, which offer a combined 532 rooms. The price works out to RM451,128 per room. The Royal Group sold the hotels less than three years after acquiring them.
"This is an encouraging example of savvy hotel investors successfully taking underutilised assets, bringing in a leading global brand and exiting soon after opening, reportedly at a significant profit," Tan says.
Lau, who made this deal her top pick, says it was one of the few hotel transactions during the year. "The transaction amount is significant and marks the entry of the first Thai-based REIT into the Malaysian hospitality market," she observes.
The Hilton Garden Inn made it Adzman's list because it was sold within three years, reportedly, for a handsome net profit of RM65 million.
Another foreign entry into the local property scene is a member of Saudi Arabia's Alrajhi family. The buyer, who is linked to the family behind Al Rajhi Bank, bought Wisma Mont Kiara for RM122 million from Singapore's ARA Asset Management Ltd.
The sale made it to Shuchita's list as it "denotes the Alrajhi family's first purchase in Malaysia". Lau concurs.
A princely buy
Prince Court Medical Centre, which sits on a 15-acre site in Kuala Lumpur, had been plagued by problems even before it was opened in late 2007, ranging from a change of hospital operators, high construction cost, sudden resignation of top management to years of losses. But the hospital, owned by Petronas Hartabina Sdn Bhd — a subsidiary of Petroliam Nasional Bhd (Petronas) — was said to have turned Ebitda-positive in 2017, and was sold to IHH Healthcare Bhd this year.
Shuchita observes that "it is a prime asset of good value and Khazanah will be able to spur the growth of PCMC further and achieve its goal of becoming a leading healthcare provider in Asia."
Toh adds that this is a good buy for Khazanah as the property is in a very strategic location in Kuala Lumpur and offers huge redevelopment potential. Based on recent transactions, the land alone is worth a whopping RM1 billion.
"The takeover by Khazanah will hopefully improve its financial performance, especially with the optimisation of the 6-acre site it sits on and the adjoining 9 acres of leasehold land," Adzman adds.
Sale of industrial assets gains momentum
The year saw a spike in large industrial asset sales. PNB Development Sdn Bhd acquired New Straits Times Press (M) Bhd's printing press in Shah Alam from Media Prima. The deal included a piece of freehold industrial land with a building that houses the printing plant, as well as another piece of industrial land. Together with the purchase of Balai Berita in Bangsar, PNB Development paid a total of RM280 million.
Toh describes the PNB purchase as timely and good for both parties as the deal is based on a sale and leaseback agreement. "PNB will be receiving income and will be able to redevelop the asset once the property market turns for the better."
Also notable are three industrial land purchases by Axis Real Estate Investment Trust — the sale and leaseback of an industrial parcel in Shah Alam from Teraju Sinar Sdn Bhd for RM87 million, and the buying of two freehold industrial properties in i-Park for RM31.5 million and RM7.2 million respectively. i-Park is a gated and guarded industrial park in one of Iskandar Malaysia's main development corridors.
"Logistics, manufacturing and warehousing are still showing strong growth with good yields. Axis REIT's purchase of three facilities is proof that good value is still achievable in the industrial sector," Shuchita opines.
Referring to the Shah Alam deal, Ang says "it underscores the resilience of the industrial investment market amidst challenging economic conditions".
The year also saw the sale of JT International's factory in Shah Alam to Kato Manufacturing Sdn Bhd for RM44 million. Ang, whose firm Rahim & Co executed the deal, says his firm was able to secure a premium over the property's expected price and notes that the sale marks the departure of the last tobacco manufacturer from Malaysia.
On the recent sale of 38.8 acres of leasehold industrial land in Shah Alam by UMW Holdings Bhd to Singapore's Mapletree Dextra Pte Ltd for RM287.8 million, Foo says it is worth a mention as it is "one of the largest land deals in Shah Alam in recent years with a potential for redevelopment due to its proximity to the proposed Section 14 LRT Station". Foo's firm, CBRE | WTW, concluded the deal.
Another major industrial land deal in 2018 was Ajinomoto (M) Bhd's purchase of 46.6 acres in [email protected], executed by JLL.
Other notable deals
Other major property deals that caught the attention of the experts was the land sales at Empire City Damansara 1 (ECD1) and Empire City Damansara 2 (ECD2) by Mammoth Empire Holding Sdn Bhd (MEH).
Adzman says he included the deal based on the magnitude of the transactions and because they involved several developers — Aset Kayamas Group, Binastra Construction Sdn Bhd and Exsim Development Sdn Bhd. Moreover, the transactions are expected to put MEH, which had suffered a setback, back on track.
Other significant deals this year include the sale of 73 acres in Kepong by Dewan Bandaraya Kuala Lumpur to UEM Sunrise Bhd for RM416 million, KSL Holdings Bhd's purchase of Pulai Springs Resort in Johor for RM176.94 million and Westports Holdings Bhd's acquisition of 381 acres off Pulau Indah in Selangor from Perbadanan Kemajuan Negeri Selangor for RM116.19 million.
Save by subscribing to us for your print and/or digital copy.
P/S: The Edge is also available on Apple's AppStore and Androids' Google Play.